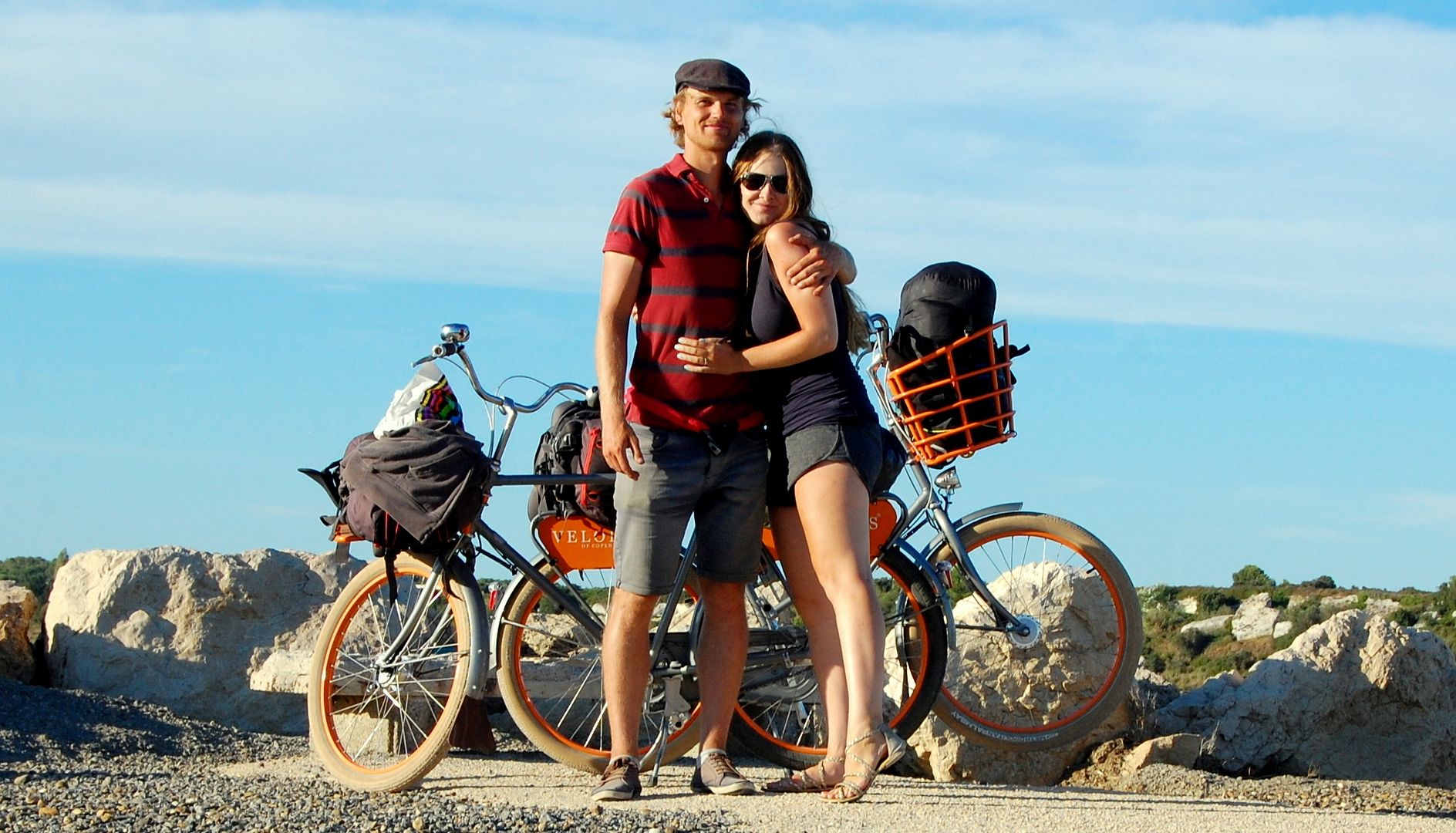 So, we've been quite silent here on the blog for some time. And you might be wondering why. We're fine – and we did it! We rode our bikes from Copenhagen to Rome. 3744 crazy km through Europe.
We reached Rome on October 2nd and stayed there until the 8th where we boarded a flight back to Denmark. Right now we're on the road again, this time in Portugal, but we'll get back to that in another post.
We'd really like to explain what Rome was like, and how it was everything we hoped for but still – to some extent – a huge disappointment.
Ever since we reached Italy, we were starting to feel a little demotivated. I think it has lots to do with the fact that we went over budget month for month and because we found it very hard to do our work while on the road.
We needed to satisfy our costumers and do the work we'd promised. But let me tell you: riding 80+ km on a bike every day is not an easy task. And when we reached our destination at night, we were so tired that words doesn't even begin to cover it. Working seemed impossible for us. We were low on energy.
On top of that I think we were tired of camping every night and tired of moving around. We missed having a base that we could return to. A place where we knew exactly how everything worked and what we could expect. A place to relax at and a place that could give us some stability. Every day brought new things to adjust to, new ways of doing everything. And adjusting takes time.

On the top of Passo del Bracco – our wildest climb of 615 m above sea level
In Italy we also experienced the most insane mountains of our whole trip. It escalated in some really tough days climbing hill after hill. The coastline in Italy is pretty crazy! There are hills all the way to the waterline. And at every point where there's a beach there's a town. So naturally the road leads you down through the town and then up a hill once more only to lead you down to the next town. Repeat this a million times…
The bikes did a great job but once more the tires started to make trouble. The tubes we'd changed around Paris (which was pretty much the halfway point of the trip) began to break again which left us with a lot of flat tires.
At one point we had two flat tires in a day, and it was tiring for us to stop twice in one day to change the tires – a task we never learned to master and therefore a quite time consuming thing to do…
I think we'd just had enough. Our bodies were screaming for rest and we couldn't give them that. We needed to reach Rome, and we rode only on our persistence – not for our pleasures sake.
So two days before Rome our bodies gave in. We'd been riding a lot in the rain the day before so we caught a pretty bad flu. Naturally the last two days were not fun at all.
REACHING ROME BY BIKE
We were quite optimistic on the last day despite the sickness and general tiredness of the whole trip. Jonas had found a bike route starting at the highway around Rome. It seemed just perfect. The weather was nice too, and we rode with a good speed.
When we came to Fiumicino just 30 km from Rome (and home to the Leonardo da Vinci Airport which is considered the official roman aiport) we felt we could really use a cup of coffee and stopped at a nice looking café.
Leaving Fiumicino, we saw a huge increase in cars on the road. It was getting more and more crazy and we tried to find smaller roads with less traffic.
It wasn't eay. The ride into Rome just got worse and worse. Around the same time, the sun was coming down and we tried our best to reach the bike lane before the darkness came.
It all escalated when we had to ride a few metres on the highway in order to make a right at a smaller road that would take us to the bike lane. Luckily the Italians don't care too much about rules and nobody honked or complained about our crazy riding.
When we found the bike lane we both let out a scream of joy. Finally! It followed the Tiber and were completely isolated from the huge roads. We met a few racing cyclists but besides that the road was empty and dark. We really appreciated our great lights on the bikes!
At one point the bike lane made a weird turn and we didn't know which way to go. There were a gypsy camp just ahead and they had a huge fire going on, so we made a right and rode right through the part of Rome that Mussolini build. He also made some bike lanes, so our ride towards Rome continued.
We reached a very nice and cozy part of Rome around 9pm and decided to stop for dinner. We eneded up getting a great deal of a 3 cours meal with drinks for a total of 20 €! We later found out that we were in Trastevere, a neighborhood known for its authentic roman looks and feel.
After a great Italian feast of bruschetta, pizza and tiramisu, we set off to find a hotel for the night.
Some locals pointed us in the direction of what should be a nice and cheap hotel. But when we got there it was full. Huh? We'd never tried that before! But oh well, Rome is filled with hotels, so we continued.
Let me fast forward to 3 am, where we wandered around Colosseum, trying to understand how the 13 hotels we'd been at could be full. It was October 2nd – why was everyone in Rome? And how could they fill up every hotel!?
At that moment it became clear to us that we weren't going to find a hotel for the night. It was to late for us to accept the price and really our energy level was very low.
However, we had Colosseum all to ourselves and it looked pretty good at night.
We ended up at a street café where we bought lots of coffee to try to stay awake on. I didn't succeed and found myself sleeping over the table at 4.30 am while Jonas looked after our stuff.
At 6 am we went to Termini to try and find a café with wifi where we could sit and waste our time until we could go to the apartment we'd rented a room in later that day.
GOODBYE BIKE, HELLO SLEEP
We hadn't been in Rome for a long time when my bike was stolen. Rome is the first capital we've been to where bikes are a rare sight, but however someone felt the need to snatch away my beautiful Velorbis bike.
I was devastated. Really.
We never had a change to take a picture of us with the bikes and Colosseum as we'd dreamed of for as long as we'd planned the trip. It would have been a perfect ending and… well, I just wasn't ready to say goodbye to my reliable friend who'd taken me on this great adventure. Not like this, anyway.
Oh, and the thief felt a need to steal Jonas's saddle as well. Thank you so much…
We spent most of our time in Rome sleeping. No, you didn't misread that. We slept around 14 hours every day in Rome. I think our bodies really needed to rest after the crazy trip.
We didn't have a change to see much in Rome, since the weather was really terrible. It rained all the time and we were still fighting the flu we'd caught. A pretty crappy way to spend our time in Rome and not what we'd ecpected.
Make no mistake that our trip was the most exciting trip of our lives. And we're both extremely happy that we did it. And also proud as hell that we actually did it. Nobody really thought that we could, but we were always optimistic and in the end our optimism and belief in ourselves took us 3744 amazing km on two city bikes all the way through Western Europe.
That's pretty bad ass, if you ask me!
* * *
We still have some posts from the trip that we'll post during the next couple of weeks.