After two and a half months in Playa del Carmen we were ready to move on and see some more of Mexico. We were headed to Valladolid in the Yucatán state. We figured it would be the perfect spot to see Chichen Itzá and other ruins.
It really was the perfect place. Both of us fell in love with Valladolid as I mentioned in my last blog post about Mexico. We were overwhelmed and completely in love with the city.
We only had three nights in Valladolid and were lucky enough to be invited into the lovely Casa Hamaca Guesthouse. We felt so much at home there and were sad to leave after our third night! Let us show you why…
What we loved about Casa Hamaca Guesthouse
I don't think you can find a better hotel in Valladolid. They have a beautiful garden, swimming pool and every morning they serve you the best breakfast.
I know that a lot of hotels offer breakfast but I really enjoyed it here, because you could choose your own breakfast from the menu. Most hotels use the one-size-fits-all breakfast buffet. Besides the á la carte options we also has a small buffet with fresh fruits and lots of good coffee! Essential for starting your day properly.
All the rooms had their own theme so you won't find any rooms that look alike. You can really feel how they put a lot of energy into making each room feel unique.
The owner, Denis, moved to Valladolid many years back. He is very knowledgable about the whole area and we enjoyed talking to him about it a lot. It was inspiring to see a foreigner so well adapted into the culture, constantly making his Mexican staff laugh. It was so obvious that they all enjoyed each others company.
There are plenty of Mexican art in the rooms and in the public areas of the hotel. Walking around in the hotel give you the feeling of being in someone's beautiful home – and every little piece of art has its vert own story that Denis will be more than happy about sharing with you!
All the rooms have a different name, describing the style in the room. You can check out all the different themes of the suites here.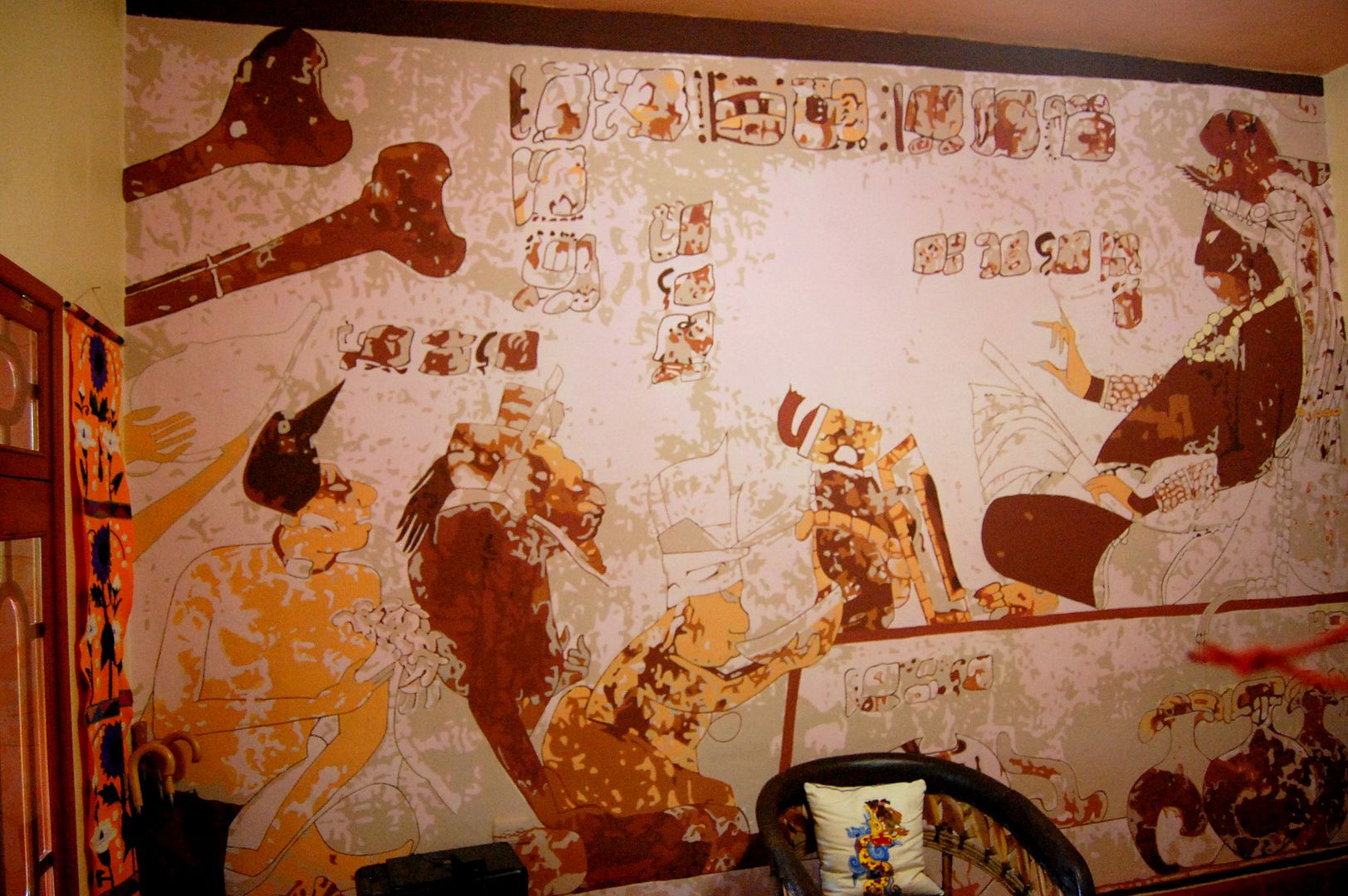 Beautiful wall in the lobby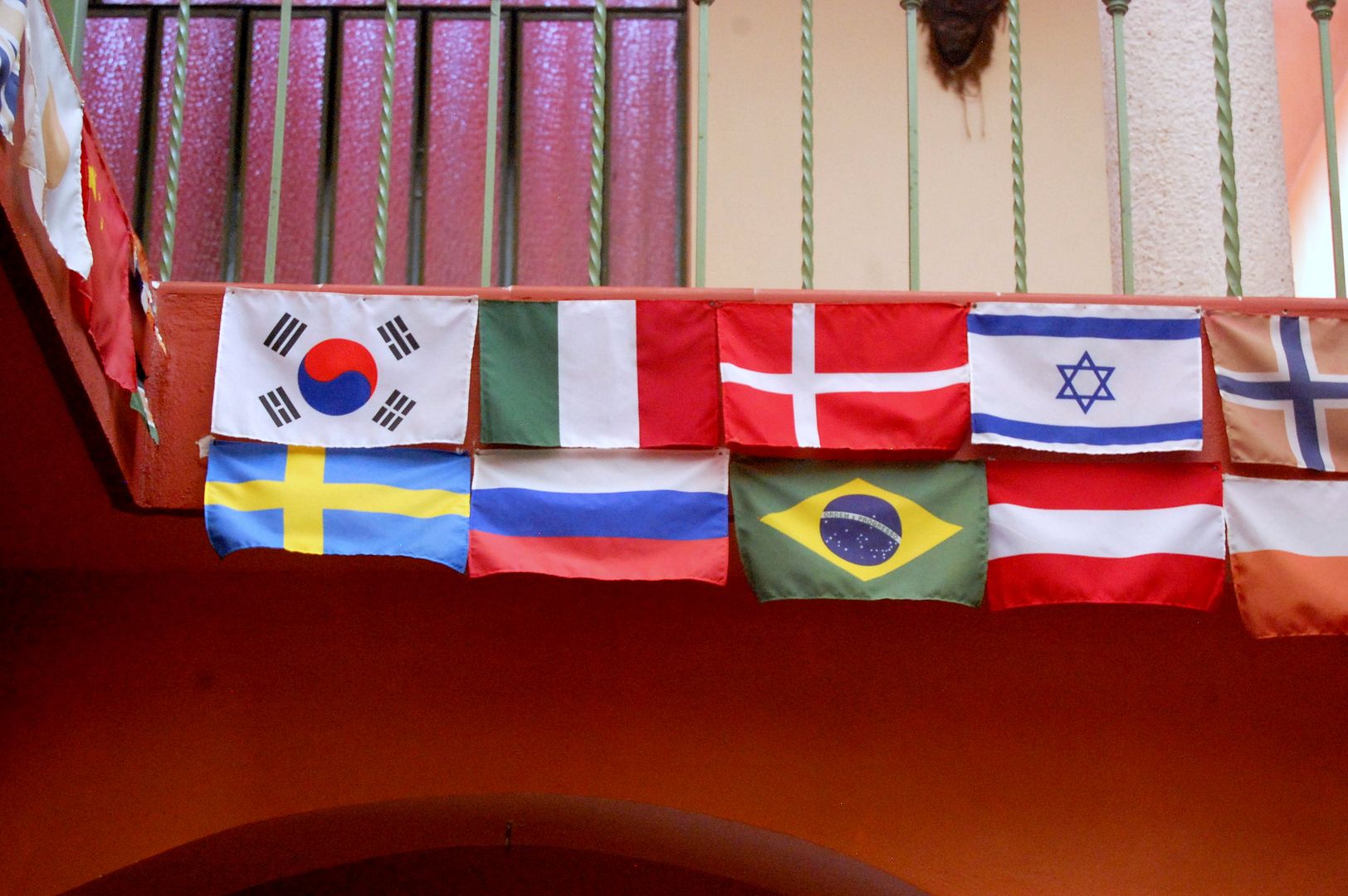 The flags of all the counties that the hotel have had guests from. We were not the first Danes.
Our room – The Stone Suite
Our room was very beautiful. As you can see on the photos the room was decorated in a local Mexican style which gave the room a special feeling. A lot of hotels don't have any feeling and you often don't know which country you are in when sleeping in a hotel. At least when you look at the hotel because hopefully you know where you are. :D
In Casa Hamaca Guesthouse we knew at the moment we woke up that we were in Mexico.
Both Celia and I slept like a dream. I can't remember the last time we slept that well. I guess we were also tired because we walked a lot at Chichen Itza and Ek Balam, but I must admit that I still miss this bed.
Everything in our room had stone features. It was so cool to see how well the rooms theme was carried out. Over our bed we had little stone figures, the bed was stone (luckily not the mattress!), the night tables were in stone… It was so cool! We even had a little table that looked like a "raw" stone – no sharp edges just a regular stone! It was great.

There are small pieces of art like this everywhere.
Of course our bathroom also had stone features – oh, and it was huge! We felt super small in there but it was super nice too. We were clearly not used to luxury like this, so we almost jumped up and down in excitement when we saw our lovely room – well, at least Celia did!
We took looong showers here. After our days climbing ruins in the hot Mexican sun we really neede it.
The owner
The owner is Denis Larsen. Yes, he sounds Scandinavian but he is from USA. But he has Scandinavian roots because his ancestors came from Norway.
He has a huge knowledge about the area because he has been travelling to Yucatan since 1996. It was nice talking to him because he is like an encyclopedia when it comes to the Mayan culture. If you have any questions you shouldn't hesitate to ask him. He will go out of his way to give you an answer.
If you are looking for something in Valladolid or in the area he will guide you in the right direction. It's easy to get help here because the staff have a big knowledge about Valladolid. This isn't always the case with hotels so it's nice to be in a hotel where you know that they will help you with everything.
Denis makes you feel as a guest instead of a customer. It must be the reason why it's called Casa Hamaca guesthouse instead of hotel. It's full of hospitality and it's worth the visit.
If you are going to Valladolid in Mexico – and you really should (more on Valladolid very soon!) we can recommend staying with Denis and his lovely staff.
We can't wait to go back to Valladolid one day. We missed out on the city because our time was limited. It was way more local and old than Playa del Carmen. Next time we're going to Valladolid, we know where we'll be staying! :)
---
Denis invited us to stay with him in Valladolid for three nights. However, all thoughts and opinions are of course our own.