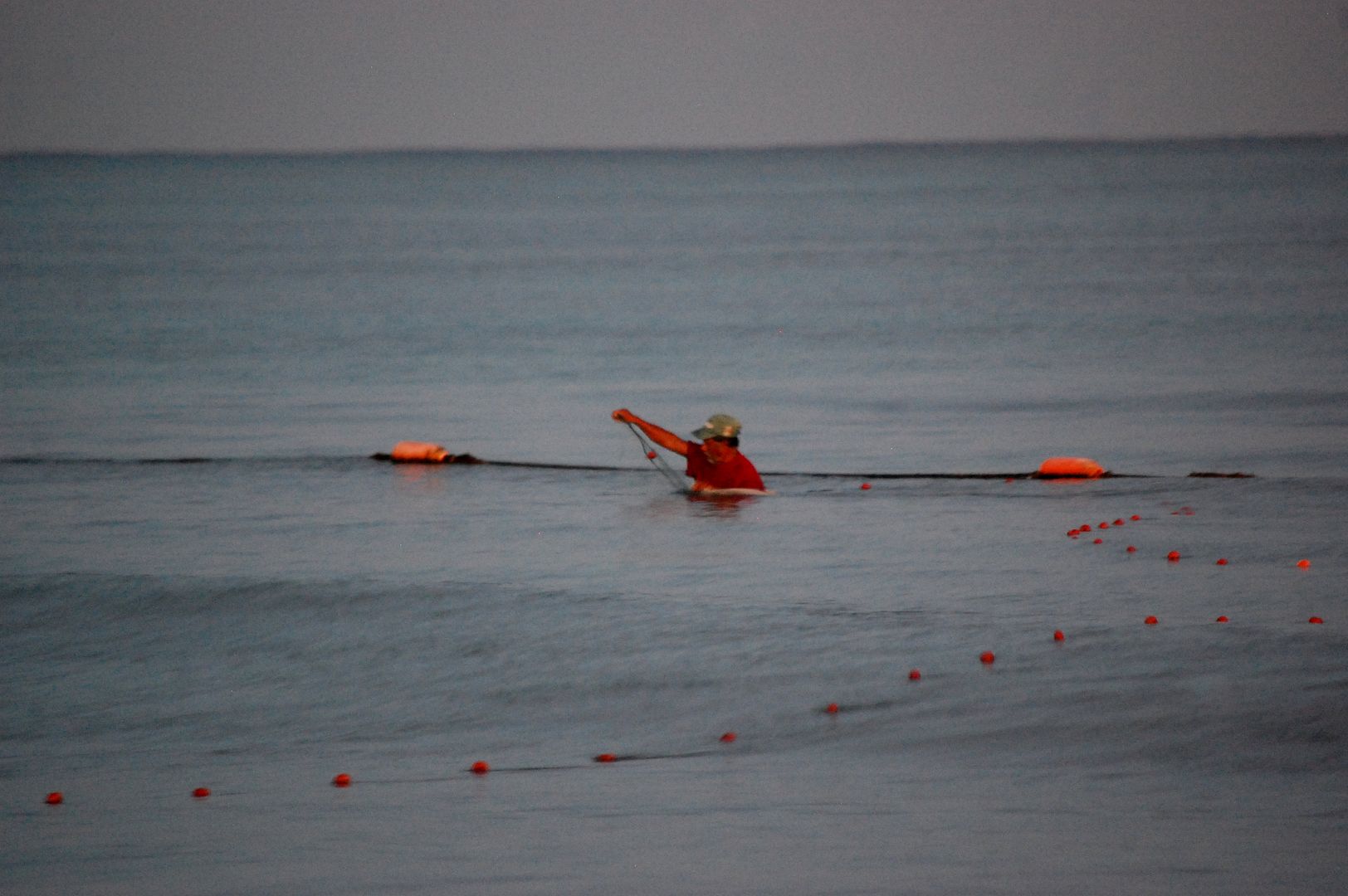 As mentioned in my latest post on Project 365 we went to the beach just before the sun came down last week. I'm not at all experienced in shooting in low light like this, but it's something I really want to experiment more with.
I shot all this by holding the camera – which is why they are a little blurry. But I still feel like they capture the feel on the beach that night.
Playa del Carmen is beautiful. The beaches are simply gorgeous and like nothing we've ever seen before. They are postcard-perfect and photos of them need no retouching – the colors are simply magical with no editing. 
But at night they're really pretty as well, and we're both very happy that we decided to go to the local part of the beach to check it out. We met the most amazing fishermen! Check it out:
This guy was fishing in a way that I've never seen before. It was kind of DIY, since he only had an empty soda can and a line with a hook in the end. He word throw out the line and slowly roll it back in by rolling it around the soda can.
Then there was this guy who was putting out his fishing net for the night. He just continued to go deeper and deeper into the water – fully clothed! Great commitment.
At this point, only his face was visible when a wave came. I tried to capture him and at this point he saw me! Hah. We turned around to see this amazing sight: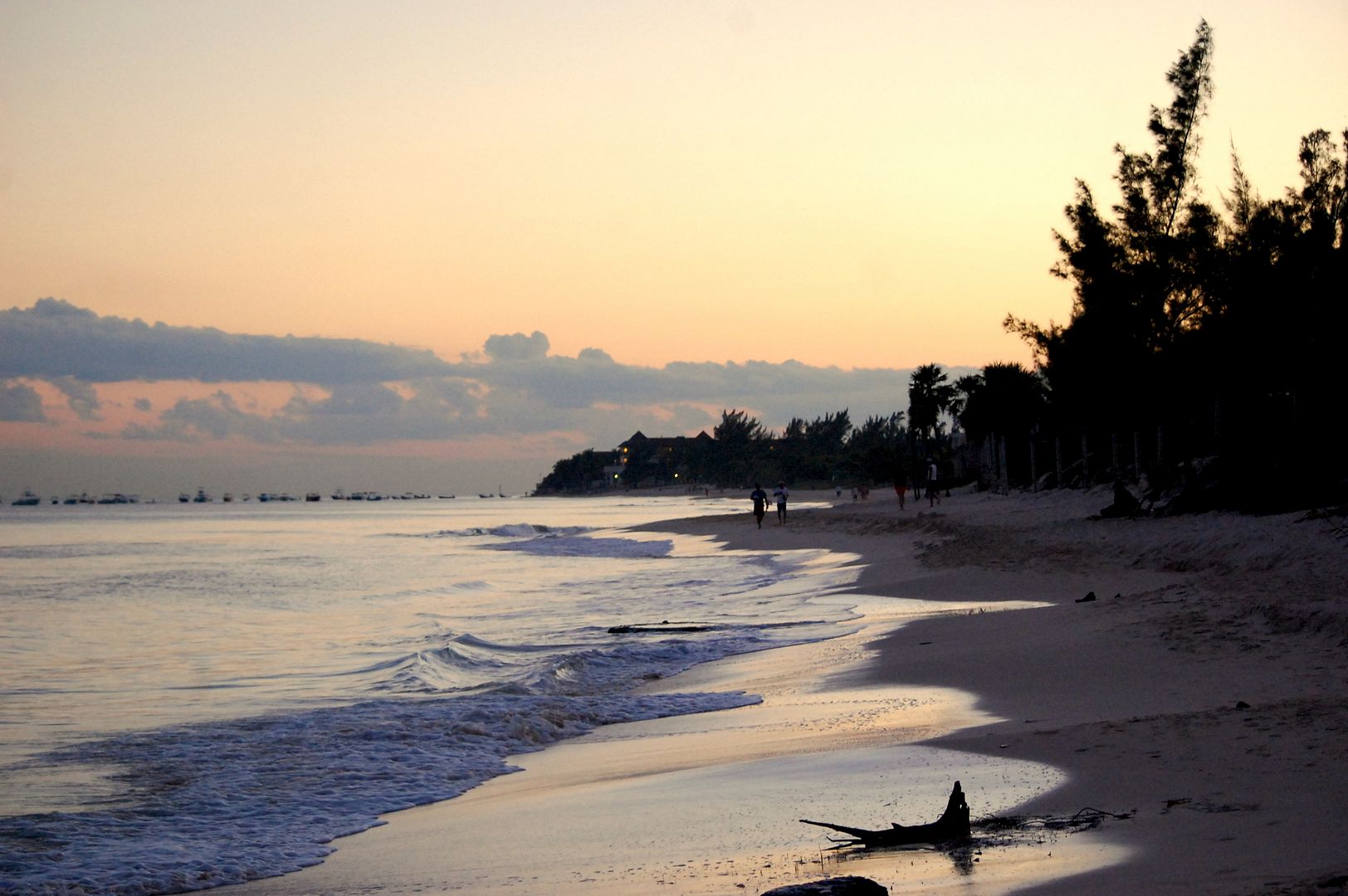 How beautiful is that? The colors were amazing and there were very few people at the beach. We've actually come to love this quiet part of the beach that is so close to our apartment.
Almost only locals are here and there are never many people around. The busiest day was Christmas day where everybody seemed to be at the beach, but normally there are only a few people around.
This makes for a perfect more privat part of paradise. On our daily walk to the city, the beach becomes more and more crowded. Mostly filled with people wearing colorful plastic bracelets that indicate which of the beachfront hotels they're staying at.
We can't wait to go swimming soon. We actually haven't been yet (almost a sin after more than a month here!) but I have just bought a bikini the other day so now we're definitely going soon.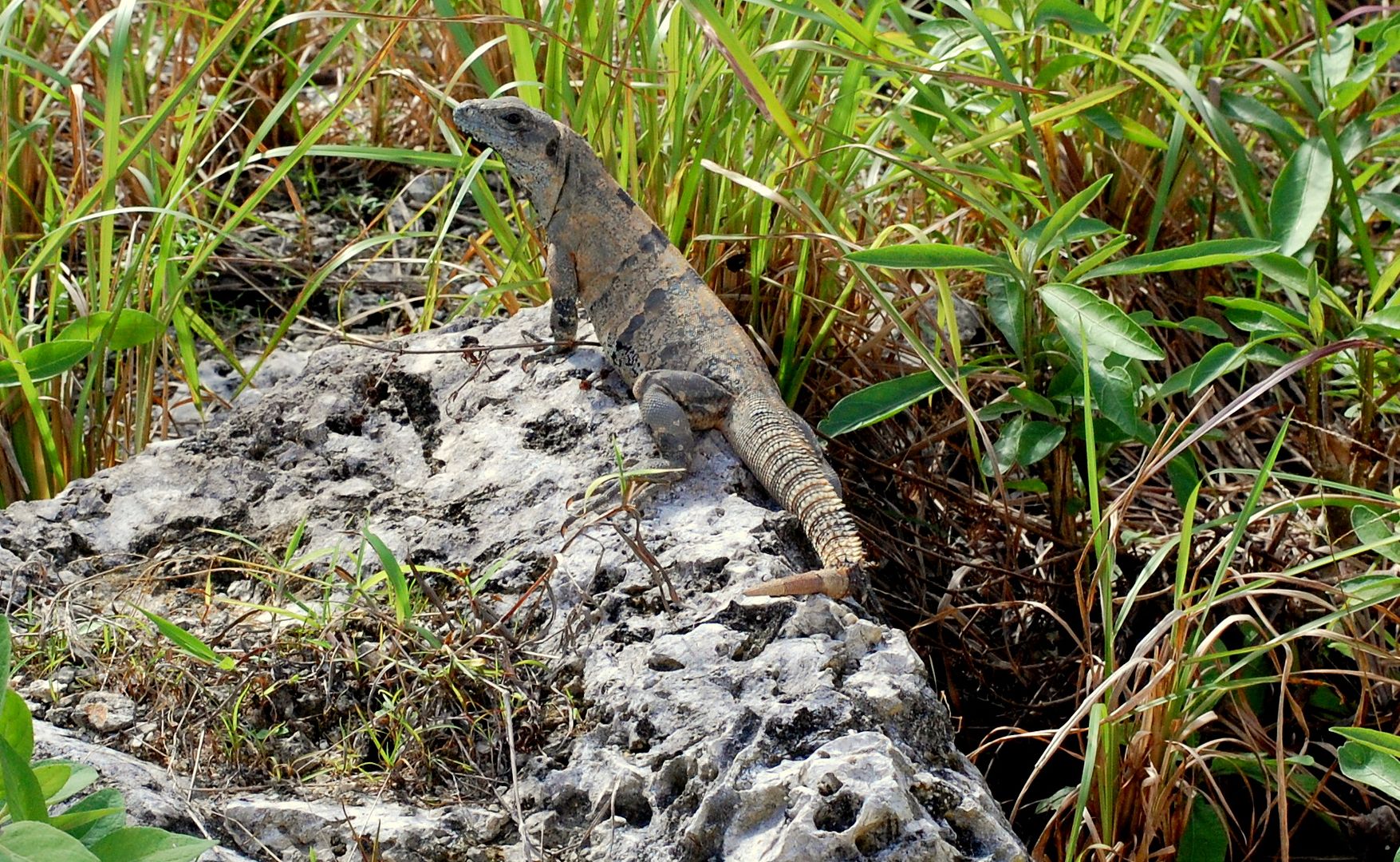 And one more great thing about staying far away from the crowded tourist spots of Playa del Carmen is that we get to see these! They're so exotic to us and they look so majestic when they're sitting on a stone enjoying the sun.
Playa del Carmen really has these local features and you don't have to be far from the downtown area to experience this different, local and charming feel of Playa. We're really happy to be able to experience this. If you're ever in Playa, be sure to try to walk a little down the beach – you can have it almost to yourself and it is just as beautiful as where all the tourists are!
So I need to sleep now. Tomorrow is Super Bowl Sunday! We're so excited to finally be able to watch it during the evening instead of the night – finally the time zones are better. ;) We'll be watching it at Wah Wah Beach Bar, see you there?
---
Today we're featured on Flipnomad – we did an interview with Flip long ago and it's finally online! Also, we're Trail Walleteers of the Month with Simon and Erin – check it out here. 
Celia Schow is one of the founders of NomadicDanes.com. Her goal in life is to live a rich life full of experiences and great memories.