Pabellón Criollo – Venezuelan national dish at Kaxapa Factory
You already know this, but we love to eat and try out new foods. It's normally a great way to get a feel for a country, and today we had an amazing experience that we simply just need to share with you right away.
We often find ourselves strolling down Avenida Constituyentes here in Playa del Carmen. We walk from Avenida 5 – 30 on Constituyentes and have passed this little restaurant a million times.
The word "gluten free" caught our eyes. I'm often feeling pretty bad when eating gluten and Jonas avoids it too. So we decided to walk inside and have a look. The little restaurant is normally full of people dining and laughing, but today we spotted a free table and decided to go inside. 
I'm so glad we did! The owner greated us and proudly showed us the menu.
This is traditional Venezuelan food! 
He told us in perfect English with a thick Spannish accent. He coulnd't stop smiling and told us everything we needed to know about his food from his home country, Venezuela.
We were quick to sit down and take a closer look at the menu. None of us had ever before tried Venezuelan food, but with this guy's enthusiastic speach about the food, we knew we had to give it a try.
He quickly came to our table with some delicious samples of the juices he also made. We quickly tried them out and they were just incredible. There was a traditional Venezuelan juice of a brownish color, not delicious looking, but it was super refreshing! We also tried Mango juice and one I forgot what was. The last was a thicker one, all white and made from rice. It was topped off with some cinnamon and sweetened with honey, from what I understood. (for our Danish readers: this tasted exactly like risengrød!)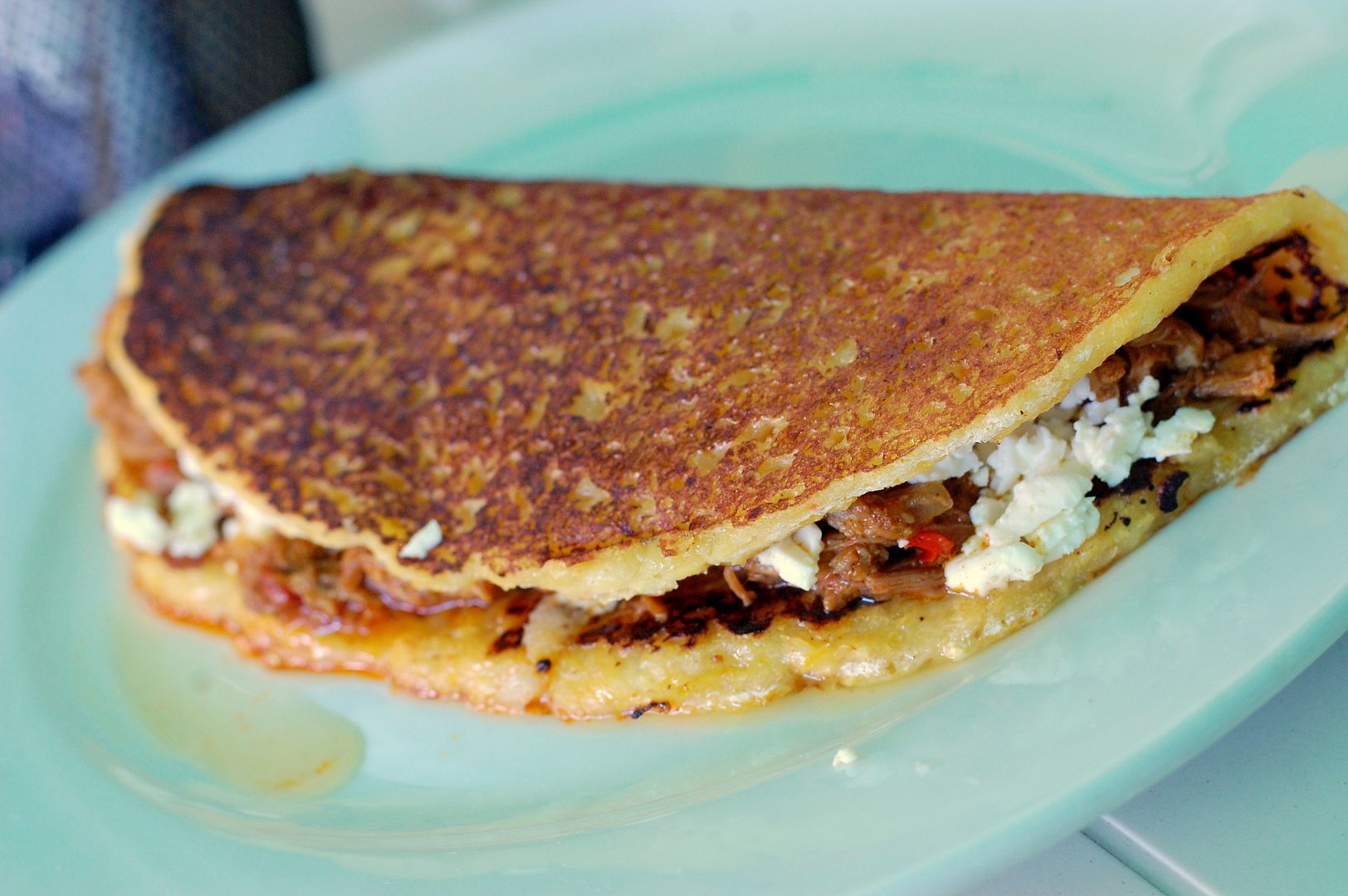 Jonas had the traditional Venezuelan dish, Pabellón Criollo, on the first photo of this post, and I went with the Cachapa Machada in the photo above. It was filled with the same meat that Jonas got in his dish and that was sooo good. It was shredded and seasoned with a special spice. Yum! 

The Cachapa is made with fresh ground corn mixed into a thick batter and grilled. It looks like a pancake, but the sweetness of the corn shines through. It was also filled with Oaxaca cheese. It was incredible!
After eating the delicious food and chatting more with the amazing owner, we decided to share one of his Venezuelan desserts: corn cake! We both enjoyed a café colado – a drip brewed Venezuelan style organic coffee – with the cake.
Just look how delicious it was! He tooped it off with a giant scoop of delicious vanille icecream and lots of caramel sauce and sliced nuts. It was incredible together with the cake.
Alone, the corn cake tasted a lot like corn. I'm a huge fan of corn and eating in these many different ways was totally new to me. It was so yummy, and the amazing service we recieved just made this experience something very special.
When we got the check, the owner told us that the corn cake was on the house and that he really had enjoyed having us. That left us speachless. We made to sure to leave a very generous tip and will definitely be back soon to try out his many other Venezuelan dishes.
And you know what? We now have a huge desire to go to Venezuela – something we'd never talked about before our visit to Kaxapa Factory in Playa del Carmen.
---
Where? On Avenida Constituyentes between Avenide 10 and 15. What? Traditional Venezuelan food. How much? Prices range between $45 and $85 pesos for a main dish. Water/soft drinks are $15 pesos and coffee $20 pesos. Desserts range from $25 and $35 pesos. Best part? The food and service! 
Have you ever tried Venezuelan food?
Celia Schow is one of the founders of NomadicDanes.com. Her goal in life is to live a rich life full of experiences and great memories.