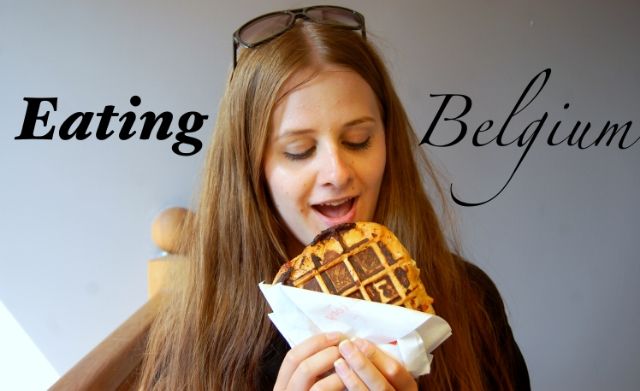 When most people think about Belgium, waffles are almost always on their mind. And in Belgium there are lots of opportunities to have waffles. We couldn't resist. We had a lot of waffles.
Belgium is also famous for their chocolate, and while we talked a lot about trying some great Belgian chocolate, we never came around to it. Well, we'll save that for next time!
We were only in Belgium briefly, but here's a selection of what we ate (that were worth photographing). Writing this post really made me hungry for one of those delicious waffles… Enjoy!
ITALIAN PIZZAS IN ESSEN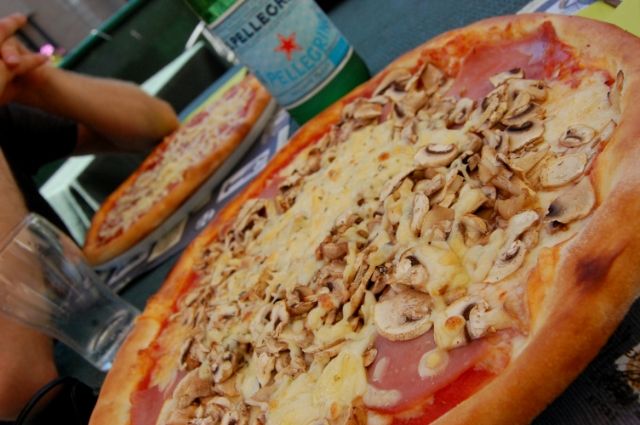 When we crossed the Belgian border and arrived in Essen, we were really hungry. It was Sunday, everything was closed and we couldn't find anywhere to eat.
Suddenly, our noses picked up on most delicious smell: pizza! Real, italian pizza. As we came closer, we heard the tunes of 'O Sole Mio. When we finally found the restaurant, the happiest Italian man met us in the door.
We sat down, ordered a large San Pellegrino and two pizzas. The guy only spoke Italian and the pizzas were as good as in Italy. What a pearl we'd found! Yummy.
LIÈGE WAFFLES IN ANTWERPEN

There were endless stands with waffles in Antwerpen and we couldn't just walk by without trying one. When we found a place that had delicious looking and cheap waffles we couldn't resist.
Liège waffles are pretty caramelized on the outside, very sweet and delicious to bite into. I had mine plain while Jonas went for the chocolate coated waffle. We both had ice cream on top and it was sooo delicious!
BRUSSELS WAFFLES IN … BRUSSELS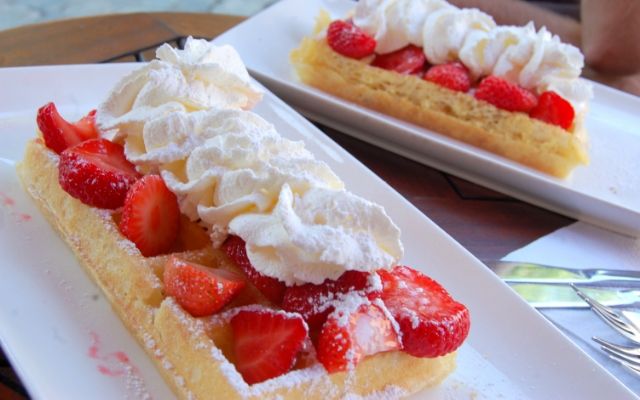 We walked by a charming café in Brussels who used the dirty trick of showing how delicious their waffles were. They had made lots of different waffles and put them in the window, right where everyone walked by.
With delicious waffles like this do I have to say that the café was full?
When somebody left their table we rushed over to take it. We ordered two Brussels waffles (which are more soft and not so caramelized as the liège waffel – and also bigger, win!) with whipped cream and strawberries.
They weren't greedy with neither cream nor strawberries and we where overwhelmed! They were sooo good.
BACON AND CHEESE WAFFLE IN BRUSSELS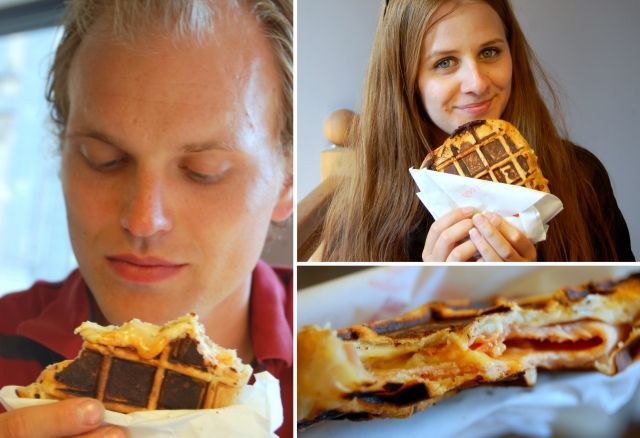 Around lunch time in Brussels, we walked by something called The Waffle Factory who had these delicious looking lunch waffles with different kinds of fillings.
We had just enjoyed a yummy Brussels waffle each as you can see above, but we couldn't resist trying a lunch waffle. We decided to share their Compagnarde waffle consisting of bacon, mozerella, tomato and basil – all inside a waffle!
It tasted somewhat like a toast, but we really loved the idea of putting meat and cheese in a waffle! It was delicious.
 * * *
Have you ever been to Belgium and tried out their waffles?