As we've mentioned before we are huge fans of exploring a city through its food. What better way to connect with a place than to eat delicious local treats!?
We loved Lyon deeply. Mostly because we had such an amazing couchsurfing experience there, but also because the city had so much to offer. In this post we'll guide you through the delicious local treats and special Lyonnaise candy.
But first some typical French treats that we can't seem to get enough of!
CROISSANTS EN MASSE

We've talked a lot about our love for a real French croissant a couple of times, and while our couchsurfing host had bought amazing croissants for us one day, the bakery was closed the next – nooo!
We walked around Lyon, looking for a place who sold fresh croissants made with lots of love. When we finally found a place, we had to come back for more… several times.
And no – I'm not telling you how many we had! ;)
CRÊPES WITH CHOCOLATE

While walking around in Vieux Lyon (Old Lyon) we came across this really French looking stand that sold crêpes. We hadn't had crêpes in France yet and this seemed like the perfect opportunity.
We both ordered a crêpe with chocolate filling (quite similar to Nutella) and he made it for us. Uhm, that tasty, warm crêpe… So good! Crêpes are absolutely a must-eat while in France. Yum.
THE BEST ICE CREAM IN LYON

On our first night in Lyon we joined a couchsurfing meetup at a bar where we played pétanque and met lots of interesting people. I made sure to ask all of them what they thought we should see and try in Lyon.
And three people mentioned the same place. With a lot of excitement, their eyes lighting up just by the thought of the place.
Yoi need to go to Terre Adélice – they make the best ice cream in Lyon!
Well, when so many people tell you that you start to believe it.
When our host, Alessandro, showed us around Lyon he made a stop at Terre Adélice. "This is the place everybody's talking about: the best ice cream in Lyon!"
No further introduction needed. We jumped right at it.
Terre Adélice has a lot of different flavors to choose from. And we could each have tried at least 20 of them. We narrowed it down to two each. The next day, when we were exploring Vieux Lyon we walked right by Terre Adélice again. And we just had to try it again!
This time we got one to share – it cost us a lot less (gotta love being a couple!) and we were able to try more flavors – win! This time we had caramel, coffee, Valhorna dark chocolate and speculoos (a cookie from the area). Yummy!
All their flavors are very strong and full. Valhorna Dark Chocolate has a very strong chocolate taste and you can actually smell coffee when eating the coffee ice cream. It was an amazing experience – they make really good ice cream!
We didn't try any other ice cream place in Lyon, so don't take our word for it. But every local we met said that this place has Lyon's best ice cream!
TARTE AUX PRALINES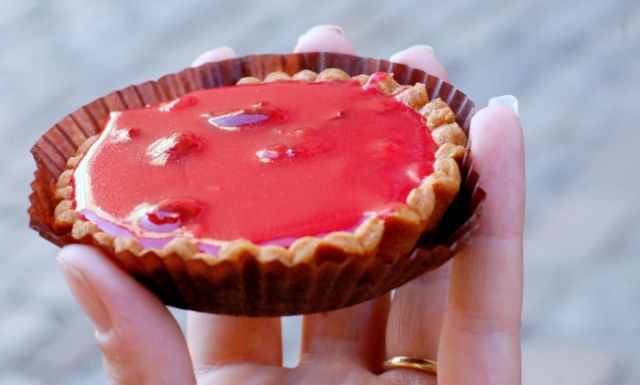 When showing us around Lyon, our couchsurfing host, Alessandro, mentioned these lyonnaise specialties called tarte aux pralines, or praline tart. When exploring Lyon on our own we couldn't resist trying this yummy looking tart with the bright red filling.
The tarte aux pralines is actually a pretty simple tart made from a sweet shortcrust filled with pralines (which we'll introduce you to in the following section) dissolved in cream.
The tart is very sweet and though we actually shared this small one, we were glad that we didn't have to eat more of it. Sure, it was extremely delicious, but the filling is basically just sugar, and if you're not used to eating much sugar it seems to be a little too sweet after a few bites.
But when in Lyon you really need to try a tarte aux pralines!
LYONNAISE CANDY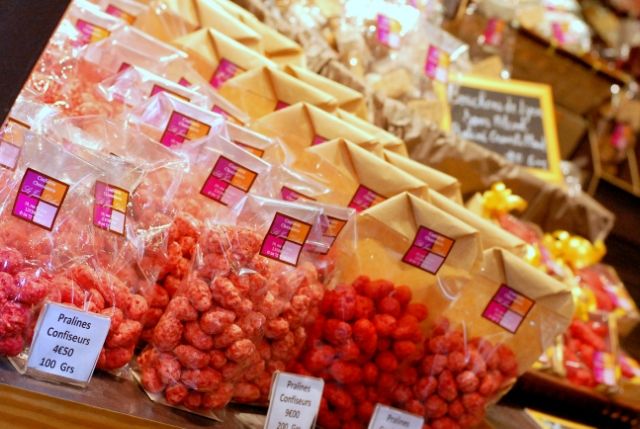 In almost every shop in Vieux Lyon you'll find these special Lyonnaise candies. They looked very different from anything else we'd seen on our trip, so we had to give them a try.
They're extremely expensive, and we bought them on the main street of Vieux Lyon which might not be the cheapest place to get them, so try looking around if you want to save a little.
We bought this extremely overpriced bag that had a few of every different sweet since we really wanted to try all of them – I think it cost us a little over 12 €.

To give you an impression of the different kinds of candies, I'll try to describe them below. There were some yummy and some not so yummy sweets between them. This is definitely something different from what we've tried anywhere else!
1. Les Pralines Rouges are the main ingredient in the Tarte aux pralines mentioned above. Pralines consist of an almond covered in vanilla-flavored caramelized sugar. I have no idea where the red color comes from. It's delicious, but nothing special. It's way better in the tarte aux pralines.
2. Les Cocons de Lyon are hazelnut praliné, candied orange peel and curaçao blended together with a soft almond paste coating. I dislike almond paste (or just marzipan in general), so this piece of candy didn't do it for me. I gave it to Jonas who seemed to like it.
3. Les Soieries Lyonnaises are Lyonnaise specialities in different fruit flavors. We got strawberry and orange and I liked them a lot! They were very sweet and I were good with the two of them.
Actually the blueish one is a Coussin de Lyon which is dark chocolate ganache flavored with some curaçao wrapped in a layer of sugar coated almond paste. Jonas liked this way better than the Soieries Lyonnaises, while I preferred the ones with fruit flavors!
Sorry to confuse the two in the same photo…
4. Les Bouchons de Lyon are these things looking like cork stoppers for wine. And while we had the empressiont that the look was part of the candy it turned out to be just the paper around it… Boring!
On the inside, however, it was nothing but boring. It's dark chocolate ganarche flavored with crunchy praline. Yum. Really good!
5. Les Pavés du Vieux Lyon are supposed to resemble the cobblestones that still pave the streets of Vieux Lyon. And they reallo do! Love the design of this tasty candy. They're made with chrunchy praliné and dark chocolate. They were definitely our favorites in the bag of Lyonnaise candies.
* * *
Phew – that was what we ate in Lyon! Such a great city – have you ever been?
Celia Schow is one of the founders of NomadicDanes.com. Her goal in life is to live a rich life full of experiences and great memories.