We thought we'd put you up to date with our latest biking days. We drove all the way from Hannover to Amsterdam and it took us 5 days. It seemed like a very long way (and it was – 399 km in total (247 miles)) and we just couldn't wait to reach Amsterdam.
We had our second flat tire during these days, but we also crossed our first border on our bikes (we crossed the border between Denmark and Germany on a ferry on our second day) and it was … well – read on and you'll know what we thought about that.
We've been good at getting up early and drive around 80 km every day. We're kind of getting in the right spirit now and our biking days seem more and more normal.
DAY 10: HANNOVER – BAD OYENHAUSEN (81 km)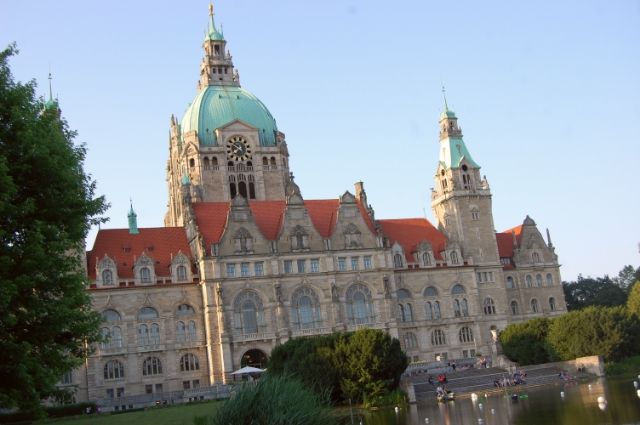 We'd spent a day in Hannover and were actually quite fond of the city. It's beauty was not something we'd expected and we were really glad that we decided to stay and experience the city.
We were relaxed and up for the day. At this point we were just ready to leave Germany, feeling like we were really seeing the same scenery over and over again. We were ready for something else, but boy Germany is a large country.
We would initially have taken some longer days to reach The Netherlands but this part of Germany really has no campgrounds what so ever.
Jonas had found one near Bad Oyenhausen (he's the route planner!) and there were no campgrounds close to that. When we arrived, we were given a really large spot for our pretty small tent. We tried arguing that we didn't need this much space but they wouldn't listen. We ended up paying € 21,7 for that night – which is the most we've ever paid.
I was pretty pissed about it and in a bad mood. We went to bed early and I was laying in the tent, nearly asleep when Jonas came back from brushing his teeth and told me that his front tire was flat.
Fucking great.
DAY 11: BAD OYENHAUSEN – OSNABRÜCK (72 km)
We started the 11th biking day changing the tube on Jonas's front wheel. We were so excited that we actually fixed it and that the bike was fine to ride (and we haven't had any problems with it since!). You learn something new everyday…
Even though we fixed the bike on our first try, we still left the campground a lot later that we'd wanted to. It turned out to be a good thing: we had to cross a small lake by boat and the first trip was at 11 am. We were on the first run over to the other side of the lake.
If we'd started earlier, we would have had to either wait for the boat or drive around the lake – which would have been a huge detour!
This was the boat – Amanda!
We stopped in Osnabrück to get some work done – they had a Starbucks and finding wifi in Germany was quite hard so we always stopped at Starbucks to work!
Luckily, our campground was very close to Osnabrück. It was the wort campground we've stayed at so far and it was quite expensive too. The bathrooms had no toilet paper or soap. Eeew. Even the people there seemed sick.
We were so happy that we arrived late and could leave early!
DAY 12: ONSABRÜCK – DE LUTTE (78 km)
We were on fire. Finally, The Netherlands were getting closer and within reach. We went a lot downhill and our speed was great! We were also excited to be entering the Netherlands.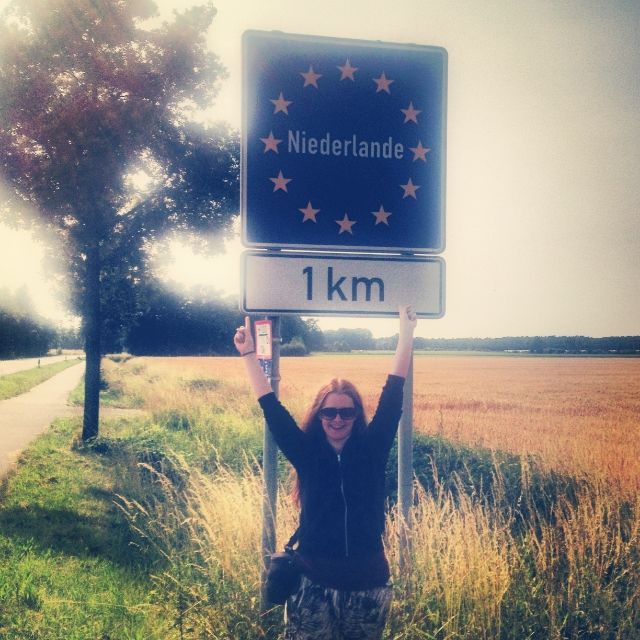 So close!
I don't know what I'd expected but I was pretty sure that crossing the border would be something very special. When we found the sign on the picture above I was just so excited. I was expecting flags and … well, something cool when we reached the border.
After all, this was our first border crossing on a bike ever!
When we finally crossed the border it was pretty disappointing. There was a EU flag. And that was it. No German or Dutch flag… Wtf! That was not exciting at all.
The only change we saw was that all the signs were now in a language we didn't understand at all. Wooo.
We stayed at a "mini camping" site in De Lutte just by the border. Mini camping is huge in The Netherlands – it's campgrounds owned by farmers. We've tried it out two times now and it has been our cheapest and best camping experiences so far! Highly recommend it!
We were surprised to have wifi on the campground. After a long time in Germany we weren't used to that. We decided to stay for one more day in De Lutte and spent some time online and relaxing for our next leg: Amsterdam in two days!
DAY 13: DE LUTTE – GARDEREN (98 km)
We had 168 km to Amsterdam and decided to take nearly 100 km of that distance in the first day – to make our ride to Amsterdam shorter.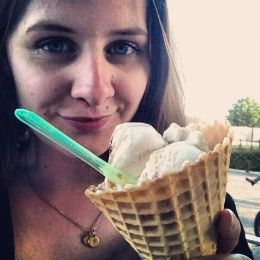 After the day in De Lutte we were super psyched and this was maybe our best biking day so far. Our speed was crazy and we reached our campground pretty early.
Once again we stayed at a mini camping, and it was even cheaper than the one in De Lutte – craziness! Once again we had wifi. We were surfing around online, and when we finally drove to Garderen to find something to eat, the only thing open was a ice cream shop.
The great thing about being an adult is that you can have ice cream for dinner… Mmm! It was so yummy!
DAY 14: GARDEREN – AMSTERDAM (70 km)
Amsterdam was finally within reach but even though we couldn't wait to reach the city we were a bit tired from the nearly 100 km ride the day before.
My left knee was hurting like crazy when we had just 20 km to Amsterdam. We were at Almere Haven which was a lovely area!
While I was resting and stretching out my muscles in my left leg I snapped some photos of the habor.
Loved the name of the large ship in the background: Success
After the rest I was ready to continue and we hit Amsterdam on Monday.
We're enjoying our last night in Amsterdam right now. I would really love to stay here longer, but we need to continue our trip. Tomorrow we'll be heading towards Rotterdam – I hear it has a pretty exciting habor?
We have lots of photos of Amsterdam coming up. I've spend the day preparing some posts. You can really look forward to them! Until then, here's one of my favorite shots from Amsterdam – such a pretty city: