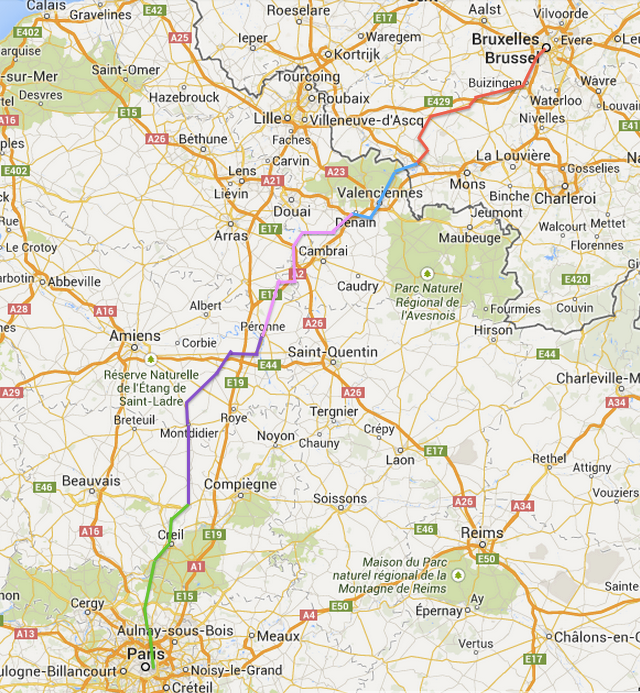 We're ready to share our biking days from Bruxelles to Paris with you. Some of these days were the craziest and worst days of our trip so far. Looking back is not pretty, but we're not going to spare you. This trip is getting more insane than we thought it would be.
If you want some keywords to sum it all up, it would be words like: rain, thunderstorm, highways and camping in the wild.
Are you ready? Read on!
DAY 18: BRUXELLES – BERNISSART (84 km)
After two lovely days in Bruxelles where we'd eaten more waffles than ever before, we were ready to get closer to the French border. We couldn't wait to reach Paris and had booked a room with Airbnb from Monday. That left us 5 days to reach Paris. Seemed perfect.
We'd found a campground close to the French border and had an amazing ride. As we drove through the small Belgian towns we saw how the country became more and more French.
Belgium is such a diverse country and there are so many differences between the Dutch and French part. It was so funny to see on bikes.
We arrived at our campground, took a bath and went to bed. Everything seemed so great and we were really looking forward to entering France the next day.
DAY 19: BERNISSART – DENAIN (33 km)
The rain startet when we were all packed and ready to go. Luckily, we hadn't packed up our tent yet so we just waited inside… For hours. When the rain finally stopped, it was late and we had a long ride before us. Crap.
We were just a few kilometres from the French border and without noticing, we crossed the French border. Another boring border, I guess…
France may have the Tour de France but the country is not great to bike in at all. Not close to the border, anyway. We quickly ended up on a big road that wasn't comfortable to bike on, at all.
To avoid being hit by any cars we drove on the dirt next to the road. With all the rain we'd had earlier it was just mud. After a few hundred metres, we had to get off our bikes and drag them through the mud.
We couldn't escape the road and had to continue the madness. I was stressed out since we were already way behind on our time schedule and this mud hell wasn't helping at all.
When we found a side road we decided to take that and hoped it would lead us somewhere. We had to clean up the bikes first, since they were covered in mud.
When we started cleaning up the bikes I realized that my back tire was completely flat. Nooo! It was the first time something had been wrong with my bike. And I didn't like it at all.
It would show to be the least of what was going to be wrong…
Changing the back tire is much harder than changing the front tire. None of us had tried it before, when Jonas' back tire broke on our first day we had it fixed at a bike shop. This time we was on our own.
It took a long time and while Jonas was busy changing the tire, I fooled around with my camera, since the scenery was actually quite beautiful.
When my bike was finally ready it was late. We both startet doubting that we would reach the campground we'd planned for. The worst part was that we had no idea where to sleep if we didn't reach it.
After a few hundred metres we had to stop again. My gears didn't seem to be working correctly. We tried to fix it, but couldn't. We didn't have the right tools and had to continue.
We had lots of trouble finding our routes since France seems to be one giant road work and there are road blocks almost everywhere. Everything seemed to be working against us.
My front basket began to move in a weird way. When I suddenly couldn't turn my handlebars anymrore, I saw that the basket had actually broken. What! There was nothing to do. It was done.
Poor basket. I was so unhappy that it broke! I think it was because of the weight I had in it and all the bumpy roads in Germany, Belgium and France. It had done a great job. Poor basket.
We had to get creative with out packing. This was how we re-packed:
We continued until it got dark. We were once again driving around among very large roads that we simply didn't want to risk our lives driving at. We were close to Denain, and hadn't seen any signs for campgrounds.
It was late. And we didn't know what to do. Our only option was to camp in the wild. We searched for the perfect spot and found a public park that was blocked by a road block. The next day would be a Saturday, so the workers wouldn't be there. There were nobody around so we camped there.
A few people walked by and saw our tent (it's pretty hard to hide that bright blue tent!) but nobody said anything. People didn't even look that much. Nobody cared. It was a success and cheap as well. Win!
DAY 20: DENAIN – PÉRONNE (71 km)
We woke up pretty early, since I was too paranoid to oversleep and had set a million alarms for 6 am. We woke up and started packing up our things. The sky was grey and we wanted to reach a McDonald's near by since we were pretty sure it was going to rain.
We had just jumped on our bikes when the sky turned black in a few seconds. The wind hit us in the face like a wall, and just moving forward on our bikes seemed impossible.
Then the rain came.
I've never in my life experienced such a crazy weather change. The rain drops were huge and hit us fast. It hurt so much. We jumped off the bikes and began to cover our stuff with rain covers. In a few seconds we were both soaking wet and we had to find a place to hide.
We found a garage that could cover us a little. A thunderstorm broke out and the ground was actually shaking from the thunder. I'm really scared of thunder and being outside during a thunderstorm is one of the worst things I've ever tried.
A French man saw us and shouted that we could find shelter nearby. We went in the direction he'd pointed out and found an open garage. We took off our wet clothes and dried our bodies. The amazing feeling of putting on dry clothes were amazing. The storm lasted for nearly 2 hours and when it was over, we went to the McDonald's and had some hot coffee.
The rest of the day went well although we reached our campground in Péronne pretty late. It started raining again and we couldn't put up our tent untill around midnight. When we finally went to bed, we were both exhausted – what a crazy day!
DAY 21: PÉRONNE – AVRIGNY (86 km)
We hadn't been on the road for more than a few minutes, when Jonas felt like his bike were suddenly very heavy – another flat tire. This time it was his back tire, and we stopped to change it.
I must have been very tired because I fell asleep on the ground (!) while Jonas fixed his bike. We really felt like someone was testing us. It seemed like we had one accident after another…
It was quite a set back, but the rest of the day was sunny and nice and we really started to enjoy the amazing French scenery that we drove through. On the more serious side we saw lots of cemeteries in the countryside, most of them remembering soldiers who were killed in either the First World War or the Second.
And there were a LOT of them. So sad to see how many soldiers lost their lives in these wars…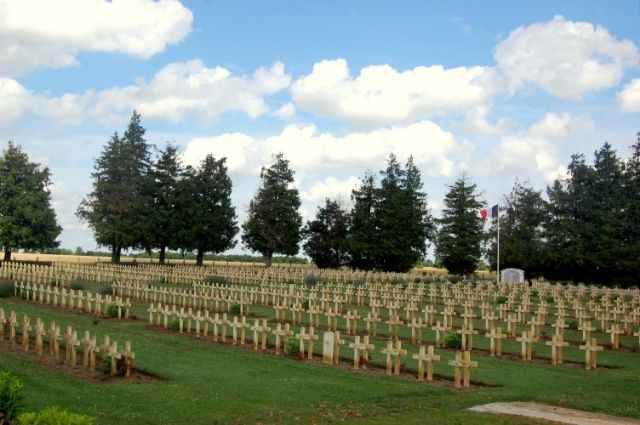 A French Cemetery remembering soldiers who lost their lives in World War 2
The flat tire earlier in the day had really put us far behind on our time schedule. We were also in a hurry, since we needed to reach Paris on Monday. When the darkness came around 22 pm, we had to stop for the day. It gets really dark in the countryside at night and we didn't dare to continue. We ended up camping behind some trees in the outskirts of the small town Avrigny.
Once again camping "in the wild" went well for us and nobody seemed to care that we were there.
DAY 22: AVRIGNY – PARIS (75 km)
We were so ready for Paris and woke up at 6 am full of excitement. We wanted to get started early so we would reach Paris early as well. We jumped on our biked and hurried through the many small towns.
When we came close to Paris it became obvious that reaching Paris on bike is not common and not something they seem to want. We had lots of trouble getting close to Paris and the last 20 km took over 3 hours.
What we really learned was that you need a lot of confidence to bike to Paris. When we just rode on the road, the cars were nice to us and made enough room for us to not feel uncomfortable.
We drove through some really creepy neighborhoods before reaching Paris. I'm glad we didn't come at night – it would have been very unpleasant.
We checked in to our small apartment around 5 pm. Our Airbnb host was great! Everything was very nice and he had just left the key under the doormat for us since we were late (we were supposed to meet him at 3 pm).
Paris was amazing but we have some posts coming up about that. For starters, just look at this… LOVE!