Day 2 – 5 in different colors
We're finally online after some crazy days in Germany. Who knew finding wifi in Germany would be so hard!? We sure didn't. But we're in Berlin now and can finally rest and enjoy some online-time. Ahh. Feels good.
But before talking about Berlin we want to share the crazy days we had in Germany before getting here. Be prepared – it's a bumpy ride!
DAY 2: NØRRE ALSLEV – ROSTOCK (70 km)

After the first day and our 105 km ride, we were quite tired. Our goal was to just reach Germany. Our legs were tired and everything seemed heavier than the day before. We stopped in Vordingborg and had an amazing burger at The Burger (recomended!) while our bikes caught a lot of attention outside. We could see people stopping and walking around the bikes from our seats – so funny to watch!
We headed towards Gedser and hoped to catch the 8 pm ferry to Rostock (how we managed to waste so much time that day is beyond me…) We had a crazy headwind and were running late. We missed a sign for the ferry and accidentally drove in through the exit. The guides just waved us onboard – without a ticket! We thought we could buy one at the ferry, but no… You have to buy it before. So that's how to crash a ferry!
When we arrived in Rostock it was almost 10 pm and we decided to just find a hotel. I had found one sort of close to the harbor and kind of cheap ("only" 50 €) on hotels.com the night before. Only there was one problem… The ferry arrived at the wrong side of the harbor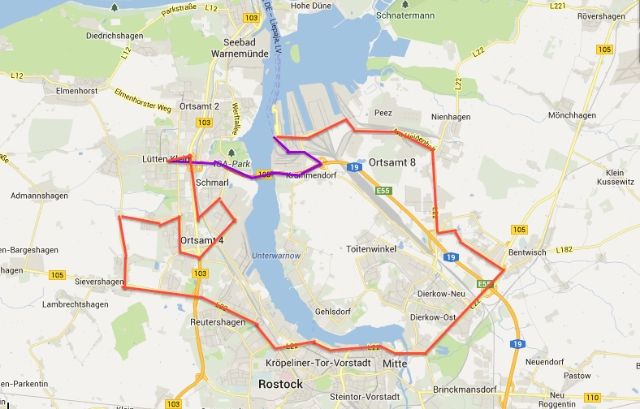 Oh. But they build a bridge, right!? Yeah – for cars… How nice it would have been to just have followed the purple line on the map above. But no. Bikes have to drive aaaaall the way around the bay. Fan-fucking-tastic.
We stopped at multiple hotels in "Mitte" (downtown) but they were all waaay more expensive than what we could pay. Even the 50 € were too expensive for our budget. Damn. So after driving around like crazy and asking at hotels (the hostels were closed…) we drove to the hotel I had found. We reached it at 2 am and fell asleep immediately.
So what did we learn from this!? Start early and plan ahead! Reaching a new city when it's dark and everything is closed is just stupid. Add to that all the bad decisions you make when you're tired and you have a very bad cocktail. Don't. Do. It. Start early!
DAY 3: ROSTOCK – GÜSTROW (50 km)
Enjoying lunch in a small German town
Originally we wanted to reach Berlin on Friday which left us only two days to complete the 280 km (173 miles) journey. Maybe a bit too optimistic.  My right knee was hurting a lot so we couldn't drive very fast. We had a nice lunch in a small town on the way and were taking our time. No need to hurry when it really hurts.
Google Maps lead us through a forest – we drove on a very uneaven road and we could only drive very slowly. The forest was very pretty and the weather was great at first. We reached an old camp with wooden benches and tables – so pretty! At this time the forest got quite dark and it started raining. We hid under the wooden roof covered in moss – so cozy! When we finally decided to move on it really started raining. Damn. We should've just stayed in the forest!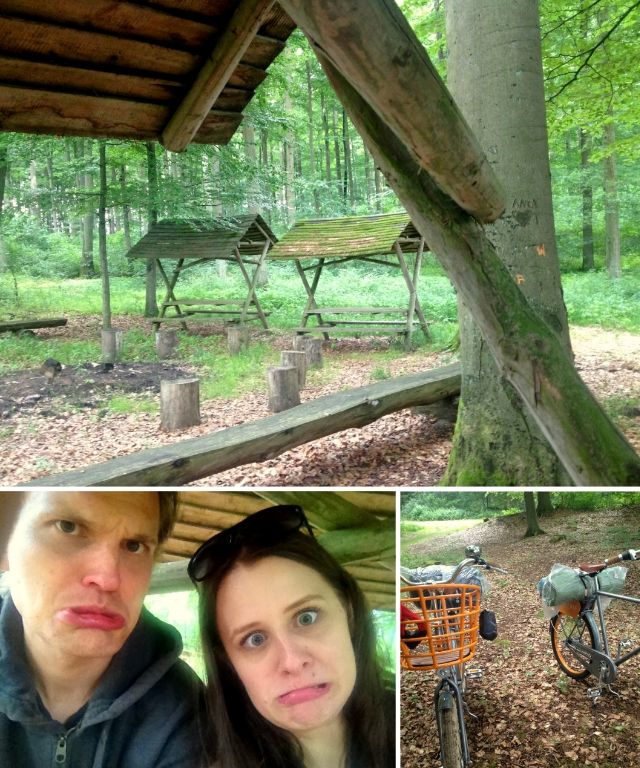 Hiding from the rain in a forest near Güstrow
When we reached Güstrow I was not sure I could continue. My knee hurt more and more. We decided to ask at a hotel if we could put up our tent in their garden. They let us do that for just 10 €! Yay.
This was also the first time we set up our tent. It was so much fun! And it turned out pretty well (will take some photos next time we camp!) – camping is a wonderful way to save money when on the road. And it's actually quite comfy. We're so happy that we got a tent.
DAY 4: GÜSTROW – MIROW (100 km)
My knee felt way better when we woke up after our first night in the tent. We left Güstrow quite early (for us at least) and headed towards Berlin. The weather was still not on our side and we spend almost all day wearing our pretty "rain ponchos". Germany, please!? Still, our mood was great: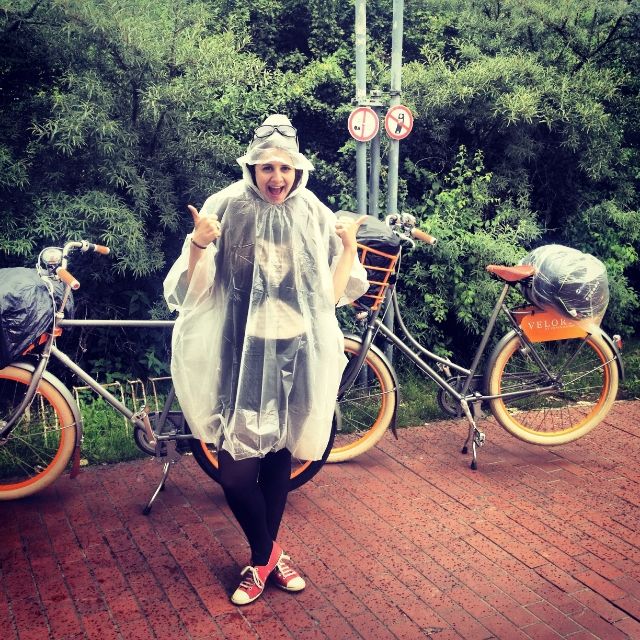 Woohoo raaain! 
Okay, maybe that wasn't how we felt about the rain. At all. Or the cold weather. Brr. Germany hasn't really been treating us well on the weather front so far. But we got used to covering everything up in plastic bags all the time. *sigh*
After 70 km I was ready to set up our camp for the night. Jonas kept pushing. Just 10 km more… Ok. We spent the last 15-20 km searching for a campsite. We found the perfect one in Mirow and set up our tent again.
We were both very surprised about how great the standards are at campsites! The toilets and shower rooms were very clean and worked well. We could even use a washing machine. That's great value for just 13,5 € a night! Well done.
DAY 5: MIROW – BERLIN (130 km)
It basically rained all night in Mirow. Our tent was very wet when we packed it, and even though it didn't rain for the first couple of hours the rest of the day was just rain, rain and more rain. But we were stubborn. We wanted to reach Berlin. End of discussion.
This was our worst day so far. We drove around from noon and didn't reach Berlin before 2 am. We ended up in Pankow and when we spotted a "HOTEL" sign we gave in. And booked a room. For 60 €. Doh. After 130 km (80 miles) we were just too exhausted to find anything cheaper or to just drive to the center of Berlin. We had to sleep. Now. And we did. Ahh.
We have no photos from this day since it rained all the time. There's not much to be said about it. It was a crappy day but we reached Berlin!
* * *
To be quite honest, this has not been what we had hoped for when we set off on this trip. Sure, this is Northern Europe, you can't expect sunshine all the time. But we've had rain 4 out of 5 days. And a lot of it. We've been wet and cold nearly all the time.
We've tried to stay possitive. And it has really helped a lot to joke about it! But to say the least it's been tough. We really hope for better weather when we set off towards Amsterdam on Friday. Pretty please!? 
For now, we're enjoying Berlin! Today we finally had some sunshine and got a chance to catch some of the real Berlin vibe. The next four days here are going to be great! And now that we're finally online, we can blog a lot more! :)