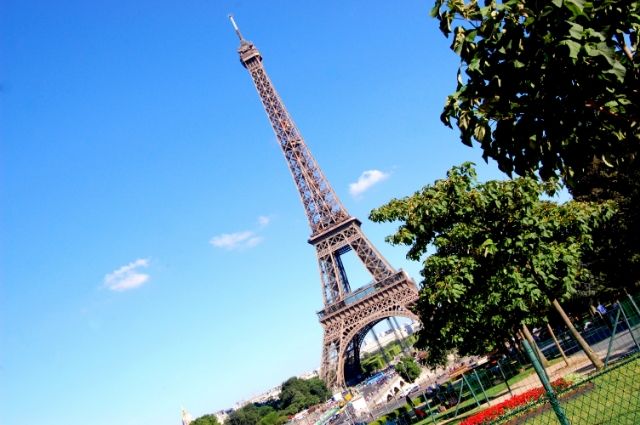 Leaving Paris was not easy for us. We ended up spending more days there than planned. First, we made arrangements with our Airbnb  host to stay one more night. The next day we found a great deal on Hotels.com and stayed one more night. Oh. Paris was so amazing.
Had we had the money, I'm sure we would be there still.
But we had to leave *sobbing quitely* – we have so many amazing cities waiting, and to be honest we could have stayed in Amsterdam or Brussels as well. On the third night in Paris, we stayed with the nicest guy through couchsurfing! An amazing experience…
Here is a walk-through of our biking days from Paris to Gien, containing the time I fell in the water. Yes. There are pictures – enjoy!
DAY 23: PARIS – SAINTRY-SUR-SEINE (40 km)
To be absolutely honest, this day was actually spread out on two days. 40 km in two days!? Are we getting slower? No, but the first day we cycled 10 km to the outskirts of Paris to stay with William, who had offered us an emergency couch through couchsurfing – thanks William!
The next day, we cycled 30 km to our campground at Saintry-Sur-Seine. Our plan was to stay there for four days, working and relaxing. Jonas' right ankle was hurting, since he had used it wrong when braking down the hills.
We had had no time for rest in Paris, so his ankle was getting worse. Four days seemed enough, but…
We ended up staying nine days! Mountains were waiting, we thought, and we were getting better and better at making excuses for ourselves not to continue. "But tomorrow…" Well, no.
The setting right beside the Seine was amazing. We were really starting to see some amazing French scenery. Getting further south, this just got better and better.
DAY 24: SAINTRY-SUR-SEINE – BAGNEAUX-SUR-LOING (93 km)
When we finally left Saintry-Sur-Seine, we realized that our mountain fear had been only in our heads. We followed the Seine and had a very flat and beautiful drive.
We weren't planning on driving 93 km, but we lost our route and just continued along the Seine, and later the Loing. The drive was amazing, we rode on small roads right beside the rivers and it was so pretty.
Experiencing such amazing French nature, we couldn't help but be a little jealous of the people who owned homes right there. How nice it must be… But of course it's only so nice until the weather changes later in the year… But just look at it:
We made a stop in Nemours, to spend some time online, working. We were at McDonald's (we're spending quite a lot of time there… Great wifi!) and left when they closed. When we finally arrived in Bagneaux-Sur-Loing it was late. Our campground was closed, but we just went in and put our tent up and paid the next morning. This is now our favorite way of handling this camping thing!
DAY 25: BAGNEAUX-SUR-LOING – MONTARGIS (40 km)
We were optimistic. The plan was to do 80 km and end in Gien. We really wanted to stick to our plan about cycling 80 km a day, so it seemed perfect. And perfect it was, until the route got pretty bad.
We were driving on very uneven paths, slowly. I was trying to focus on not falling down one of the holes in the road. But of course, I had to do so, and I lost control over my bike, and… I ended up falling into the Loing! EEEK!
How could I fall into the water?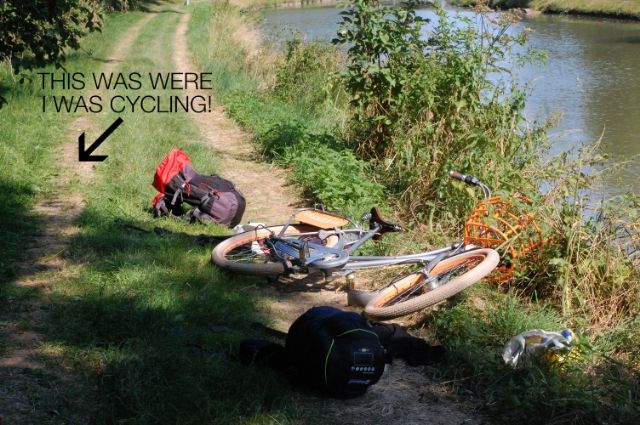 When I look at this picture, I actually really don't know how. I was cycling pretty far from the water front and at a pretty slow pace. Jonas was in front of my in the other trail, the closest one to the water.
I accidentally fell down a pretty large hole in the road and lost control over my bike. I was very close to hit Jonas, and tried to steer away from him – closer to the water.
I felt the bike starting to trip, and I prepared myself for hitting the ground. Pretty hard, I thought. But instead of hitting the ground, I felt a huge pain on my legs – especially my left leg.
Next thing I know, I feel my upper body falling further down than where I expected the ground to be. I feel my back getting wet, as I hit the water. "This is NOT happening!" I think to myself as I close my eyes and my mouth, preparing to fall into the water.
I hear the sound you hear when your under water. I'm super confused. What the hell happened? Did the bike fall to? Shit! What about my camera that I was wearing around my neck? How deep is this river? Why is my leg hurting so much?
I feel the bottom of the river under my feet and push hard to come to the surface. I shoot out of the water, finding that I can easily stand up. The water was at my waist. Phew. I take off my camera bag and throw it on the ground. Jonas arrives, shouting if I'm ok. I nod. Still confused.
The bike is on the ground, but everything in my front basket has fallen out and is floating around. I walk around in the river, collecting everything: our sleepingbag, my shoes, my shirt, bottles of water… My hat floats off, and I can't really reach it. I return to help Jonas get the bike away from the water. I have his backpack sitting on the back of my bike – in it is his MacBook! Crap.
Jonas help me get out of the water and has to pull me up. My body hurts so much. When I'm safely on the ground, he finds a stick to get my hat out of the water.
I took my camera out of its bag – luckily it was still working. Phew. It had been all the way under the water with me, but the bag had kept it pretty dry. I left it in the sun to dry.
After that I took Jonas' MacBook out of his backpack. It wasn't wet at all. I couldn't believe how lucky we'd been!
And then I focused on myself… I was pretty beat up. My legs were hurting a lot and I was soaking wet. Not my finest move, I have to admit…
Needless to say, I wasn't feeling super well. We ended up camping for the night in Montargis, only 40 km from where we started. But my legs hurt, and I was just not feeling well after the unintended swim.
And please – feel free to laugh your ass of at this, I haven't stopped laughing yet. ;)
DAY 26: MONTARGIS – GIEN (40 km)
The part of France we're driving in right now if cluttered with hills and mountains. To avoid them, we try to ride along rivers all the way (without falling into them, ahem…) but the route between Montargis and Gien had to be through the land. Yikes!
Luckily, we didn't hit too many hills, but instead we were driving on the side of a very large road. France is very diverse when it comes to bike friendliness. In some places you'll find amazing bike lanes through the beautiful landscapes, and in other places you're left with only huge roads.
The road we rode on was huge and we didn't have lots of space to ride on. We kept as close to the side of the road as we could but it was very uncomfortable. The cars were driving by fast and the speed limit was 70 km/h (43 mph), but when it rose to 90 km/h (56 mph), we didn't feel comfortable any more and took the first road on the right.
We followed small roads all the way to Gien – so glad we did! When we hit Gien we were back on track, close to a river – this time the Loire.