Oh, snap. I'm waaay behind on these posts about our bike days! I feel like they're super important to post. Not only because it's so nice to have these posts to look back on, but also to give you all a feel of what biking from Copenhagen to Rome looks like. And what can be expected. I love these posts.
But they take a long time to write. And I take sooo many pictures. It's quite time consuming writing these posts. I really hope you see that when reading them. :)
Anyway! Here's our bike days from Gien to Paray-le-Monial. We biked along the Loire which was beautiful! We try to ride along rivers and canals to avoid to many mountains to climb.
DAY 27: GIEN – COSNE-COURS-SUR-LOIRE (40 km)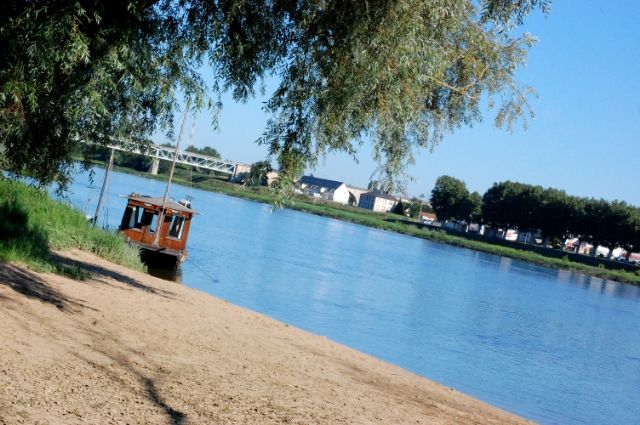 Beautiful view of the Loire from our campground
When we woke up in Gien, we had the pleasure of a beautiful view of the Loire. We had arrived at the campground on the night before but could not appreciate the beautiful setting because of the darkness.
What a view to wake up to!
We set off and had a short but still beautiful day. We had to catch up on some work and only rode 40 km to Cosne-Cours-sur-Loire to drink lots of coffee at McDonald's and enjoy some free wifi.
I was still sore from my crash some days earlier so this short ride was just what I could manage. The ride along the Loire was stunning and there were real bike paths! Woo – not crappy roads with holes in them. Big improvement.
DAY 28: COSNE-COURS-SUR-LOIRE – NEVERS (61 km)
Still following the Loire river, we headed towards Nevers. Once again the bike lanes were amazing, and we found ourselves riding at a good speed and really enjoying the ride.
We followed the Euro Velo no. 6 route some of the way. At certain points it would leave the river and take a detour in the hills. We didn't want that and rode on the side of the small roads following the Loire then. It worked out perfectly, since the road was small and only few cars seemed to take that.
Arriving at Nevers, we finally had a chance to camp before the sun went down – a whole new feeling for us. We paid for two nights, since we really needed time for work.
Nevers was a quite large town but we didn't really have the time to explore.
On the day of our planned departure, we woke up to the sound of rain drops hitting the tent and decided to stay for one more night. Packing a wet tent is not a great idea, and also rain can destroy a lot of the experience of biking.
The rain stopped pretty quickly and looking back we could have taken off later that day. But we decided to enjoy the beautiful views of the river – this time from lovely Nevers.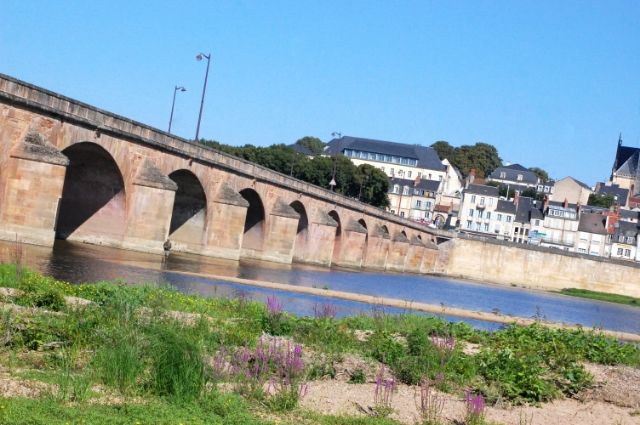 DAY 29: NEVERS – BOURBON-LANCY (72 km)
Following the Loire turned out to be a little tricky. We had just gotten used to the great conditions, but had to go back to an old strategy that we used in Northern France: follow the small roads between the cities.
Luckily, the roads kept pretty close to the Loire and we didn't have to do too many climbs. The weather was stunning and we could really feel that we were now moving south. Ahh. What a feeling!
When we approached Bourbon-Lancy there were some pretty good bike lanes to the city. We followed them and found an Ibis Hotel close to our campground. We smelled pizza and bought two. We enjoyed them in the darkness.
We camped for the night and paid the next morning – back to the old habit!
DAY 30: BOURBON-LANCY – PARAY-LE-MONIAL (54 km)

I've never seen so many sunflowers in my life – stunning!
Heading back to the Loire for the ride, we had to go by road again. But we saw some workers working on the bike lane right next to the Loire! France has some great plans for bike lanes to be build. This ride would be so much easier (and safer!) once they're done. Can't wait.
When we reached Digoin, it was time to leave the Loire and start following Canal du Centre which had amazing bike lanes all the way.
It's amazing how much faster we can go when the conditions are good.
In Paray-le-Monial we worked at McDo (French for McDonald's) until late and when we arrived at the campground it was closed. The gate was locked and we needed a code to get in. Eh. Normally you can just walk in, but this place really had a lot of safety going on.
Jonas was close to jumping the gate when we heard voices. Voices speaking a familiar language!
Two danes came (on their bikes, of course!) and we asked if they could help us get in. Luckily, they had camped earlier and had the code – win. They let us in and we were both so thankful that they were Danish – we weren't really feeling like explaining ourselves in French (which we can't even do when we're fully energized) – how lucky can you be?!