So, it's time to look at how we went from Paray-le-Monial to Lyon without climbing any mountains. Jonas (who's doing all the route planning) read on various blogs that it wouldn't be possible to ride from Paris to Lyon without climbing mountains – well, challenge accepted!
We had a weird mix of both excellent and bad roads, insane and amazing weather, couchsurfing and camping in the free… These four biking days brought a little of everything.
So if you're ready, here's a more detailed version:
DAY 31: PARAY-LE-MONIAL – MONTCEAU-LES-MINES (38 km)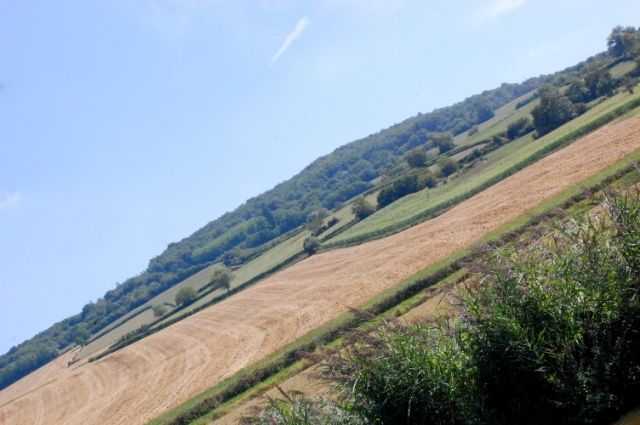 We needed to go to Chalon-sur-Saône even though it was a detour to go to Lyon – because we wanted to avoid climbing any mountains. We had exactly 100 km from Paray-le-Monial and decided to take the first part of the trip prette slow and do a stop in Montceau-les-Mines.
There was nothing special about the day – we tried to keep as close to Canal du Centre as possible. We thought there would be somewhere to camp in Montceau-les-Mines, but it turned out to be pretty impossible to find anything. Between Montceau-les-Mines and Chalon-sur-Saône there was basically nothing, so we had to stay.
We spent most of the day enjoying some free wifi at McDonald's while trying to figure out where to sleep. The hotels were quite expensive, and in the end we camped very close to the McDonald's in a park with lots of trees. We were extremely well hidden and just in the center of the city – win!
DAY 32: MONTCEAU-LES-MINES – CHALON-SUR-SAÔNE (62 km)

We started with coffee at McDonald's and Jonas planned the route of the day. We were both worried that this would be a very tough day – we knew that when we reached Chalon-sur-Saône we would be able to follow the Saône down to Lyon, which would save us from climbing mountains.
It turned out to be one of the best days – ever. The bike lanes were amazing and we rode by a small canal all the way to Chalon-sur-Saône. Most of it was actually down hill and we were driving in the seventh gear almost all the way.
We were super fast and reached Chalon-sur-Saône earlier than expected. The drive was also amazingly beautiful and the weather was just perfect. We were happy that we reached Chalon-sur-Saône easily since the weather report was claiming lots of rain the following day.
At 6.30 am Jonas woke up and went to bathroom. One minute later the rain arrived. Rain is so loud when you're in a tent and I was there all by myself. Then the wind started shaking the tent and the thunder started.
And let me tell you… Thunderstorms in France are insane. They seem to arrive out of the blue and they're heavier than anything we've ever experienced in Denmark.
I was incredibly scared. I packed down our computers in a hurry, put on a rain puncho and ran (without shoes) to the bathrooms. The road was flooded and I ran as fast as I could. When I reached the bathrooms I saw Jonas standing inside looking out on the rain and thunder.
I joined him and felt lucky that I made it all the way up there. Phew.
When the thunder and rain stopped the rest of the day was beautiful. Such crazy weather in France!
DAY 33: CHALON-SUR-SAÔNE – MÂCON (60 km)

We wanted to follow the Saône down to Lyon, but had to break the trip up in to two days and decided that we would stop in Mâcon. The first half of the trip was awful. We rode on a dirt road with lots of holes in it and at some times it totally disappeared and we had to ride in knee high grass.
We actually started to doubt that we would make it all the way to Mâcon. It took forever to ride on the dirt road and we got really tired.
When we were halfways, however, things turned around completely and we had a pleasant drive on a bike lane right by the river. That's the thing about cycling in France: either it's terrible or amazing. We reached Mâcon fast and were happy we didn't give up too soon.
DAY 34: MÂCON – LYON (78 km)

We were able to follow the Saône river all the way down to Lyon. When approached Lyon we had some trouble finding the right way down. Finding your way into a large city on bikes is not the easiest thing to do!
We approached Lyon from a hill and the drive down to Lyon was extremely beautiful.
In Lyon the Saône River meets the Rhône river, and those two major rivers really give the city an unique touch. Also, the ancient part of the city is located on the hill and you can see this part of the city from everywhere.
We didn't know much about Lyon, but we already knew that we would be surprised. When we found our way down to the Rhône we drove on impressive bike lanes all the way to the center of the city.
Our stay in Lyon turned out to be one of the best we've had on this trip because of an amazing couchsurfing experience combined with the history and beauty of Lyon. We have so much to share… Including a huge "Eating" post! Stay tuned.