Berlin was the first major city on our way to Rome and we were both very happy that we went! We spent five lovely days in Berlin and totally blew our budget with a four nights hotel stay. But we had a great time and really had a chance to get a feel of Berlin.
You can really still sense the tragic history that Berlin has when walking around the city. It has fewer old buildings and a completely different feel than most other European cities.
But Berlin is a city full of life and joy and we've tried to put together some of the best highlights from the city. Hope you enjoy.
ONCE A DIVIDED CITY
From 1961 – 1989 the Berlin Wall diveded Berlin. How terrible it must have been to live inside DDR, isolated and suppressed. Ouch. And the reminders of this terrible time is everywhere in Berlin – to remind everyone and to make sure that nothing like it will ever happen again.
We went to the museum at Checkpoint Charlie which mainly describes many stories of how creative the people of DDR were when trying to escape to the Western part of Berlin.
All these people put their lives on line for a shot of freedom. That really puts everything into perspective. I had goosebumps just walking around the museum, reading the stories, seeing the pictures.
I think we should really stop and think about how lucky we are to be free to travel where we want and do what we want and control our own lives.
To mark where the Berlin Wall once were you'll find this line of stones running all over Berlin. At times, they cross large roads and just seem a bit random, but this was where Berlin was once divided. We really liked this feature and it really helps putting everything into perspective!
In memory of some who didn't survive their escape…
Memorial to the Murdered Jews of Europe
Yes, this is some heavy stuff…
The Memorial is located very close to the Brandenburger Gate and is just enormous. We didn't spend much time there – that's not how we work. But there were lots of people just walking around who seemed pretty touched and deep in thought.
The idea of memorials like this who take up so much space is great. It reminds you that history should not repeat itself and it reminds you of the tragic history that Europe has. And especially Germany.
The monument seems so cold. But it's definitely worth a visit when in Berlin.
MUST SEE LANDMARKS
The Brandenburger Gate is probably the must see landmark of Berlin. It's cluttered with tourists taking the mandatory I-was-in-Berlin-picture (and yes – we did that too. Check the very first pic of this post…) but it's really obvious why it's so popular: it's beautiful.
It's the only remaining city gate of Berlin's original 18 city ports.
For me, it always reminds me of Ronald Reagan's speech in front of the gate in 1987 where he said the amazing words:
Mr. Gorbachev, open this gate.

Mr. Gorbachev, tear down this wall!
Amazing. The Brandenburger Gate was very close to the Berlin Wall and when you walk under it, you see the stones in the road marking where the wall once were.
The TV Tower on Alexanderplatz is a must see landmark as well, and one you'll often see pictures of when reading about Berlin.
It was build between 1965 and 1969 in DDR and is still today the tallest structure in Germany with its 368 meters (1,207.45 ft). You can see it from almost anywhere in Berlin and it makes finding Alexanderplatz quite easy (we stayed at a hostel there for one night – so easy to locate!).
It has a visitor platform at about 203 meters height and right above that is a revolving restaurant called Telecafé which rotates once every 30 minutes. We didn't visit either of them but it's on our to-do-list for our next time in Berlin! I love seeing cities from above.
Other than that… It's really not that pretty and we didn't spend much time looking at it. I mean, it's cool with the rotating restaurant, but it's really not pretty to look at!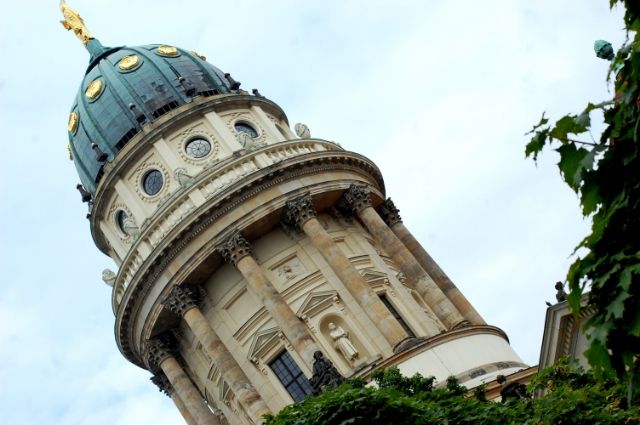 The French Cathedral might not be on others must see list, but we really enjoyed walking around this beautiful (!!) cathedral while waiting for our Ritter Sports to be done.
It's really worth admiring this piece of architecture while in Berlin if you ask me. I love pretty churches like this one.
SHOPPING IN BERLIN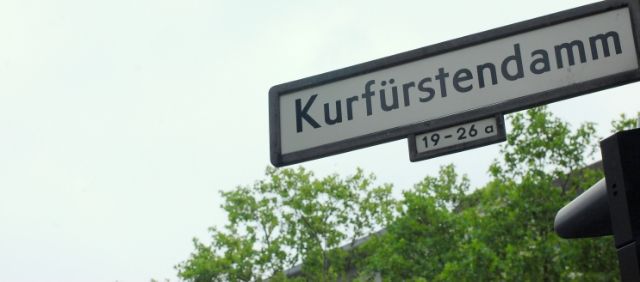 Berlin is a great city to shop in and Kurfürstendamm has all the large chains. There are a lot of people shopping here and it gets very crowded. I'm sure that Berlin has some small, nice boutiques that are also worth a visit, but due to the way we're travelling right now there wasn't really a good excuse to shop. We simply didn't have any more space in our bag!
Even if you're not the biggest fan of the highstreet shops, Kurfürstendamm is still worth a visit. It's so large and crazy and really adds some big-city-vibes to Berlin. We loved hanging out at their Starbucks – it was such a nice work environment!
CYCLING IN BERLIN
Ohh, look at that handsome man…
On our first day in Berlin we walked around. Which was completely idiotic when we had our lovely bikes with us. We cycled around all other days and it made getting around Berlin so much faster and easier.
Berlin isn't the most cycling friendly city if you want a bike lane. However, the drivers in Berlin are very great at giving you enough space to feel safe while cycling on the road.
When you get just outside downtown Berlin there are enough bike lanes and it makes cycling in Berlin really nice. Also, Tiergarten (see above) is a joy to cycle in!
We would definitely recommend getting around Berlin on bike even though the U-Bahn functions very well.
BERLIN'S GREEN SPOT: TIERGARTEN
Tiergarten is Berlin's lovely green spot. It's pretty big and centrally located and lots of people are relaxing here, getting some distance to the city's rush and noise.
We stayed at a hotel in the western part of Berlin and really enjoyed cycling through Tiergarten to reach downtown Berlin.
There are large paths for bikes all through Tiergarten and a lot of cyclists cycle through it. Parts of Tiergarten are only for pedestrians and you'll find nice benches to relax on.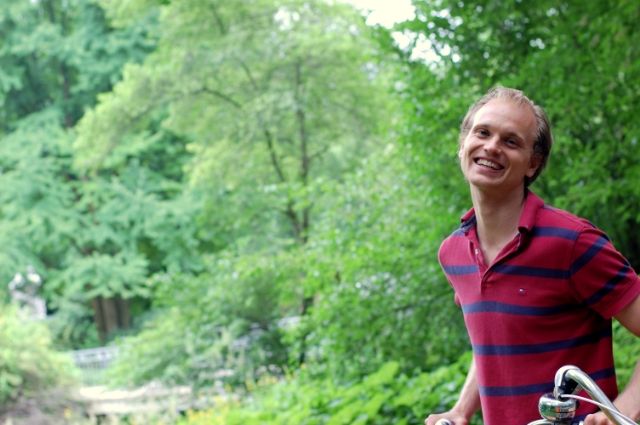 Cycling in Tiergarten is sooo much fun! 
MORE TO SEE IN BERLIN
Did this post cover all of Berlin? Definitely not. There's a lot to see in Berlin and we only saw a fraction of it when we were there. Keep in mind that we only had five days, were exhausted from cycling there all the way from Copenhagen and had to work while there too.
We don't feel like we saw enough of what Berlin has to offer and we can't wait to go back one day and see a lot more!
I guess the nature of this biking trip prevents us from seeing all in the cities we visit on the way. We try to spend our time in the best way possible when we hit a new exciting city, but mostly we have lots of work to do that we haven't done on our biking days.
Your turn: What's your favorite thing to do or see in Berlin?