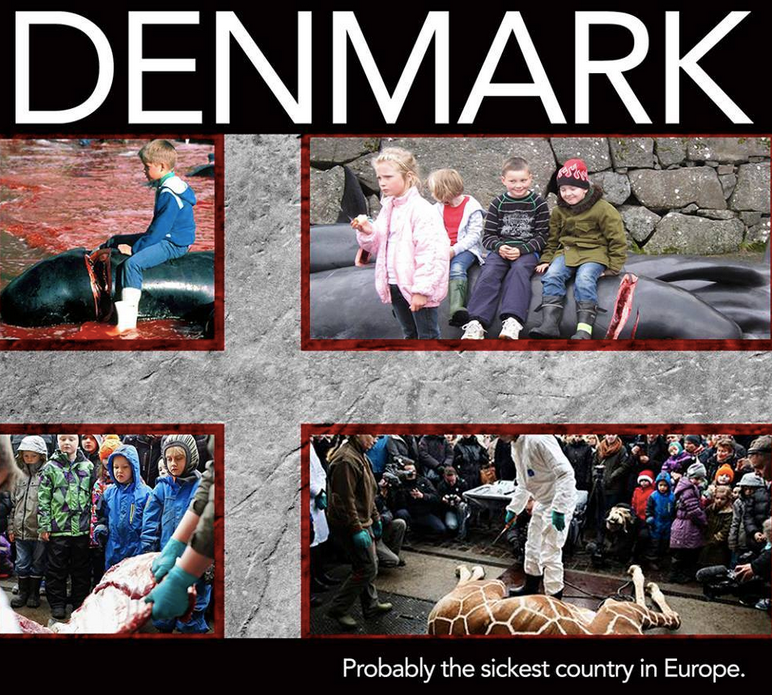 It's not often that Denmark is mentioned in international media and when it happens it's mostly for something that divides people. This time Denmark was mentioned because a zoo in Copenhagen decided to kill a giraffe and hereafter made a public autopsy that children could watch. You can read more about the story right here.
This is not about the giraffe or the life of animals in zoos. I find it hard to understand that some people think that everybody share the same opinion in a country instead of looking at a country as a a large group of individuals, who have different opinions.
On social media some people have expressed that all Danes are horrible and that the killing of a giraffe in a Danish zoo is the reason why they would never visit Denmark. A lot of this outrage is from USA. This is quite fun because a lot of Danes think Americans are horrible, because they get their knowledge about USA from Danish news and entertainment shows from USA.
If you only judge a country because of news stories, which is about something that an individual or the government did, you will never learn anything about a country. Your opinion will solely be based on ignorance and stereotypes.
Why you need to think about individuals
A country consists of many individuals who have different opinions on topics. Our different views are the reason we have democracy.
Americans can ask themselves if they agree on everything. Well, do you want to talk about guns, abortions, executions or health care?
The reason why I mention these topics are because in Denmark most people agree on those topics and it's one of the reasons why Danes don't understand Americans.
A famous political argument in Denmark is :"Do you want American conditions in Denmark." Yes, it implies that no one would want that in Denmark.
This kind of thinking is pretty normal in Denmark and I have talked to a lot of Danes who don't want to travel to the USA because they are sure that it would be a bad experience. If they finally travel to USA they will tell you with a surprising voice "Well, Americans are so polite and nice."
Yes, Americans are not the government, a reality show, or some news story you saw about gun violence. It's actually a country full of lovely individual as in Denmark.
All the empty statements about Denmark these days are as stupid as the one many Danes have toward Americans. What happens in a zoo in Copenhagen doesn't have anything to do with the population of Denmark.
Culture tells us something about countries
When you look at a country you will find that you can say something about them because of their shared culture. When Celia and I went to Italy it was easy to see that we entered a very different culture from the one we have in Denmark. The people interacted very differently from what we are used to.
All the individuals of a country do a lot of things the same way, because it's the way they grow up and they are used to certain things being normal. Traditions are a big part of a people's self-understanding.
This is the reason why Denmark, Italy, USA, Japan etc. feel different. Because they are different.
It's ok to judge a country on their culture but you always have to remember that the country consists of individuals. It seems simple, but in the case of Marius (the name of the giraffe) it's obvious that a lot of people think that Denmark decided to kill the giraffe.
No, you don't need to love all countries
When you don't like the way a certain country's people act it's totally ok to stay away. Often you will be surprised that what you thought about a country doesn't have anything to do with the way that people are in this country. Be aware of stereotypes and your own prejudices.
If you hated France the last time you were there then I don't blame you that don't want to go back. But if your reason for not travelling to France is for something that a French company did, then you can't be mad at French people. Be mad at the company.
For the most part it's hard to know what to think about a country's culture if you haven't been in the country there. If you judge a country please think about why you feel this way.
Why blame a country for one individual's action?
In the case of the now famous and dead giraffe, Marius, it's only the individuals of Copenhagen Zoo that can be held liable for the killing. I didn't kill Marius. The Danish government didn't kill Marius. Almost every Dane didn't have anything to do with the killing.
I have Danish friends who agree and some who disagree with the killing. Even in the USA and Great Britain people don't share the same opinion on the killing.
Whether you love Copenhagen Zoo or not I suggest that you travel to Denmark. It's a beautiful country.
If you don't want to travel to Denmark because of the killing of Marius. Well, then you are stupid. You need to have a better reason.
I'm a Dane who loves sunny weather, crystal blue water and palm trees. I've a degree in Master of Arts in Media Studies from The University of Copenhagen. I earn all my income online as a Danish copywriter.