Us in front of the Brandenburger Gate
We arrived very late in Berlin on Saturday and ended up checking in to an expensive hotel in the Pankow area. On Sunday we checked out and had the hotel store our bags while we searched Berlin for a cheap place to stay. We went from hostel to hostel to find somewhere to stay for the full five days we wanted to stay here.
Nothing. Everything was booked and we only saw shaking heads.
And my right ankle hurt like crazy. But we continued our search. We ended up at Starbucks, searching hostelworld.com, Airbnb (I appologize to all the Airbnb-Berliners that I sent a desperate last-minute message…) and Google for somewhere to stay. A 12 € pr. person deal in a 10 person dorm at ONE80° Hostel at Alexanderplatz was the best deal and we took it.
Only for one night, though. The next day the same bed was really expensive.
On Monday we found ourselves looking for accommodation for the night again. We already spent Sunday doing that and made a decision…
Just book something and stop wasting more time
We both had some work to do. We hadn't had internet since we entered Germnay, Berlin was our chance to get some work done. Why spent everyday looking for cheap accommodation for the night and repeat the process the next day?
Bottom line was that if we didn't do our work we would lose our clients – not an option.
We booked a hotel in West Berlin near Kurfürstendamm and just had to live with the pricetag that came with it.
After that we could relax and had a great time in Berlin!
ADDICTED TO STARBUCKS

Normally we spent a lot of time at Starbucks. We love their coffee and love just hanging out there and use their internet for blogging and work. Starbucks in Germany is expensive compared to the US where we've mostly been to Starbucks, but cheap compared to Denmark!
We went to Starbucks everyday and can really recommend the one at Kurfürstendamm – it's huge and the internet is reliable. If you need somewhere to work in Berlin this is a great one! :)
WHAT'S NEXT?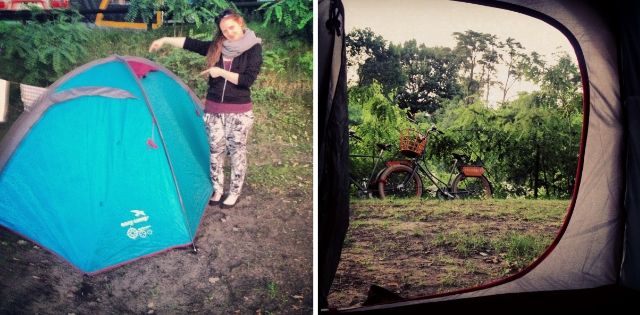 We just put up our tent at a campsite outside Berlin (oh my, look how pretty that tent is + the view! Not bad, huh!?) and our next stop in a major city will be in Amsterdam. We have a hotel reservation there from the 15th and hope to reach the city by then.
We plan on being in Hannover in 3 days. Crossing Germany is going to be tough but we're up for the challenge! The weather in Berlin has been great and we hope for lots of sun on the way to Amsterdam.
WHAT WE'VE LEARNED SO FAR AND SOME CHANGES
To be honest with you, we've haven't been organized at all. We thought we could just jump on our bikes and plan as we go. But it turned out to be a pretty bad idea.
None of us are "morning people". We sleep until we wake up which for Jonas is around 8-9 am and for me around 10 am. I LOVE my sleep and it's one of the reasons why I love the life that I'm leading at the moment where I get to decide when to wake up, when to work and when to go to sleep.
But this kind of trip is not for that kind of behavior. Sadly. It took me some time to admit it, but I've had to give in. This is not working.
Also, after our last crazy bike day from Mirow to Berlin, I didn't listen to my body. I was stubborn and just wanted to reach Berlin. When we finally did, my right ankle was pretty sore. It had been for a long time but I just continued, putting on more and more pressure on it.
Not a great idea. As a result I had gotten inflammation in my Achilles tendon on the right ankle. Great. It hurt like crazy. My ankle was swollen, stiff and hurt when I moved it. Ouch. I've been walking really slowly around Berlin, keeping my ankle stiff and in the same position all the time to take off the pressure. It has helped a lot. I got the inflammation because I put the Achilles tendon under too much strain.
So we're making these changes: 
On bike days we'll start early and set our alarm to wake us at 7 am (GASP!) 

We'll try to ride only 80 km (49 miles) on bike days, not putting on too much pressure on our bodies.
We'll plan which campsite to stop at in advance and get there in the afternoon. That leaves us time to work and blog (!), which is really important for us to do.
When in a city that we want to stay in some days (like Amsterdam and Paris) we'll allow ourselves some time off and get more intense sightseeing days. Being in a city is expensive (we've experiences that in Berlin!) so by cutting out time for work (we'll do that when on the road instead) we can spend fewer days in the cities and thus save some money – win!
We'll listen more to our bodies. When it hurts we'll rest and allow our bodies to heal. Putting on too much pressure can cause major injuries! We can't have any of those.
* * *
That's all for tonight! We have some posts about things to do in Berlin coming up. Now we'll go sleep in that beautiful tent. ;) Have a great night and thanks for following!