It would be more correct to say that I look back on our time in the region of Yucatan and Quintana Roo. There is so much of Mexico we haven't seen yet. Our time in Mexico was mostly spent at the Mayan Riviera. If you have seen our photos from there, you know why we stayed so long. :D
We have spent our last three months in Mexico and now we look forward to travel to Belize, Guatemala, Honduras, Nicaragua, Costa Rica and Panama. When we left Mexico to sail into Belize it was a little sad to say goodbye but at the same time we wanted to see Belize. But we will definitely come back.
This post is about some of the things we loved about Mexico – and a single regret.
The regret – Staying to long in Playa del Carmen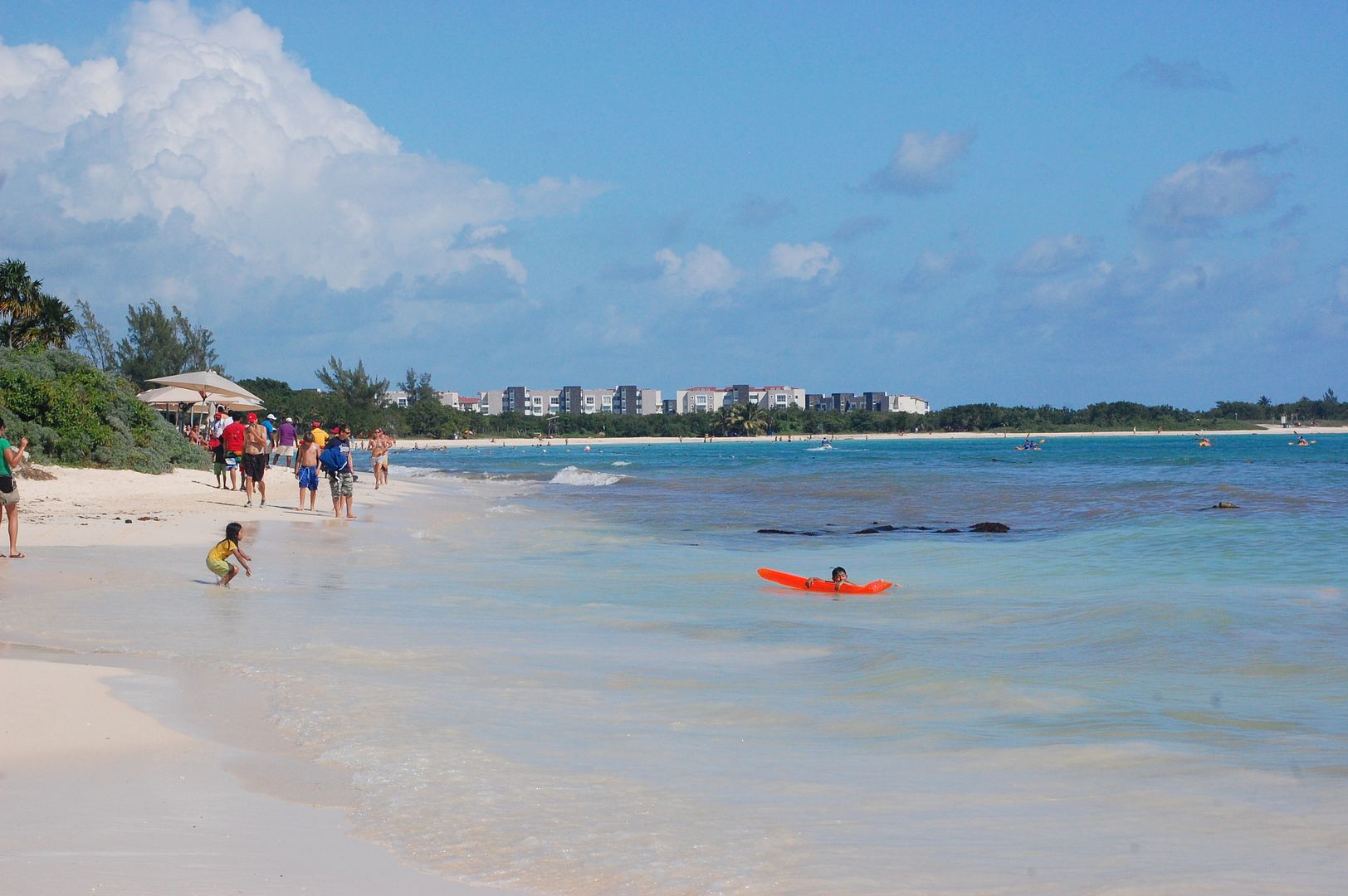 The reason why we loved Playa del Carmen.
I will start with the regret so I can write about all the great things we did in Mexico. It's not a big regret.
We stayed way too long in Playa del Carmen because we didn't know where we wanted to go next. Work-related it was so much easier to stay. It's always easier to stay because you know what you have, but you don't know what you are going to get.
After the first month in Playa del Carmen we both fell that we had a lot of work to do before we could keep on travelling. From our previous travels we knew that it's more expensive to travel than renting a place for a longer period. So we decided to stay for one more month. We ended up living in Playa del Carmen for 2.5 months.
It wasn't like it was all bad – it never is. Because our long stay gave us the chance to meet two other travelling couples and we had our new GoPro Hero3+ Black Edition camera delivered from Denmark.
It wasn't until we travelled away from Playa del Carmen that we realized how exciting the rest of Mexico seems. We had some amazing days in Valladolid which is a historic town with two big Mayan ruins close by. One of them being the famous Chichen Itza.
Valladolid doesn't have a lot of tourists and it was the first time we had the sense of being in Mexico. We loved it!
Not because we didn't love Playa del Carmen. Who wouldn't love an amazing beach? We would just have preferred that we had only stayed there for one month instead of 2.5 months.
One month seems like a better timeframe for us. I guess it all depends on the situation. And the money :D
Even though we stayed in Playa del Carmen for so long we still had an amazing time in Mexico.
Meeting other travel bloggers
The amazing thing about living in Playa del Carmen is that it's a popular place in the travel blogger community. For us it was the first time we met other full-time travel bloggers.
We met Mirje and Antti, a couple from Finland, from the blog Anywhereism.net and Dan and Casey from Acruisingcouple.com.
It's cool to communicate with other travel bloggers on social media and chat, but it's a special feeling meeting people in real life. I get more inspired when I hear about how other travel bloggers are doing things. To listen to their plans for the future and what they think is hard about travelling full-time.
When you travel as a couple, as we do, you never feel alone, but sometimes Celia and I are wondering if we are doing things the best way. Sometimes it feels like we are not working hard enough.
In a way it was nice to hear that it's not only us that feel this way. It seems it's a normal feeling when you are a travel blogger. We want to explore the world but we also want to work. We try to find a good balance.
If you are a travel blogger and you get the chance to hook up with other travel bloggers you should grab it. When you are on the road all the time it's nice to talk to someone, who is in the same situation as you.
Mayan Ruins
If you ever travel to Yucatan or Quintana Roo in Mexico you should at least visit one, preferably more, of the Mayan Ruins. The Mayan culture is very interesting. We didn't know anything about the Mayans before coming to Mexico. Or it's not entirely true. We heard about the Mayans because of the Doomsday prophecy. At least that was what the media in western countries called it.
I also saw the movie Apocalypto made by Mel Gibson about the ending of the Mayan Civilization.
That's it!
It's not all of the Mayan Ruins that are interesting to see. In Quintana Roo we saw the one in Tulum which was very cheap compared to the ruins in Yucatan. But the ruins in Yucatan were more interesting to see.
The one in Chichen Itza is the most famous of them all. Every year 1.2 million people visit it. Chichen Itza is very well kept and very impressing. There is a reason why it's one of the seven wonders of the world. It's an amazing place as you can see on the photo. (we will write a post about Chichen Itza – I promise :D)
If you travel to the Mayan Riviera you should check out Chichen Itza. Don't mind all the tourists there. An easy way to avoid them is to stay in Valladolid which is only 45 minutes away from Chichen Itza. If you stay in Valladolid you can see Chichen Itza before the tourists from Cancun and Playa del Carmen arrive.

Selfie in front of the biggest ruin at Ek Balam
We also went to Ek Balam which is also worth a visit because you can climb the ruins. You aren't allowed to do that at Chichen Itza. Ek Balam is even closer to Valladolid and you almost have the ruins for yourself because all the tourists travel to Chichen Itza.
If you plan on having a beach holiday in Cancun or Playa del Carmen you should spend a day or two checking out some Mayan Ruins. If you stay in Playa del Carmen you won't forget about Chichen Itza because you will be asked every five seconds if you want to go there.
Swimming with turtles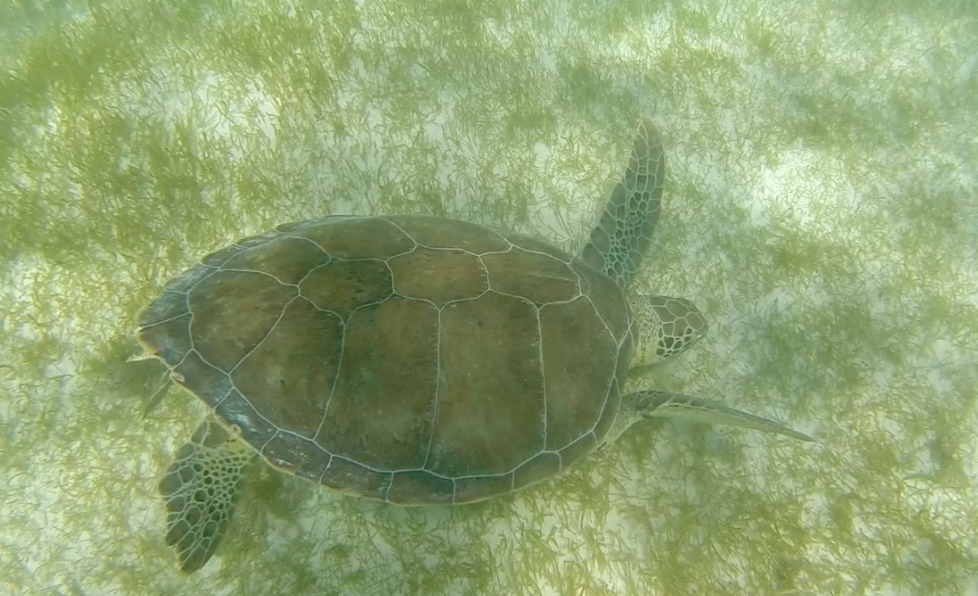 One of the greatest things about staying in Playa del Carmen is that you can go to Akumal and swim with turtles. The turtles are there because of all the sea grass. It's their natural habitat and you can swim with them.
It's amazing!
You don't even need to pay any money to swim with them because it's a public beach. This is a huge plus because normally you have to pay all the time to see all the places that tourists love. To swim with turtles is more fun than the touristy things you can do.
You have to pay for transportation and you have to rent or buy some snorkeling gear.
The transportation is very cheap if you take a Colectivo which is a local bus. It costs $2.8 USD for a one way ticket from Playa del Carmen to Akumal.
It's possible to rent the snorkeling gear on the beach. We bought snorkeling gear at Walmart in Playa del Carmen. Because of all the tourists at Akumal it's cheaper to buy snorkeling gear at Walmart than renting it on the beach.
Eating Mexican food
When we are in a new country we love to try their food. So what do Mexicans eat?
Well, all the food you call Mexican food in Europe and USA. Nachos, tortillas, quesadillas, fajitas, burritos, you name it. The only difference is that tacos aren't in a hard shell like in Denmark and in the US. It's actually a flat bread. Like the bread you get with a burrito or quesadilla.
All the food in Mexico is pretty much the same. It's some meat and some salad served with bread. The only difference between the dishes are the size of the bread.
It was fun to try Mexican food but I will never be a fan of all the white bread. Maybe all the bread is the reason why Mexico is the fattest nation in the world.
Getting the feeling of Mexico

By Julio Peniche from a post about Valladolid on Wikipedia.org
As I already mentioned our biggest problem with staying 2.5 months in Playa del Carmen was, that we didn't really feel like being in Mexico.
I thought I loved Playa del Carmen until we left it behind. When we arrived in Valladolid we both got the feeling of being in Mexico. Maybe it felt like this because we arrived while they had their carnival. It's not like the carnival in Brazil. It's more like a big party where people are having a great time.
Especially Celia fell in love with Valladolid because you could buy the best churros. Yum!
We only had three days in Valladolid so we didn't have the chance to explore the town because during the day we visited the Mayan Ruins in Chichen Itza and Ek Balam.
If you are going to Mexico you should definitely check out some of the old local towns.
This is not the last time we are staying in Mexico. It could be fun to explore the rest of Mexico and next time we don't plan to stay too long in Playa del Carmen. It could be fun to travel to the other coast of Mexico. Especially because you can see great white sharks there. Yes, you can go cage diving near them. Crazy!!!
Bye Mexico! We will meet again.
What do you want to see in Mexico?