Every time we stay in a place for a longer period of time I begin to look forward to going somewhere else. One of the best things about travelling full time is, that we get to see a lot of new things all the time.
But a part of me love the daily work routines you get when you make a place your home for a longer period. Like when we stayed two months in Playa del Carmen. I knew where to buy the best coffee, eat good and cheap food etc.
That's why I'm both sad and happy when we travel to a new place. Like yesterday when we took the bus from Belize City to Flores in Guatemala. Both of us loved Caye Caulker and felt sad to leave it behind as Celia mentioned in her latest blog post.
At the same time we wanted to see something new. My love for travel is bigger than my love for daily routines. To better understand this myself I wrote a travel love and hate list. The hate list is really a love list for daily routines. :D
My hate list
Finding good coffee

In the morning it seems that nothing is more important than a cup of quality coffee. It's important for both of us. The difference between Celia and me is, that if I haven't found a good coffee I will talk about it all the time. I will try to find information about where to buy the best coffee in blog posts and on TripAdvisor. Well, it's pretty time consuming and every time we go somewhere new I have to start my search for coffee once again.
When you don't travel all the time you can buy a good coffeemaker and quality coffee beans. Then you can drink great coffee every morning.
This isn't a solution for travel bloggers because we are constantly on the road. As a travel blogger I need to find my morning coffee at a café. Sometimes, if I'm lucky, we have an apartment with a kitchen where we can make our own coffee.
In Caye Caulker I know that the best coffee is french press coffee made by Caribbean Colors Art Gallery.
Now I'm searching for good coffee in Flores. So far I have tried coffee at three different places. On Thursday I need to search for coffee again because we arrive in Antigua.
Time being used on transportation
I'm not a big fan of transportation. I'm still waiting for someone to make the transporter from Star Trek.
When I travel I can't stop thinking about all the time I could spend on working instead of moving from A to B.
At the same time transportation is also on my love list. I will get back to that.
Getting into a daily routine

This isn't a good working routine :D.
For me it's easier to get work done if I have a daily routine. It always takes me a couple of days to get used to a new place.
When a new working routine kicks in I become more productive. Then we travel to a new city or country and I have to get into a new routine.
I'm trying not to be as dependent on a perfect working environment. Instead I try to work every time I have time for it. I really only need my computer and wifi.
What I love about travelling
Experience new places
Every time we arrive in a new country we are truly amazed about how beautiful it is. We have already visited several places that we could see ourselves living in. The same thing happened when we arrived in Flores. So beautiful.
We love experiencing new countries. Well, if we didn't we wouldn't be travelling. We love to find out how a new place works and what food, drinks etc. cost.
In a new place you have to learn how they are doing things. Even though you can read blot posts about almost every country in the world you will still be surprised about how different people are in the world.
Being a tourist

Swimming with sharks near Caye Caulker.
It's hard work to be a tourist and it cost a lot more money than staying in the same place for longer periods at the time. Some travel bloggers hate being in tourist spots. I don't.
Because in most tourist spots there is something amazing to see. From Colosseum in Rome to the beautiful beach of Playa del Carmen.
If there is something great to see we want to see it. Tourist spot or not.
On Wednesday we are going on a early morning tour to Tikal to see the old ruins. Last week we swam with sharks at the reef near Caye Caulker. Both things are very touristy and that is the reason why I have no problem being a tourist.
What's really not to love?
I can't be a tourist for longer periods at the time because it's exhausting and it's too expensive. We can't run away from the fact that it's a big part of our life.
Slow transportation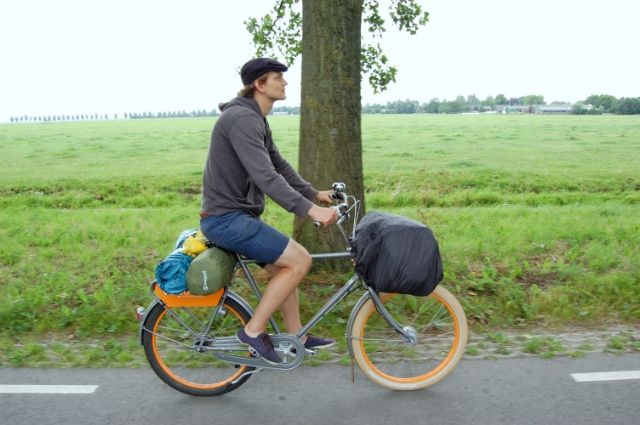 Yes, transportation was also on my hate list. The reason why it's on my love list is because you really feel a country when you travel through it.
I love starring out the window and seeing new places. Like yesterday when we took the bus from Belize City to Guatemala.
When we crossed the border everything was different. I can't understand people who sleep when they travel by bus. They don't see the world outside the window. They don't get the feeling of being somewhere new.
That's the reason why I don't really like flying. You don't see anything. The only thing I enjoy about flying is that you can travel from A to B in no time. But it doesn't have the same feeling as a bus, car or bicycle ride.
It's the reason why we are planning road trips in Australia and USA. Then Celia can drive while I stare out the window. :D
Eating new food

Eating fry jacks in Caye Caulker
When we are in a new country we always end up eating the local food. It's a fun way to explore a country.
After a week eating local food I normally stop doing it because the local food always contains some kind of white bread that I normally try to avoid in my diet.
But it's fun to try new food. At least once.
I could continue this list until the end of time because travelling is great. Right now I can't tell you when I will stop doing it. I feel like doing it forever. But you never know what will happen in the future.
Until then I try to enjoy everything about travel. Even the stuff that I don't like.
Tomorrow we are going to see Tikal and then we will have a long night of transportation from Flores to Antigua. We leave at 8PM and arrive in Antigua at 7 AM. There will be nothing to see because we travel at night. We look forward to Antigua because everybody says it's an amazing town.
What would you put on your travel love/hate list?