When our Mexican visas were about to expire we started researching how to travel from Mexico to our next country on the list: Belize!
After doing some research about the night bus to Belize City from Playa del Carmen, I didn't really want to do it. The bus would cross the border at around 3am and lots of people has experienced the guards there trying to trick them into paying to enter Belize (which you should NOT have to do) just to stuff the money in their pockets.
Also, we would have to go in to the officers at the border alone and I really wasn't up for the fight with the border control in the middle of the night all by myself. I would totally be ripped off. So we decided to look into sailing from Mexico to Belize.
There is only one boat from Mexico to Belize and it leaves from the capital of the Quintana Roo state (where Playa del Carmen and Cancún are also located) Chetumal, and will take you to either San Pedro on Ambergris Caye or to Caye Caulker. It leaves at 3pm every day and is about a 80 minutes boat ride.
From what we'd heard from other travellers this was a nice way to go to the Caribbean islands of Belize and we decided to do it.
We were on Isla Mujeres then and would have to take the boat to Cancún, take a cab to the bus station, catch an ADO bus all the way down to Chetumal, take a cab to the marina, buy a ticket for the boat and then sail to Belize.
This was almost impossible to do in one day – so we decided to stay for one night in Chetumal and booked a hotel online. We were ready to go!
We weren't so sad to leave Isla Mujeres. It had not lived up to our expectations and it was just way to touristy (in the annoying way) for us to be able to enjoy. To be honest we really regretted not just staying in amazing Valladolid for some more nights…
The water taxi to Cancún was really, really nice. It's super reliable and it runs all the time. We sat at the wrong pier and thought we had lots of time, so Jonas left me and the bags there and ventured out to find some coffees to go.
When he came back, the boat had arrived at another pier and we hurried as much as we could over there – only to have it leave right before we got there. The next boat was in half an hour and we sat down to wait. Now at the right pier.
We had checked ADO's website and had found out that there would be a bus from Cancún at 11 am and the next would be at 5.30 pm! We wanted to catch the 11 am bus since we didn't want to arrive in Chetumal at night. We were starting to worry if we would be able to make it.
The water taxi came as scheduled and after loading it with lots of people and bags, we spent 20 minutes looking at the beautiful crystal blue water. The water taxi from Cancún to Isla Mujeres cost 146 pesos for a round trip pr. person.
A taxi took us to the ADO bus terminal where we arrived just a quarter to 11 – perfect timing! We were in line to buy a bus ticket for a few minutes and were sure we would be able to make it.
Oh, it's a shame – you just missed the 11 am bus…
My heart stopped for a moment – until she told us she could book us tickets for the noon bus to Chetumal. Apparently there are busses leaving to Chetumal all the time so we wouldn't have had to worry. The ADO website should not be trusted completely! The bus cost us 302 pesos ($23 USD) pr. person and the ride would take about 6 hours.
With tickets for the 12 bus in hand we ventured across the street to eat some breakfast and check our social media accounts before the long bus journey. We had "hot cakes" and bad coffee, but the wifi was great.
The bus ride was super long but the ADO busses are really comfortable. We booked 1st class tickets and that just means that they won't stop and pick up lots of people on the way.
At Chetumal we met a fellow backpacker – he was from Germany and offered to share a taxi to the center of Chetumal since the bus station is really in the outskirts.
We accepted and grabbed a taxi from the line of taxis waiting outside. The German ended up stopping at a hostel on the way to the hotel that we had booked. The prices at our hotel were too high for him – which is understandable since a single room costs the same as a doubble there! Insane.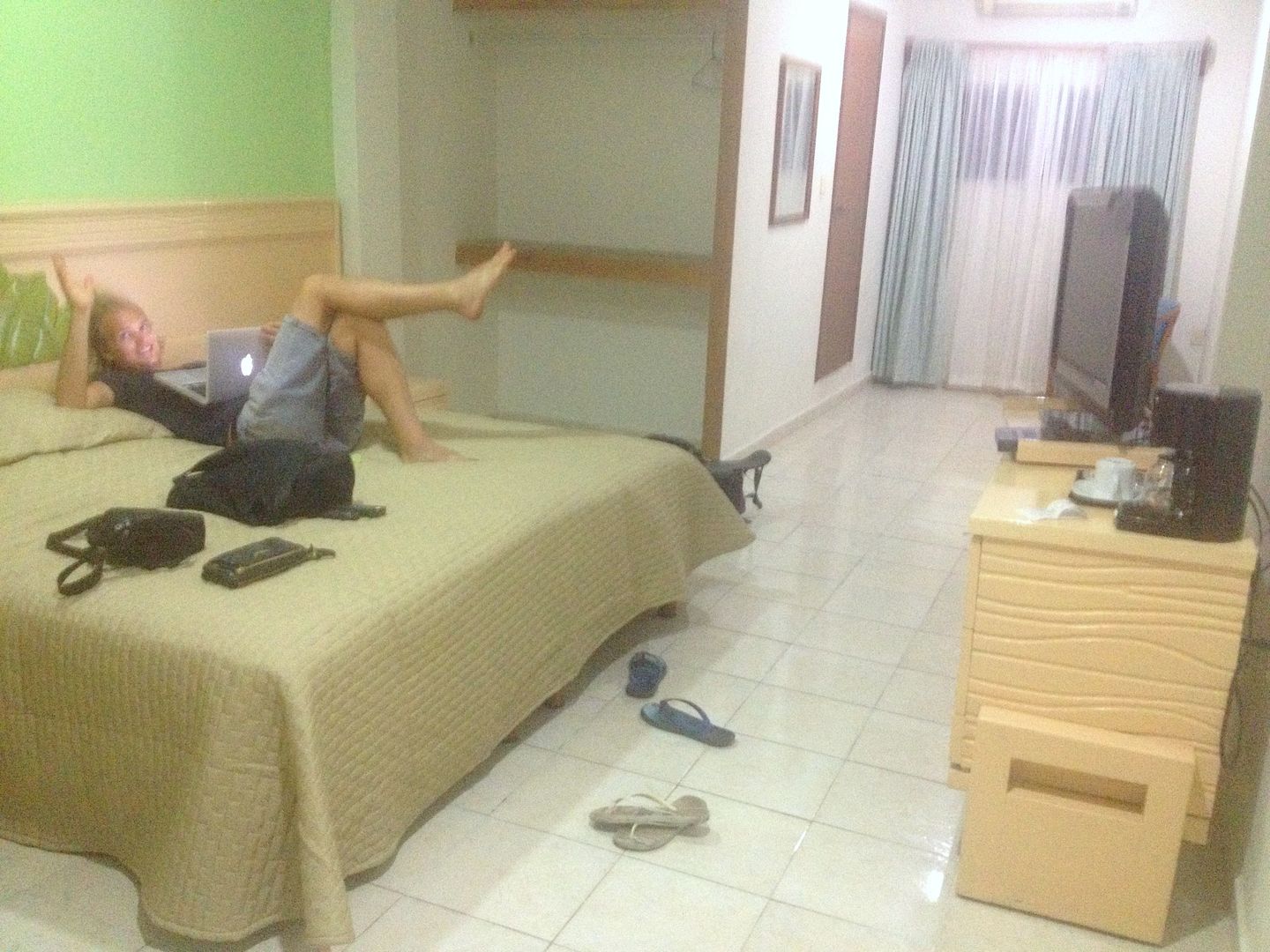 A beautiful iPhone picture of our hotel room in Chetumal…
Our hotel in Chetumal was really nice and even though we paid 450 pesos ($34 USD) we were still pretty surprised about how nice and big our room was. We ended up staying there for two nights since we had some trouble with the boat tickets to Belize.
Chetumal is quite dirty and the water there is not nearly as beautiful as the Caribbean Coast of Mexico. The city is also way more local than Playa or even Isla Mujeres!
But the food was extremely inexpensive! We loved walking around eating the local Mexican food and paying next to nothing for a great meal. We also spent some time at our hotel room since their wifi was super fast (until it broke down on our second day…).
The day after our arrival we went to buy the boat ticket for Belize and everything was just a mess.
The ticket office was very unofficial and the lady there was kind of rude and did not seem to have the time to explain to us how everthing worked. I had checked it out online and was sure there would be two different companies selling tickets for Belize.
From what I'd read, this made up for a great opportunity to get your ticket cheaper since you could just say that you'd go and buy a ticket from the other company and your price would get lower.
But of course the companies both saw how that was not helping them and before we came they had decided to merge into one company instead and just shoot the prices through the roof. Really – where else would you go and buy it? Monopoly is never good for the price, ouch.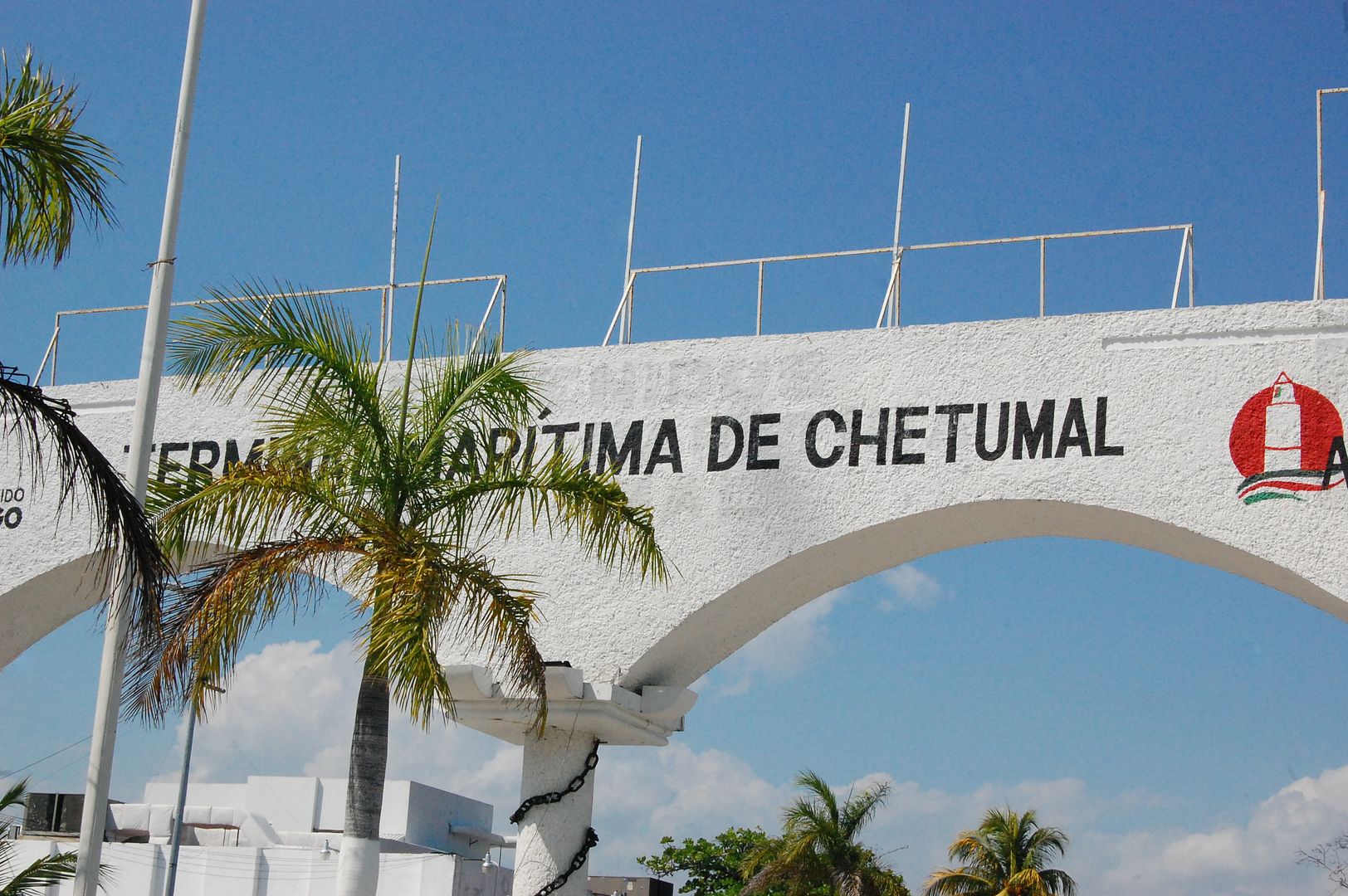 There were no price list anywhere in the tiny ticket office which made me really uneven. I hate it when I can't see the price because I'm always sure they'll just say a ridicilous price and screw me over.
And of course they did.
I didn't know what to say when she wanted a crazy 1,560 pesos ($120 USD!) for the two of us and so I went all crazy on her.
I know it's not supposed to cost that much! This is outragerous! There's no way we're paying that!
That offended her a lot and we ended up leaving the ticket office. After speaking to other travellers we discovered that everybody had paid around that and that there really wasn't much else to do about it. Sigh.
So I had to swallow my pride and we went back. We had to hit the ATM first since we were not carrying around 1,560 pesos! It was the end of our stay in Mexico and we really though that the 1,200 pesos I had would have been more than enough… But clearly the cheap days were over!
The ticket lady felt really good about getting me to hand over the 1,560 pesos. I could see it in her eyes. Ugh! I hate it when I feel like somebody's taking advantage of me. But again – that is the price. What to do?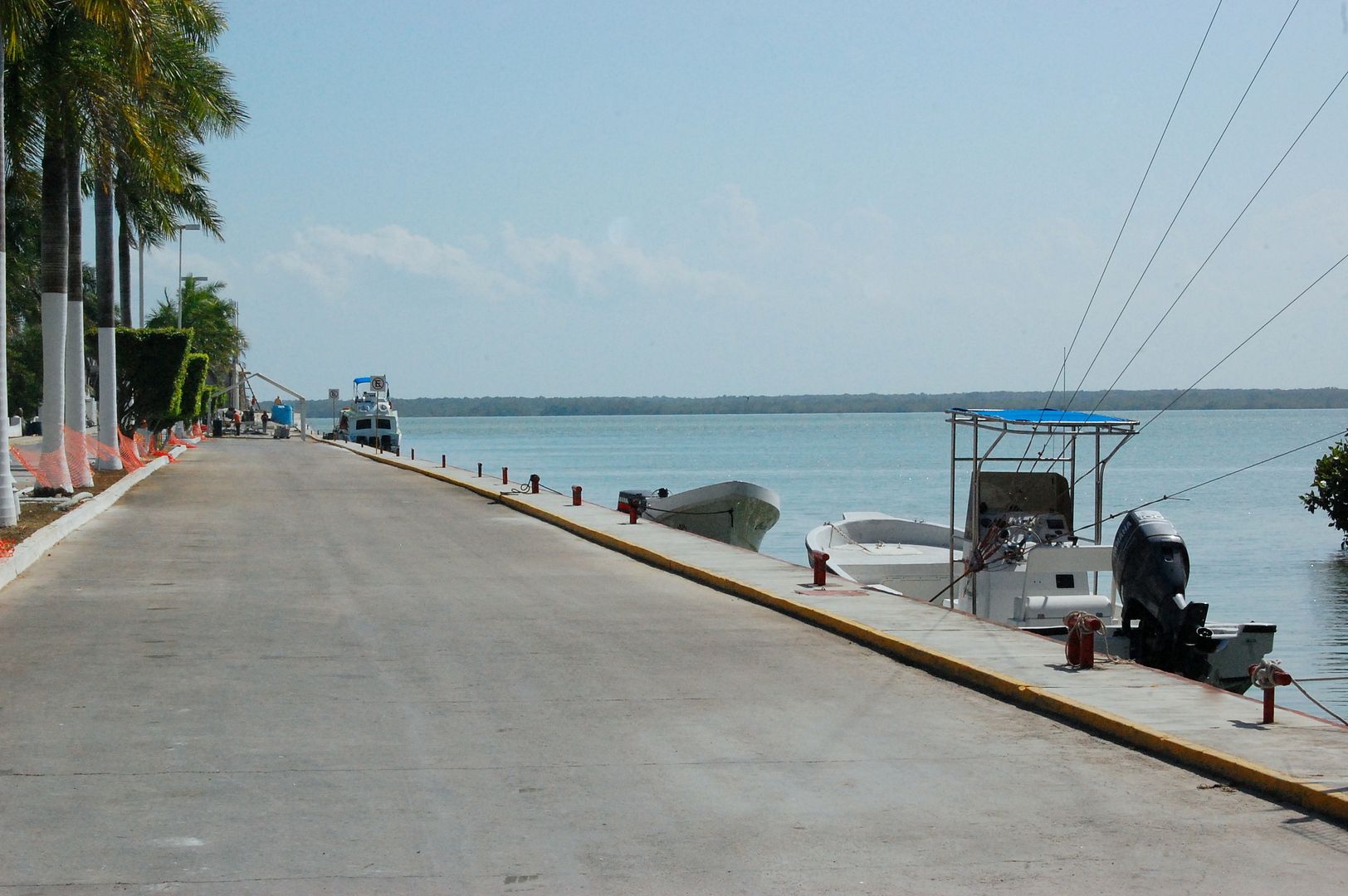 Our boat is the one the farthest away
We arrived at the water taxi an hour before it was supposed to leave to handle our checking out of Mexico.
Again, we had to get the wallet out. The fee to leave Mexico was 306 pesos each – setting us back another 612 pesos ($ 47 USD). Ouch. We got the exit stamp in our passports and the immigration papers to Belize to fill out. It was all becoming very real!
The water taxi to San Pedro on Ambergris Caye was a bumpy ride to say the least. It was 80 minutes of the boat being lifted up by a wave only to smash into the next one. In the beginning, people were cheering and having lots of fun – but after a few minutes we all just starred out the windows, trying not to get sea sick.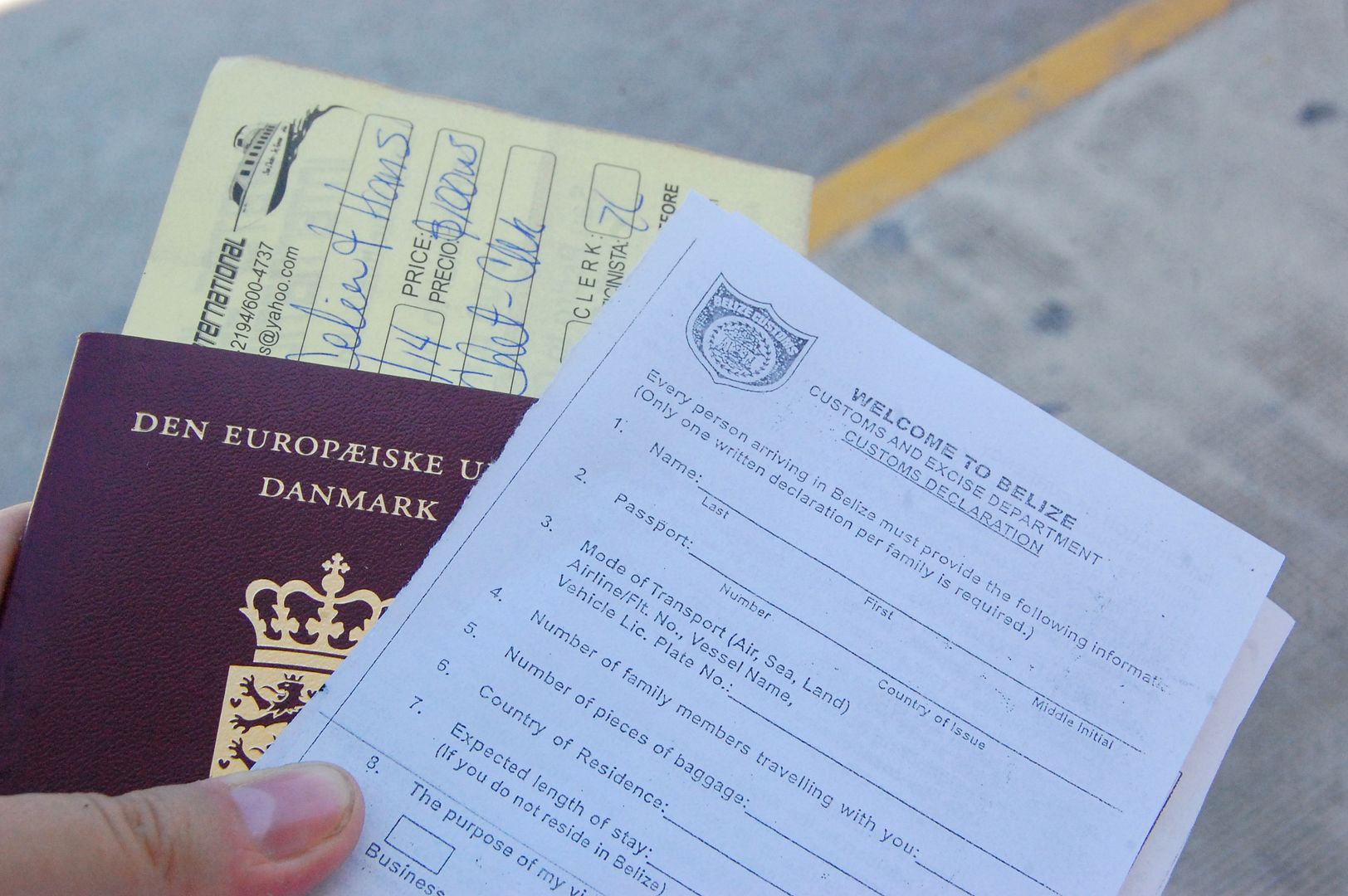 An immigration officer arrived shortly after us in San Pedro. We had to stay in the boat until she came and stamped us into Belize.
It was the easiest immigration I've ever gone through! It's nothing like in The US where I've had my struggles and even more lose than when we entered Mexico. She took our immigration forms and put in the pile with all the others without looking at it. Then she looked at our passports, at us, stamped them and said "Welcome to Belize!"
Welcome indead. We were already in love with the little wooden houses in many colors and the Caribbean feel San Pedro had to it. But we were catching another boat to Caye Caulker since we had not been able to find anywhere cheap to stay in San Pedro.
We were stuffed in to a little speed boat along with some locals and two Italian backpackers and before long we were off to Caye Caulker. It took us around 40 minutes to reach our soon-to-be favorite island and the fare was already paid for from when we got the tickets in Chetumal – Thank God!

Our Caye Caulker <3
When we arrived in Caye Caulker we were approached by a very pushy man with dreadlocks. He wanted to help us for free to find somewhere to stay. "The whole island is full, guys, but I know a place you can stay".
Well, sure you do, stranger. We'd read about these guys online. Apparently they help you find a room and get some money from the hostels and guest houses to bring them costumers – a kind of affiliate marketing, just offline. ;)
What put us off about him was that he was so pushy and really wanted us to stay at the Dirty McNasty Hostel (really – just from the name, who'd stay there!?) but we wanted to ask around and find somewhere by ourselves. So we left him by fleeing up some stairs and through a basket ball court so he couldn't follow. He had a huge bicycle with him so he couldn't do the stairs. Win!
And that's how we went from Mexico to Belize by boat! It was a really nice trip and not difficult at all. The only bad thing to say about this way of going to Belize from Mexico is that it's extremely expensive.
Should you travel from Mexico to Belize with bus or boat?
If you're travelling from the Cancún/Playa del Carmen area to Belize it's a much more inexpensive to just catch the night bus to Belize City. From Belize City you'll be able to catch water taxis to Caye Caulker and Ambergris Caye and they're reliable, safe and not as expensive as the trip from Chetumal.
We met some travellers who'd taken the night bus and said that it wasn't all bad. The officers at the border can be tough but then again you just have to keep to your story and refuse to pay any money to enter Belize.
The good thing about the bus is definitely the price. According to ADO's website the ticket from Playa to Belize City is only 462 pesos ($35 USD). It leaves at 11.40 pm from Playa and arrive in Belize City at 6 am.
You'll save the night in a hotel in Chetumal and the outrageous price for the water taxi to Belize. So in the end, the bus might be worth it if you're on a budget. But if you prefer comfort and not running into trouble at the border and can splurge a little on the tickets, we definitely would go for the water taxi!
Lastly, be sure to check out Belize. We didn't like San Pedro on Ambergris Caye that much (more on that very soon!) but Caye Caulker was our favorite place ever, so please don't miss it!