Yay! It's Monday and we're once again remembering beautiful parts of our Europe Bike Trip that we really enjoyed. Today we'll look back on a city that doesn't really have the best reputation but really surprised us.
Marseille is supposed to be this very dirty and unpleasant city – and parts of it really is dirty and seems dangerous. We saw most of the city by bike and had to drive through some very sketchy areas. At one point it seemed as if we'd travelled to the Middle East!
Traffic was one big mess. Cars were everywhere and constantly honking at each other and drove around manically. There are some insane ghettos in Marseille but besides feeling that everything was bad and dangerous we didn't experience anything negative (besides the reckless driving!).
Camping in Marseille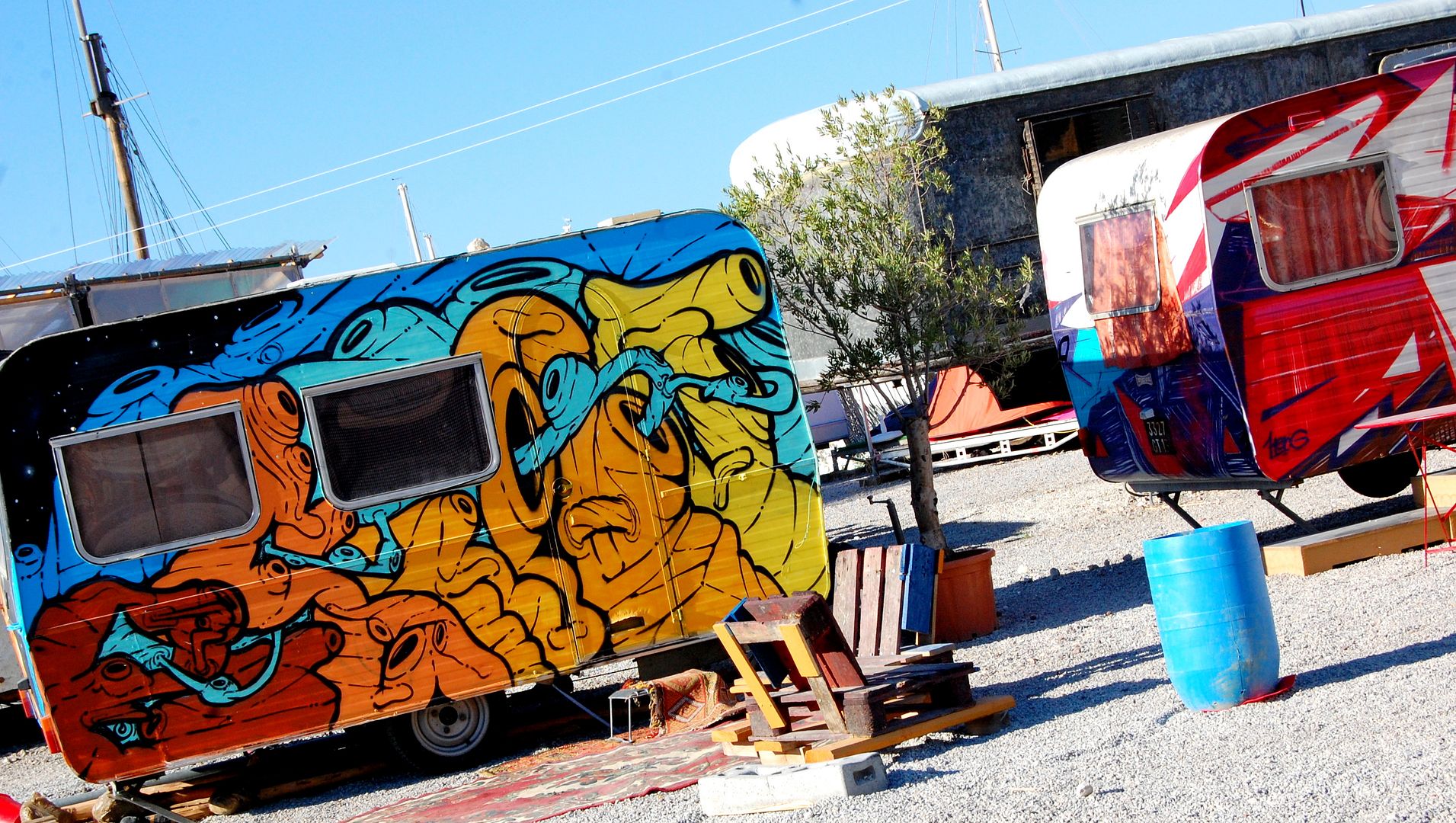 We lived a bit out of town and had a crazy bike ride to the old (and pretty) part of Marseille. We actually camped in Marseille – something we didn't think would be possible.
But it was! There's a small camp outside Marseille called Yes We Camp!
It was very weird and sort of a place where people seemed to live or stay for a long period of time. It was very hippie and we felt a little out of place – but the price was right! At just 9€ a night it takes the spot as the cheapest camping we did on our entire trip!
The "Gastonnette" car served as the campsite's trading station. At Yes We Camp! they didn't use Euros but Gastonnettes – a selfmade currency that was the only accepted one to purchase anything with.
The had different types of food stations there and everybody seemed to be pretty high and service was slow and the food was cold. We ate there the first night and had a lot of fun watching the characters there.
Vieux-Port de Marseille
The old port of Marseille is the main area for tourists now – it's huge and really a beautiful port. And here we didn't see any signs of Marseille's dirty reputation. The port is as beautiful as any port and people were nice.
Along the marina were lots of very nice cafés and restaurants serving very nice looking seafood. We only had one day in Marseille and we walked by it all pretty quickly.
We saw an old fort placed very close to the old port and a museum in that area as well. The view from the fort was gorgeous: the port with all the ships to the left and the Mediterranean Sea to the right. Love!
Walking around Marseille
Marseille is as beautiful as any other city in France and the architecture is my favorite! All the old houses and buildings have the perfect, romantic French touch that can be found all around the old cities in France.
I'm such a sucker for it. It's so gorgeous and I'll never tire of walking around in a beautiful French City… Sigh.
We walked around a lot in Marseille. There were lots of narrow streets and hidden shops all over. It had a very unique feel – almost like a very artsy feel.
We ended our tour around Marseille at a nice little café where I had an amazing cake: a fusion between a macaron and a cupcake – the French really understand cakes!
Château d'If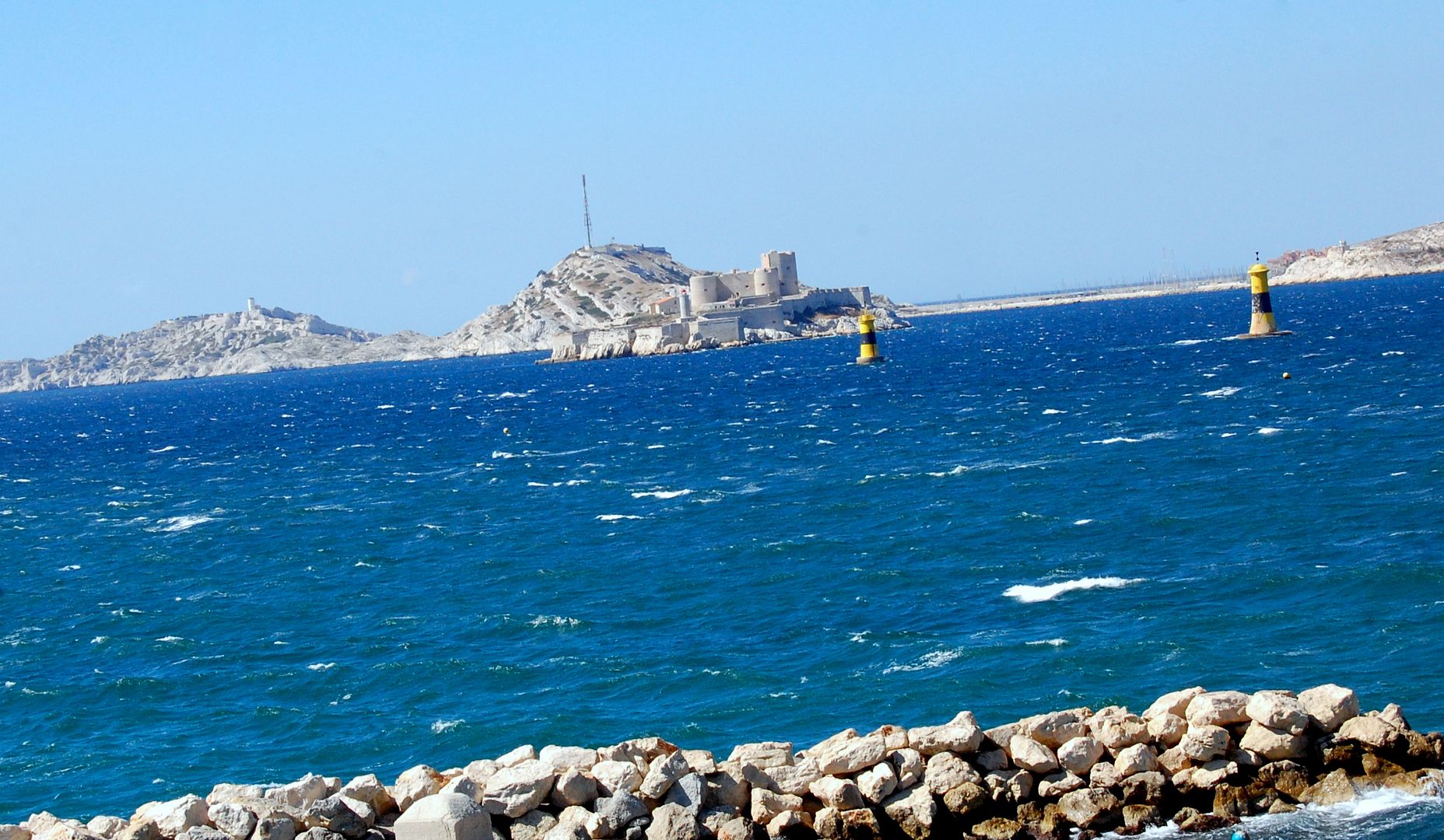 The next day, we left Marseille. We were excited to continue to its neighboring city Cassis but would also have loved to see more of Marseille. We biked right past the Château d'If where the The Count of Monte Cristo is imprisoned in the book of the same name.
It's possible to go on a tour to see Château d'If but when we were in Marseille the wind was too insane and they had decided to stop the boats going there. Too bad! We would have loved to see it on the inside as well…
What do you think? Doesn't Marseille look nice?