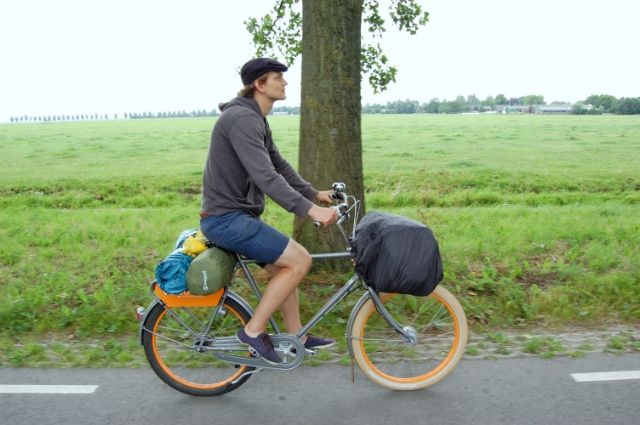 We're so excited to finally show you our monthly travel expenses which we've been tracking carefully this last month. We'll be doing this each month!
A big part of our ambitions with this blog is to show you how much money you'll need to travel the world as we do. We hope to be able to inspire you and kill the myth about travel being super expensive.
We've been using the iPhone app called Trail Wallet to track our expenses and it has really worked perfectly for us. It costs $2,99 but it has saved us a lot of money! We'll be writing a review for the app soon, but you can check it out in App Store here. It was created by travel blogger Simon who has the blog Never Ending Voyage with his girlfriend Erin (check them out – their blog is amazing).
WHERE WE'VE BEEN IN JULY
July was our first whole month traveling and living this new life of full time travel. We can't believe it! It has been a test on many levels for us and we've struggled a lot to adapt.
But we've had so many amazing experiences and are now more focused and better prepared for what awaits us. We're having the time of our lives and are really enjoying all of it even though it's been tough.
As you might know, we're cycling from Copenhagen to Rome and therefore we've been to a lot of different places in July. The month started in Berlin, then we crossed Germany and stayed in Hannover on the way. Then we crossed the Dutch border and spent some lovely days in beautiful Amsterdam. Crossing the Belgian border, we enjoyed Antwerpen and Bruxelles. The month ended in Paris – so we've been to many places!
OUR STANDARD OF LIVING
Besides four nights at a hotel in Berlin in the beginning of July, we've been camping all the time. We have a small tent with us on the road and are actually getting used to sleeping in it. None of us has trouble sleeping and it's very cheap to camp compared to hotels and even hostels.
In the large cities we've spent a lot more on food than we do when we cycle around small towns. We've had a lot of Starbucks when we've been close to one (we just love our coffee) and have been eating out a little – normally at fairly cheap places. In Berlin we ate lots of kebabs – they were just great there (and cheap)!
We've also done nothing to keep ourselves from trying the local treats. In Amsterdam we had many great treats. We're giving ourselves some room to enjoy the food and have a great time.
When on the road we usually buy our food in a supermarket and that saves us a lot. That being said, it's not so inspiring and we're really starting to miss a hot meal every now and then! But it helps keeping everything together and leaves us some room to go a little more crazy in the cities.
So our standard of living is not super high, but we can't complain since we give ourselves room for some treats when in the cities.
OUR MONTHLY BUDGET
So, let's talk about money. It's not the most sexy thing to talk about budgets and numbers. But we're all about transparency and this is a topic that worries lots of travellers to be. And with good reason – we were scared like hell for this too!
Most people know that Europe is a very expensive continent to live in. It really is. However, our home country has prepared us for the worst when it comes to costs of living, so we're actually surprised in a positive way about the prices in the rest of Europe. Sad, isn't it?
Our budget is 300 DKK (Danish currency) on a daily average (which is equivalent to around $53 and €40) for the both of us. That is pretty low. And it turns out that it might have been too low, since we're over our budget this month.
Bummer!
BREAKDOWN OF OUR EXPENSES FOR JULY
In July we spent a total of 12,893.79 DKK ($2283.62 and €1729.62) which is 415.93 DKK ($73.67 and €55.79) on a daily basis. Ouch. That is way too much!
Let's have a look at what we've spent our money on:
Accommodation: 5,426.89 DKK ($961 and €728)
Food: 3,430.35 DKK ($608 and €460)
Eating Out: 1,863.35 DKK ($330 and €250)
Coffee/Tea: 1,107.38 DKK ($196 and €149)
Internet: 515.66 DKK ($91 and €69)
Miscellaneous: 253.18 DKK ($45 and €34)
Entertainment: 231.17 DKK ($41 and €31)
Transport: 65.62 DKK ($12 and €9)
Our accommodation expenses are way too high as you can see above (hope the different currencies aren't too confusing). The category "Internet" was created about halfway through July and covers what we buy at Starbucks or McDonald's when we're there to work and use the Internet. This category may be higher next month, while "Eating Out" and "Coffee/Tea" might be lower.
So what the hell happened?
To be honest, bad planning happened. We were having issues finding somewhere to stay in Berlin and started by spending close to 2000 DKK ($354.22 and €268.29) for four nights at a hotel. We made that decision out of pure stress about not having somewhere to sleep at night and not having time for doing work (we had trouble finding wifi in Germany).
Looking back, that was a pretty bad decision on our part and had we just found somewhere to camp near Berlin we would have saved lots of money right there. We had some amazing days, though.
Also, we weren't prepared for all of Europe closing down every Sunday – everything is really closed. That has caused us to spent a lot of money on food (since only restaurants are open) and water. We weren't prepared at all.
HOW WE'RE GOING TO STAY INSIDE OUR BUDGET IN AUGUST
Luckily for us, we had some money from selling our stuff before we left that can cover what we used more than budgeted for. The 300 DKK a day is what we can make online while biking through Europe, so August has to be better.
In July we had the expensive hotel stay in Berlin – we won't be doing that in August. We'll be camping way more. In expensive places like Nice and Monaco we'll experience with couchsurfing or asking people if we can set up our tent in their garden (we had luck with that in Germany). Or maybe simply set up our tent in a deserted place (we've done this twice in France with great results).
We'll follow the Trail Wallet app more. When you go over your budget, the app is warning you. This is such a great motivation to stop spending more – love this app.
We hope you enjoyed reading our budget – we'll try our best to bring no more red numbers and blown budgets in the future! 
Are you inspired to travel more?