We had the greatest night yesterday and entered 2014 dancing on the beach. What an amazing experience. Even though Celia has somehow caught a cold, she managed to stay positive the whole day and we had a blast.
We had dinner at our favorite Mexican restaurant here in Playa del Carmen: El Fogón. It's highly popular among the locals, but more and more tourists have also picked up on the goodness.
There is almost a line to get a table all the time. But it's worth the wait! The food is amazing and it comes at a very great price. The staff is friendly and we always enjoy eating there. Yum.
After that we did some shopping and walked on 5th Ave. (a long pedestrian street with many shops and restaurants) We had a hot chocolate at Ah Cacao (amazing cacao place here in Mexico!) and then headed towards the beach.
We didn't party too much because of Celia's cold, but we managed to have the greatest time! On the beach there were lots of people and the Dutch dj Armin Van Buuren was spinning the records. They had set up a huge scene for him, and were charging people to get inside the arena.
We decided to just hang on the beach and we could hear the music loud and clear. People were dancing and drinking and it was a great party. We all counted down to midnight and when we finally entered 2014 the crowd went crazy!
We watched amazing fireworks and that topped off our amazing night. New year's eve on the beach was definitely a hit and something we want to do again!
Yesterday Celia promised that we would share our new year's resolutions with you on the blog and what better way to kick off 2014 than doing just that!? We have some shared resolutions and some individual. Let's have a look:
SHARED NEW YEAR'S RESOLUTIONS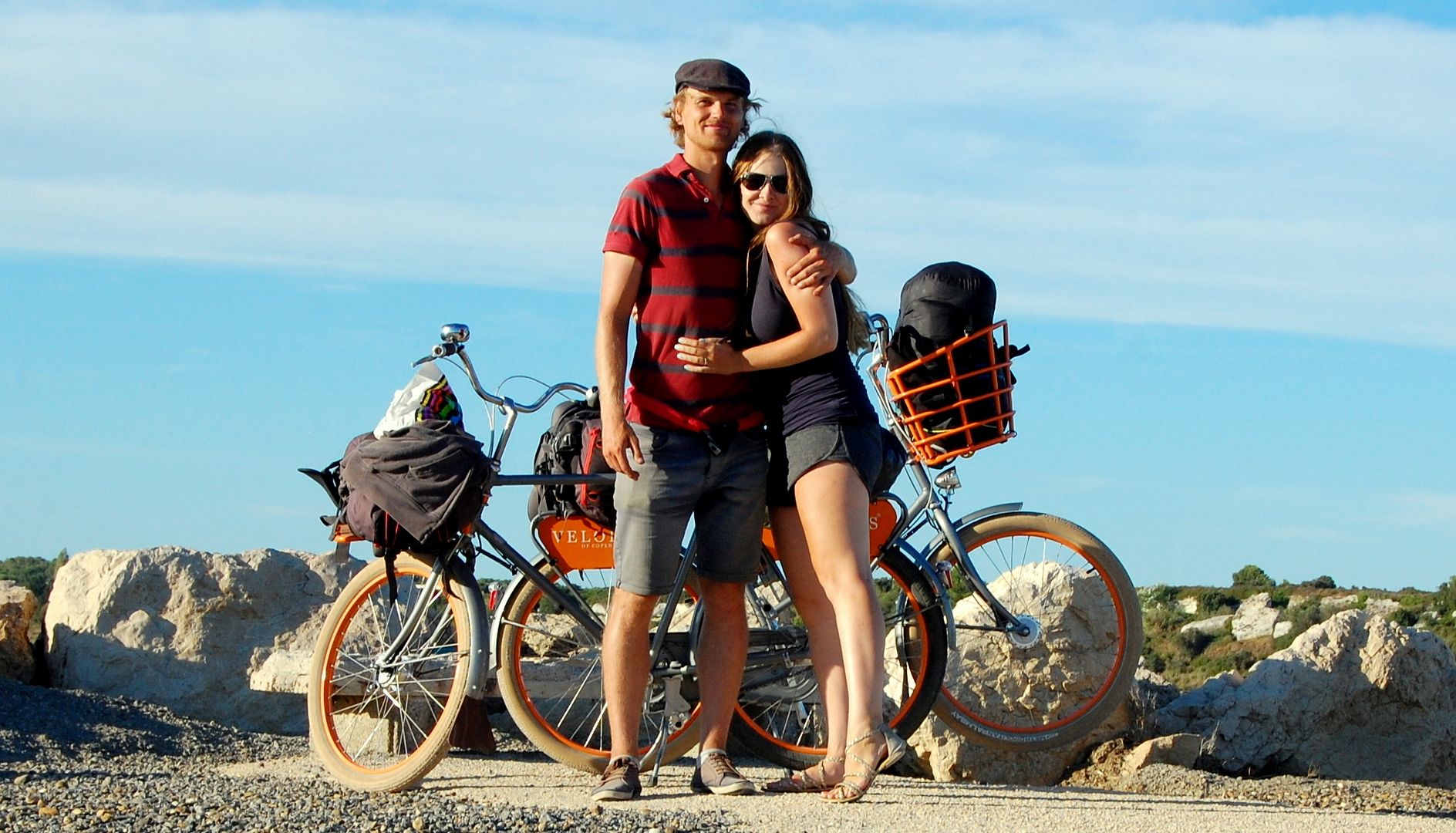 Remember to take a day off
When you're no longer a part of the rat race you stop paying attention to what day it is. At least we do. We don't take the usual two days off in the weekends – we just continue our work as always.
In 2014 we want to be better to take a day off weekly to enjoy the beautiful places we are without feeling like we're neglecting our work. We want to go to the beach, to hang at a café, to relax, to go and explore, to visit amazing sights, to read … to live, really.
Be a better blogger
Well, we want to have the most awesome travel blog (who doesn't!?) so on our list is to be better at prioritising working on the blog since we both care about it a lot. We want to create better content and more of it!
Learn to speak Spanish
We're both working on our (non-existing) Spanish skills. We are going to spend the next many months in countries where they speak Spanish, and instead of seeing that as a problem we're seeing it as an opportunity to learn a new and very useful language: Spanish!
We're currently working hard with Duolingo (amaaaazing app, download it right away!) which is great. We love how it's made as a game – that makes it extremely fun to practice Spanish and compete against each other! Of course, we also try to speak Spanish when interacting with the locals, which is helping massively too.
Be more social on social media
It's all about using social media the right way. Social media is so important when you have chosen a life of being on the road. Your social life ceises to exist, and you need to find new ways to be social.
We want to use social media more and better. We want to create and be a part of an amazing online community of people who travel or likes to travel. We both have different focuses when it comes to social media (read more in our personal resolutions) and we'd like to combine that.
Publish our first eBook
Celia and I are both very fascinated with the whole eBook market. And we want to be a part of it. We're currently working on our first eBook and we're excited to publish it!
Our thought is to write guides to the places we visit for a longer period. Our first guide will be to Playa del Carmen and we're trying to go to as many restaurants as possible and really get a great feel and tips for the city to put in the book!
CELIA'S NEW YEAR'S RESOLUTIONS
Become a better photographer and complete Project 365
I'm really enjoying photographing stuff. I love to look at other people's photos for inspiration, I love shooting, I love thinking creatively about the perfect composition… I'm just really getting more and more into photography!
I now have 3 lenses for my camera and I really love to use them. I'm getting better with every shot, I just need to practice more.
Which is also why I've decided to try "Project 365" where you commit to taking at least one photo a day and thus creating a photo diary for a whole year of your life. I'll be sharing my shots with you once a week here on the blog (highly inspired by Laura from the Danish travel blog Afterglobe (they write English recaps – definitely recommend checking them out!)).
Reach 10,000 followers on Instagram
Yes, you know it: I love Instagram and I'm addicted to seeing our following increase every day. In December we reached a big milestone: 1,000 followers! Damn, that was big for me. We're still using the methods I wrote about in this post to increase our following on Instagram.
But well, more wants more and this year I'm dreaming about hitting the big 10! Five figure following. Yesss. It's going down! And I can't wait!
Earn $1,000 from affiliate marketing each month
This has been a goal for me for a long time now and this December I was actually pretty close! Life is not all about money, I know, but the feeling of earning money passively is the greatest.
If I could increase my affiliate earnings it would mean more and better travel for us – and that is something I'm really motivated to work towards.
Get an article published in a magazine or newspaper
I'm really dreaming about writing some articles. I love writing, but I'm not sure my English is good enough – my Danish is great though and I'm pitching some magazines and newspapers this month to try to get some of my content published.
Of course I'd love to write about travel and I hope to combine all our great experiences with some freelance writing for some travel magazines.
JONAS' NEW YEAR'S RESOLUTIONS
Be better to keep in contact with friends and family
Yes, timezones are a pain in the neck.
I get more work done if I don't check Facebook all the time. It doesn't seem to be all that important so I began checking Facebook after I finished my work day.
Ok, maybe it's true that Facebook isn't important and I can live without it. But when you are in another country and you cut off Facebook, you are also cutting the contact with your friends back home. It seems like a very bad idea.
When I'm ready to chat on Facebook after work everybody is sleeping.
Instead I will try to chat with people for 30 minutes each day when it suits them.
Maybe I should even go old school from time to time and send a postcard. At least to my grandmother who is 96 years old. She doesn't really hang out on Facebook. :D
Get more followers on Google+ and Twitter
Everytime I'm using Google+ and Twitter actively we get more followers.
Yup, once again it pays off to spend time on something. Even being social with other people.
In 2014 I will spend around two hours each day on Twitter and Google+. Maybe even more but I have to start somewhere :D
Read more travel blogs
I love the Reading List in Safari and I save a lot of blog posts on it each day.
The problem is that I forget to read them. My Reading list becomes a Trashcan list. The post is gone and I never think about it again.
It's too bad because I want to read them.
In 2014 I will stop using my Reading List as a Trashcan List. I will read at least five travel posts everyday. Please keep on writing great travel posts. :D
---
And of course we both want to travel more, experience more and create more memories! 2014 will be an amazing year for us, we're sure about that!
What are your new year's resolutions? We'd love to know!