We had to kick our nearly 9 months trip around Central America off in the nicest way possible, and when we found the super cheap ticket for Fort Lauderdale it didn't take us a long time to buy them.
With two $276 one-way tickets in hand, we boarded our plane to The Sunshine State on December 9th. We were happy to trade rainy Denmark with sun and ocean views in our all-time favorite US state.
After 11 hours on the plane, one and a half hours in line at Border Control and half an hour of sweating and explaining to immigration officers, we were happy to finally step outside and inhale the fresh air, still warm even though it was late. Ahh – we were home.
Fort Lauderdale, December 9th – 12th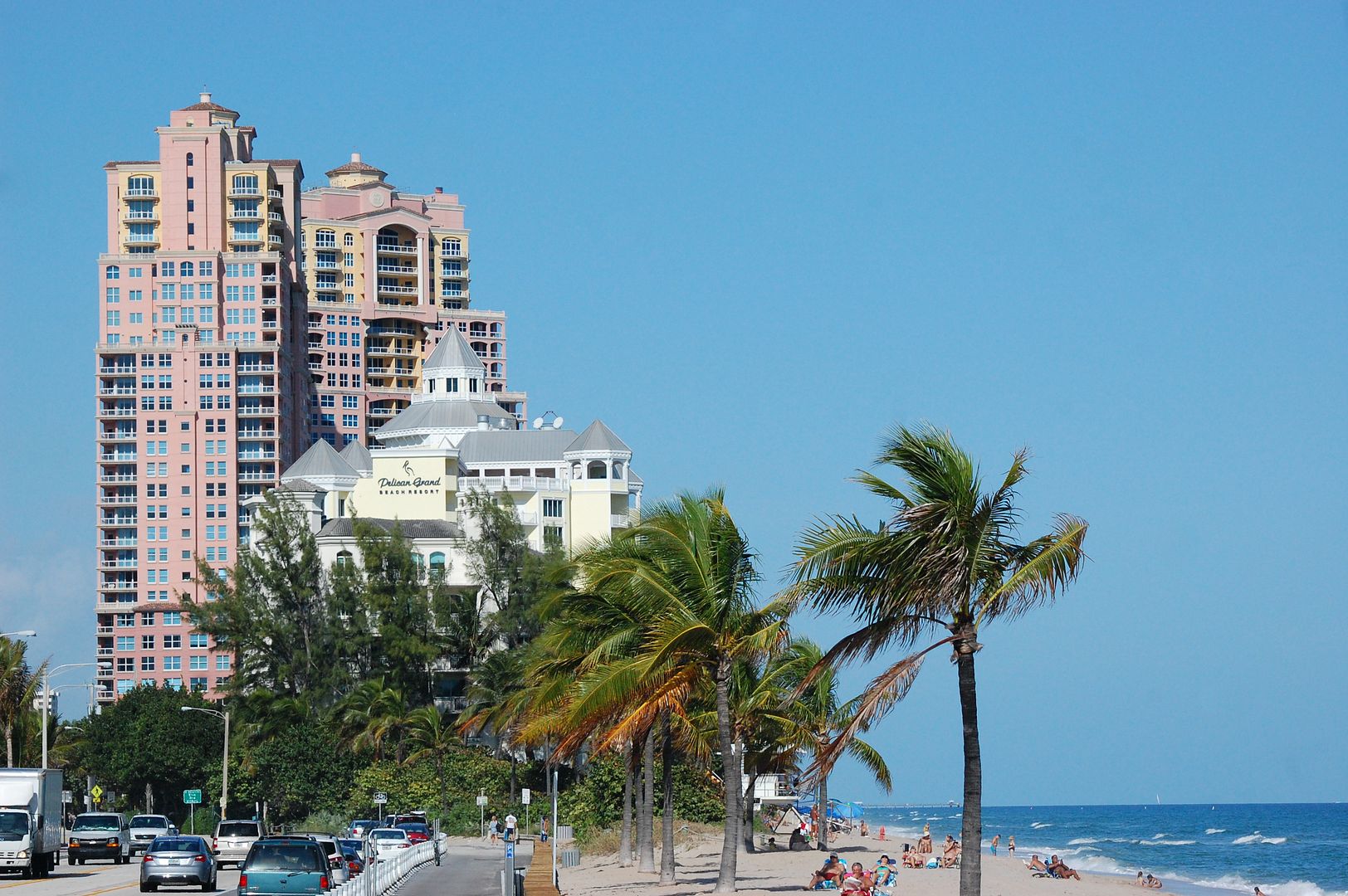 Fort Lauderdale Beach and road A1A
Don, who had offered to host us for three nights in Fort Lauderdale waited for us outside, and even though we met him for the first time it was nice to be met with a smile. We were relieved. And excited.
The drive from the airport had me glued to the window. Even in the dark, it was obvious that Fort Lauderdale was not to be underestimated. We drove op the A1A, and located right by the ocean it's a beautiful drive – even at night. The clubs were filled with happy people, the music pumping. We couldn't wait to see this place in daylight.
We got our very own room at Don's apartment and were quick to fall asleep. Fort Lauderdale is six hours earlier than Denmark, and we were exhausted.
We woke up to this view. Feeling extremely lucky, we ran out on the patio – it' was like being hit by a very hot pillow. I was nearly jumping of joy. Travelling the world means being lucky and ending up in places like this. This is the best job in the world.
We were eager to get outside. Dip our toes in the turquoise water and feel the sand under our bare feet. But every good day starts with breakfast, and we ate with Don – he had even bought a coffee machine because he'd read on this blog how much we love our coffee!
Once we finished our meal, we went down to the lobby to registrer at the front desk at Don's apartment building. The lobby was extremely classy and it seemed almost like one of those fancy hotel we'd only seen in movies. They needed our names and wrote a lot of stuff down – we felt like VIP's! What a great place.
We met lots of little lizards on the way down to the beach. I was happy to be able to capture it, since they were pretty fast and fled when we got close. Thanks to my new lens, a Nikkor 55-300mm zoom, I could capture it from a distance!
We spent our days in Fort Lauderdale just walking around and sensing as much of the place as possible. We were mostly by the beach and the area was great, pretty touristy but with the beautiful views we could really see why.
Having some work to catch on, we also found ourselves at Starbucks a few times as well. We sat outside and could overlook the amazing ocean while working. An office doesn't get any better than that.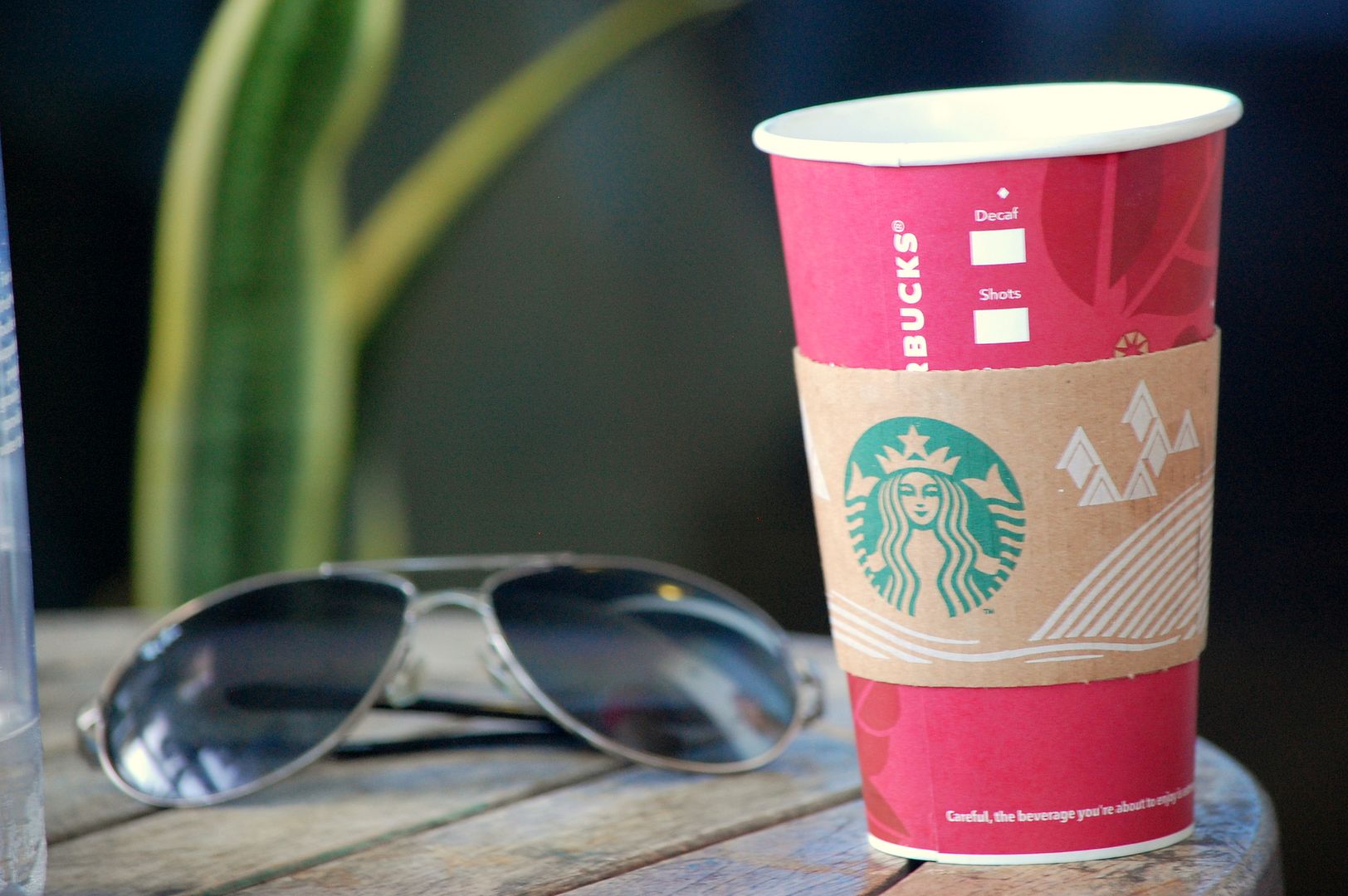 This guy was hanging on a crazy 30 stories building!
Don was great. He gave us the possibility of wandering around by ourselves, but we also spent some great times with him eating out, going shopping and sharing stories from our travels. He had traveled so much that we mostly listened and asked questions – hearing people's great travel stories is one of our favorite things to do.
He even took us on a trip around Fort Lauderdale in his car. We got to see the downtown area, and it looked really appealing. Fort Lauderdale has lots of canals and is an extremely beautiful city. We wished we'd had more time to walk around downtown, but with such great plane deals from Copenhagen, it's surely not our last time in the city.
Needless to say, we were sad to leave. We knew we were going to miss the city and Don a lot – but we hope to be back one day and check out more of the city, hopefully with more time on our hands next time.
Be sure to check in again on Friday – we'll be sharing the next part of our nine days in Florida which we spent at South Beach, Miami.
Have you ever been to Fort Lauderdale?
---
New here? If you like what you see be sure to follow us on Facebook or Bloglovin' for updates. We're also pretty active on Instagram @nomadicdanes. Welcome!