As I promised this is my last post of my life in Zimbabwe. Part 3 showed photos of what tourists would see and do when they visited my parents and me in Zimbabwe.
In this post you can see some of the photos that shows how I experienced Zimbabwe. When you stay a long time in a place it becomes a part of your everyday life and most of your memory isn't from all the tourist places.
Not an average life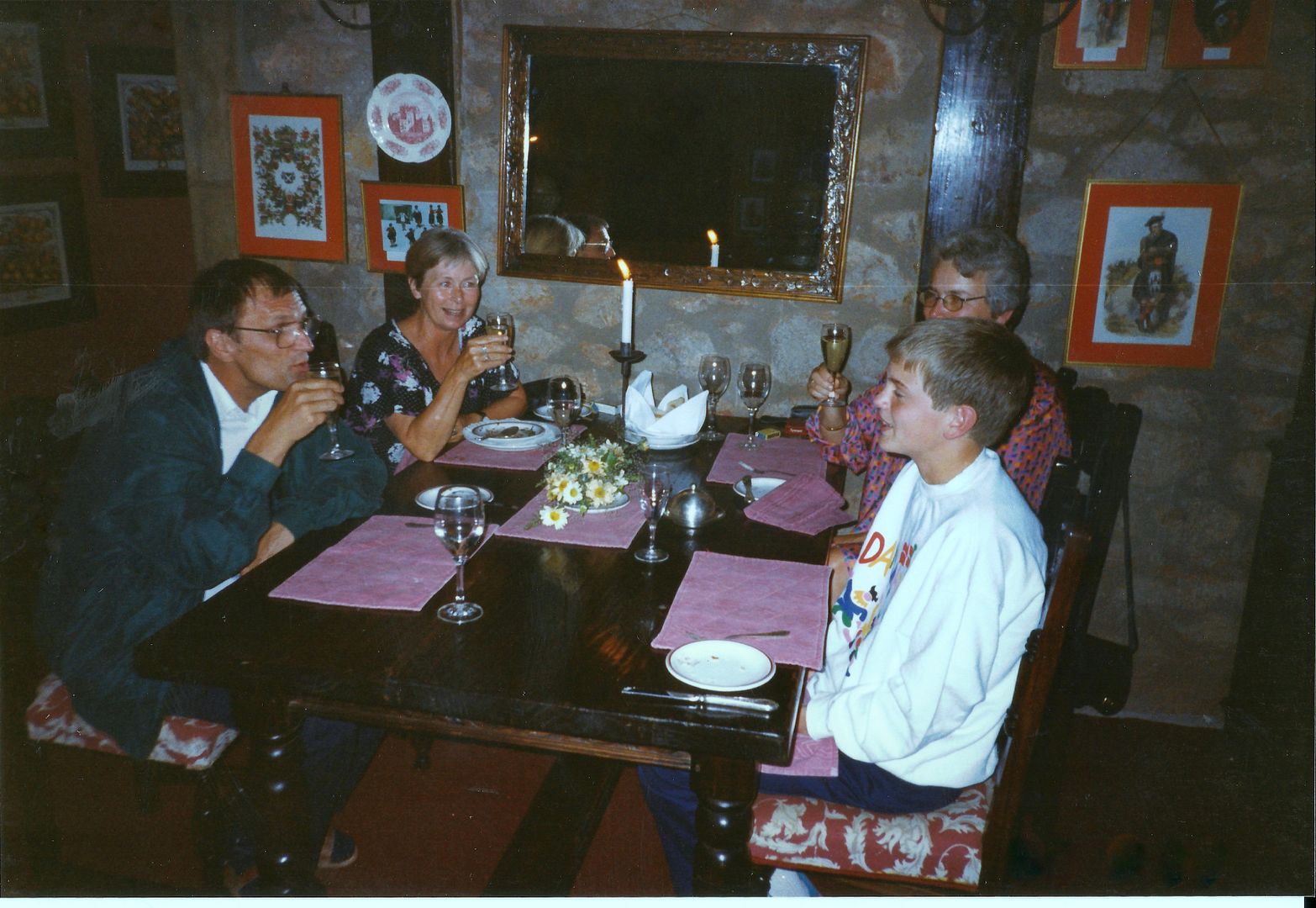 Dining out with my parents and their friend, Ally.
My mother loves to joke about that Zimbabwe destroyed my view on money because in Zimbabwe we could afford to eat out at fancy restaurants and we had a full time maid who cleaned our house. It was a good life – no doubt about it. I enjoyed it a lot.
It's not like we couldn't afford to eat at restaurants in Denmark. The difference was that the restaurants was so much nicer than the one we eat at in Denmark.

Our lovely maid, Benedicte. My parents still send her money because life is very tough right now in Zimbabwe.
In some ways Zimbabwe changed me forever. As an average income family from Denmark we could afford a different lifestyle in Zimbabwe. It shows how rich we are in the western world. I can see this in my current life where my income from Denmark goes a long way in the rest of the world.
You get spoiled with a life like that. Not only because of the things you can buy. The best part in Zimbabwe was the sunny weather and it's one of the reason why I can't live in Denmark during the winter. I really don't miss the darkness and cold of a Danish winter.
New grandparents
On the picture is the place where I spent several hours every week. Besides of our own home this is probably the place where I spent the most time in Bulawayo. The woman behind the bar is Kirsten and the man with the white hair is Jørgen. I think of them as my grandparents because of all the time I spend at their house. Sadly none of them are alive anymore.
No matter how beautiful a place is, it's the people in it that makes it a great country and it's really what you remember.
In Zimbabwe I felt like I got two new grandparents and I miss them as much as I miss the others of my deceased grandparents.
Jørgen and Kirsten were two Danes who moved to Zimbabwe. I visited them all the time. I swam in their swimming pool, argued with Jørgen, ate ice cream etc. They spoiled me a lot and I enjoyed it.
Even though they aren't alive anymore they will always be in my memory and I'm happy that I met them.
Jørgen's death was very hard on me because he had a cerebral haemorrhage while I was at their house. I remember Kirsten telling me that I needed to go home because something terrible had happened.
It was the first time I experienced death. I had already lost my own grandfather but I was so young when he died that I couldn't remember any of it. But I remember losing Jørgen. Suddenly he was gone and I never said goodbye to him.
Kirsten died a couple of years later in Denmark, where she had moved back to be closer to her own grandchildren. Before she died I visited her at the hospital and I'm glad I said goodbye to her.
I'm very grateful that both of them opened up their house and hearts to me. When I think about my time in Zimbabwe I'm mostly thinking about them.

I'm not sure if this is from Harare, the capital, or Bulawayo.

Picture from Bulawayo. In the photo some school girls wearing their uniform.
When I think of Zimbabwe I really don't think about the animals or Victoria Falls. I think about my life and memories there. In the end that is what connects you to a country.