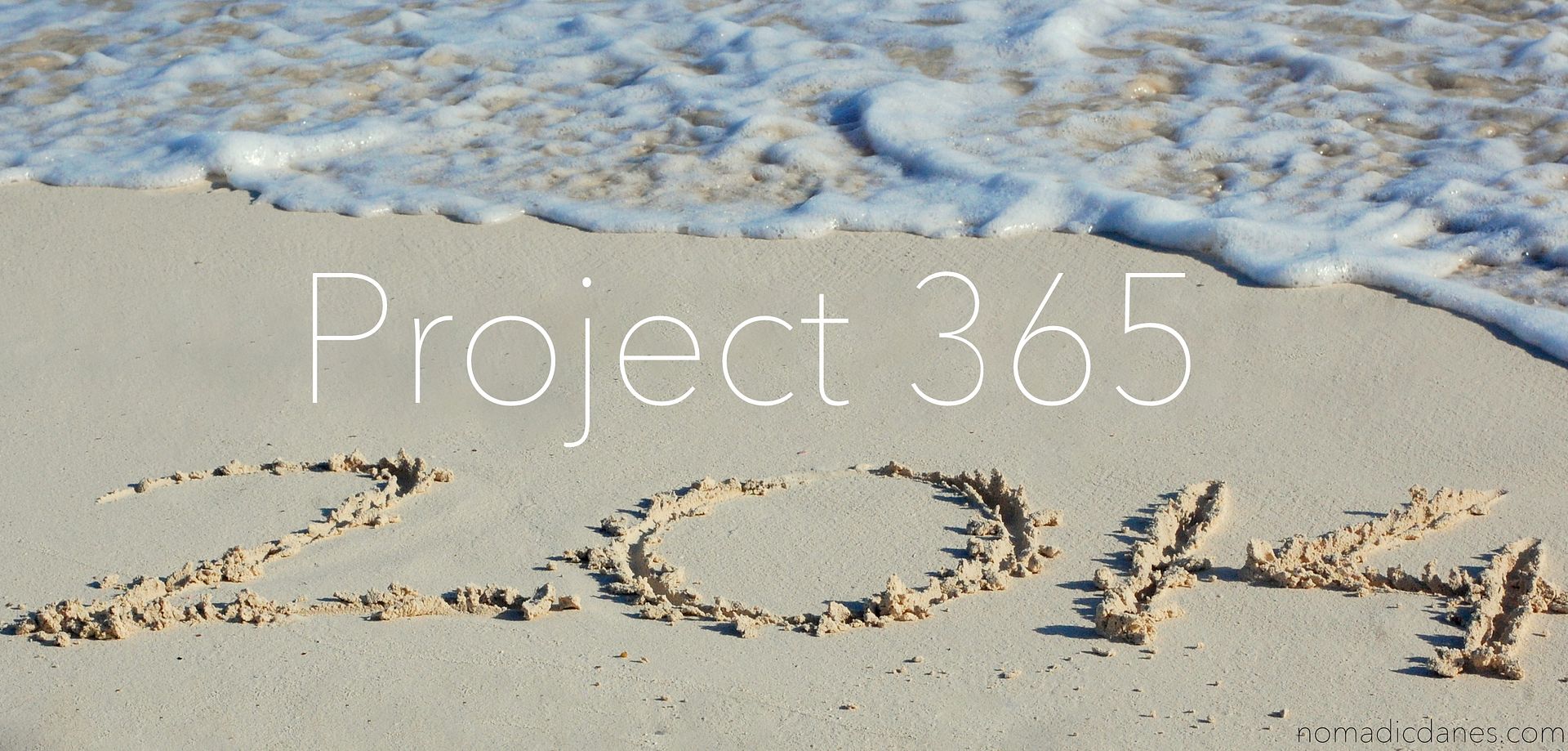 As I told you one of my new year's resolutions is to become a better photographer. The only way to better at something is to practice, practice and then practice some more!
To keep myself motivated and to remind myself to practice, I've decided to give Project 365 a try. In Project 365 you take (at least) one photo every day for 365 days, a year.
I hope to keep this and remember to take a photo every day for this year! So far I've remembered it – but it has only been 5 days. 360 to go! ;) I'll be sharing the weeks photos every Sunday throughout the year. So welcome to the very first (almost) week of the project! 
Thoughts about this week
I really love how this project and these posts can actually turn into "what we did this week" posts, sort of. It hasn't been the best start because ever since we arrived in Playa del Carmen, we've had a lot of work to do and our days have been filled with work. The small highlights have been in (camera) focus this week, but I don't feel like I've had enough time to really experiment and work on my skills.
The photos are more sort of "snap shots" that I just took – because I wanted to do this project. I'm a little sad that I haven't been enjoying it but seeing it more as something I just had to do.
Next week I want to allow myself to enjoy it more and experiment a lot more instead of playing it safe. But I'm just starting out so I'm sure I'll be better in time!
All photos are shot with my Nikon D40 camera and 50mm f/1.8 Nikkor lens. 
Day 1 – Wednesday January 1st 2014
Happy feet. On the first day of the year we were feeling on top of the world. After an amazing night celebrating the new year on the beach, we were in a happy and very relaxed mood.
The photo is from our daily walk along the beach to reach downtown Playa del Carmen from where we work. Our apartment in Playa del Carmen is pretty far, which gives us an opportunity to do a long and great walk every morning. Ahh. :)
The flip flops were actually my Christmas present from myself this year. Loving them!
Day 2 – Thursday January 2nd 2014
A typical photo from our favorite spot to work in Playa del Carmen: Starbucks on Calle 28 and 5ta Avenida. This seems to be the most quiet end of downtown Playa del Carmen and the Starbucks is not so crowded.
We were sitting outside and I was a little unmotivated to work, because I still had a cold.
Day 3 – Friday January 3rd 2014
When we – occasionally – don't walk to the city along the beach, we take 10 Avenida Norte. This street is filled with local children running around, taxis and homeless dogs.
But it's also where to find some of the most authentic Mexican restaurants.
Our favorite is a breakfast restaurant where I bought this amazing fruit salad with yoghurt and granola. I ordered the big one – and boy was it big! It had banana, melon, papaya, watermelon, apple and kiwi. Sooo good! It's definitely not the last time I get one of those – maybe just the small one next time. ;)
At these local restaurants they only speak Spanish, the menus normally don't show the price and they're very inexpensive to eat at. I paid around $3 USD for this – bargain!
Day 4 – Saturday January 4th 2014
Our coldest day so far. It rained almost all day and we totally slept in. We woke up very late (no, I'm not going to tell you how late – it's embarrassing!) and just sat inside our apartment until the rain stopped.
We hurried down to Starbucks and then it started raining again. We ended up having cake for "breakfast" because we couldn't leave Starbucks with all the raining outside.
The light is terrible – I know. It was so dark outside (the clouds were black – seriously!) so they turned on the lights inside.
BUT – this cake is my favorite cake here! Oh my God… It's a Tarta de chocolate blanco y frambuesas which is a tart filled with half-melted white chocolate and raspberries. I can't describe how yummy it is! *desperately trying to fight urge to buy one right now*
Day 5 – Sunday January 5th 2014
Today's photo!  We found this bird earlier today eating old, wet pizza… And while that's not so interesting, the bird really caught my eye.
We have pretty plain birds in Denmark. This dark blue bird with crazy yellow eyes was really new to us and we ended up looking at it for a long time. It's pretty but still a little scary. Those eyes…
---
How do you like the photos? Are you participating in Project 365? Would love to see what you've been up to lately!