We're not huge planners and we have also written about why you don't need a master plan when you travel. And those are still our thoughts on travel planning.
However, it is important to somehow plan a greater frame of what you want to experience. If you just travel around without a plan about what we want to see and experience, you'll end up not doing what you really wanted.
So I've been doing a lot of planning these past days. I just really want to make sure that we cover a lot of what to see here in the area before moving on. To visualize it I've created the map above in Google Maps with a lot of pins on it.
It shows all the different places I want us to go over the next months. And I thought I'd share with you what we have planned and also tell you which amazing travel bloggers inspired us to go those places!
Well – let's check it out!
Exploring Mexico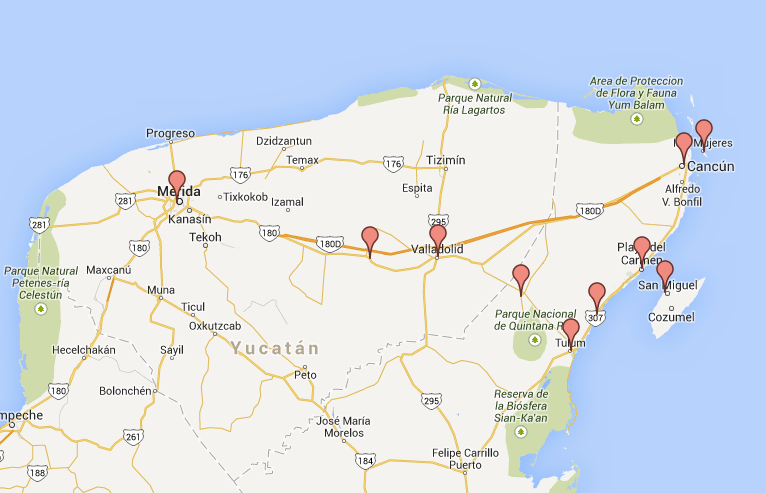 As you know we're in Playa del Carmen in Mexico now. And we have been for a long time. We love it here and have our apartment until March 3rd. We extended our stay because we were waiting on a very important package to arrive from Denmark (Head over to our Facebook Page to see what is was!).
Before March 3rd we have a list of things we really want to cross off. They're all things we can do in a day and then return to Playa del Carmen in the night. It's mainly things not so far from Playa del Carmen:
Swim with sea turtles in Akumal
Akumal Beach. Photo credit: DiscoveringIce.com
Natural wonders are our favorite thing to see. And in Akumal the amount of sea grass in the ocean makes it sea turtle paradise!
This free, natural experience is really on the top of our list. It's quick to get to Akumal from Playa, and you should be able to spot the cute sea turtles pretty quickly.
Discovering Ice wrote an amazing post about it (check it out here!) and we've sucked sooo much information out of it. It's so great to read informative posts about what to do on great travel blogs.
Snorkel on Cozumel and see San Miguel
Cozumel is the large island close to Playa del Carmen. There are ferries going to Cozumel all day long from Playa del Carmen, and it's really something we need to do soon. It's so close that we can actually see it from the beach here.
Cozumel is a famous stop for cruise ships in the Caribbean and is known for its beautiful beaches. Cozumel also attracts lots of divers and people snorkelling. We really want to check it out and see what all the fuzz is about. Also to check out San Miguel, the largest city on the island.
See the ruins in Tulum and swim in the Gran Cenote
Tulum is known for its beautiful Mayan ruins right by the ocean. It looks so picture perfect and gorgeous! Actually, we're going there tomorrow with Antti and Mirje from Anywhereism! We're going to start at the Gran Cenote, then have lunch in Tulum and finally see the ruins in the afternoon. Can't wait!
We decided on doing the tour like this with great inspiration from Alyona from AlyonaTravels.com – her post about Tulum is perfection and has so much relevant information for planning your trip. Also just love her photos, great work!
Ruins in Cobá
Cobá ruins. Photo source. Wikipedia
Yesterday we met up with Dan and Casey of ACruisingCouple.com – we had an amazing night with Cuban food, brownies from Ah Cacao (yum!) and drinks at a beach bar. They had just been on a tour to Cobá that day and they told us that we needed to go there.
So we will! There's a ADO bus directly to Cobá from Playa, and you can actually climb the ruins there. It should be amazing!
---
After March 3rd we're taking some time off to cover whatever's north of Playa del Carmen. We'll be staying in hotels and we're looking very much forward to it! It'll be like being on vacation. Staying in a place for a longer time as we've done here in Playa del Carmen really makes it normal and we so need a vacation soon!
We have a lot planned!
Cancún and Isla Mujeres
Isla Mujeres. Photo credit: DiscoveringIce.com
We'll start off in Cancún – the crazy touristy city here on the Mayan Riviera. We want to check it out and will probably be staying there since it's a really cheap place to stay in hotels.
During our time in Cancún, we'll go to Isla Mujeres. This little island is something people keep telling us to go and see when we mention where we are. We have seen photos – it looks just perfect!
Valladolid
Valladolid should be a great little city and we hope to spend 2 nights in the city and checking out what it has to offer. Many other bloggers have recommended Valladolid to us, and we can't wait to go!
Goats On The Road recently spent four days in the city, and their post about Valladolid is really well written and makes us want to go!
Chichen Itza and a cenote
Chichen Itza, photo from Wikipedia
A MUST see when you're on the Mayan Riviera. Tour arrangement guys are totally asking us if we want a tour to Chichen Itza. And of course we do – we're just going to arrange it ourselves.
We plan on taking a bus or a taxi there from Valladolid. Chichen Itza is the pin just left of Valladolid.
Inside the Chichen Itza area should be one of the famous cenotes – a cave under the ground, mostly with amazing clear water. We can't wait to swim in one of those!
Merida
Merida. Photo Credit: Anywherism
Our friends Mirje and Antti spent a month living in Merida and have told us so many nice things about the city that we simply need to see it for ourselves.
Merida is way older than Playa del Carmen and Cancún and we can't wait to actually explore some of the old Mexican style buildings. Oh – and we hear Merida is way cheaper than Playa! ;)
---
Moving on to Ambergris Caye, Belize
Photo credit: San Pedro Scoop
Finally a new country is up! We plan on taking a bus from Cancún down to Chetumal, right by the border to Belize. From there it should be possible to catch a water taxi to Ambergris Caye in Belize.
We've read so much about this beautiful Peninsula in the Caribbean and we simply can't wait to get down there. So far we have no idea for how long we'll stay. We'll take it one day at a time…
The amazing travel blog Travel with Bender has written lots of posts about their stay on Ambergris Caye and we've found so much inspiration from their posts.
Caye Caulker and the Great Blue Hole
Great Blue Hole, Belize. Photo from Wikipedia
Caye Caulker is the little island just south of Ambergris Caye. It's known to be a perfect little paradise, and we really want to stop over there and hopefully stay there for some nights.
The blog San Pedro Scoop has a lot of info about Belize and it has helped ud a great deal to find out what we want to do and see in Belize. And where to eat! Ohh, it looks so good – can't wait!
Around the same time, we really hope to go and check out the Great Blue Hole that Belize is so famous for. Whether we'll dive, fly over it or just hang out we don't know yet. But it seems like you can't miss it when in Belize!
Belize city and bird watching
Toucan in Belize. Photo from Wikipedia
After our perfect Caribbean island life, we're on to Belize City. We won't stay for long, it seems a little dangerous there and we have something awesome planned for after the trip, so we'll just stop over in Belize City.
I really hope to go bird watching somewhere in Belize. The toucan is the national bird of Belize and I'm dying to see one! Coming from a country with very plain birds, I'm a sucker for all the exotic birds and animals here in Central America. And I need to test out my new 50-300mm lens (aka "the stalker lens") with some bird photography!
---
On to Guatemala with busses
Another new country is up: Guatemala. Personally, I can't wait. From what I understand the parts of Mexico we've been to are pretty "western" for Central America – so does the islands in Belize seem (at least the ones we plan on visiting).
Guatemala is really something else. And we'll be getting much deeper into what this continent is really all about.
Planes here in Central America are crazy expensive, so we'll be travelling overland with busses. Again, Travel With Bender has been a huge help for the planning – and we're planning on following their example and take a bus from Belize City to Flores. Hopefully we'll be a little luckier than them on the trip, but we're not getting our hopes up!
Flores, Guatemala – and Tikal ruins
Tikal ruins, Guatemala. Photo credit: Travel With Bender
We'll be staying in Flores for a few nights and it will be our base to check out the incredible Tikal ruins. They should be the mightiest and largest here in Central America.
The pyramid looks out of this world-ly. We're going there for a whole day and will be climbing the main pyramid and just stand in awe and look at this incredible architecture.
Guatemala City and Antigua
I was a bit nervous about going to Guatemala (obviously I'm not way as cool as Jonas), but then I talked to a good friend, Linn, who suggested Antigua.
Way less dangerous, Antigua is attracting backpackers from all over the world. Placed between three volcanos and build in real Central American style, this is a can't miss when in Guatemala.
We're taking a bus from Flores to Guatemala City and then a bus or mini van directly to Antigua. We'll be based there for a couple of weeks or as long as we like. Can't wait to see why this city is so dear to many people!
---
El Salvador … Maybe
Church in San Salvador, El Salvador. Photo credit: Go Backpacking
The only country in Central America with no Caribbean coastline, El Salvador is really not high on my to-do list. It seems dangerous, violent and just … not so easy to get excited about.
I have, however, put it on our list. And we might do it. I read Dave's post about the country and it seems like it has some highlights. So we might go to San Salvador for a few days. And at least we can put one more country on the map if we go.
---
Honduras – most violent country in the world
Ok, I'm a bit worried with all the violence in this region as you can probably tell. I'm trying to calm myself down, and we are going to Honduras! That's just to cool to miss.
Copan Ruinas
Main plaza in Copan Ruinas, Honduras. Photo credit: Go Backpacking
The Copan Ruinas look amazing. Located very close to the Guatemalan border, we're going to stop here and check out those ruins. This should be a nice little town to stay in and we're pretty excited about it after reading Dave's post about the city and the ruins, which are actually a UNESCO World Heritage Site – awesome!
Stopover in San Pedro Sula
Ok – this is not a place we want to be, at all. It's a crazy place and I've read many travellers' thoughts about staying there and feeling unsafe, so we're not doing that.
However, it seems like it's a place you need to stop in, since it's a big city and thus a connecting spot. So. San Pedro Sula it is. Hopefully not for more than a couple of hours!
La Ceiba
La Ceiba, Honduras. Photo from Wikipedia
Finally we're back on the Caribbean coast – ahh, I can already feel how good it's going to be. Nothing beats the Caribbean and we're ready to check out La Ceiba for a day or two.
I expect that we can be found at the beach. Or maybe at a café with wifi after some insane days travelling overland.
Diving on Utila, one of Honduras' Bay Islands
Utila is one of the Bay Islands in Honduras, located  in the middle of the Caribbean Sea, it can't be nothing but incredible.
Utila is one of the cheapest places in the world to get your diver certificate, and it's one of the things we plan on doing while on Utila. We have had three friends recommend that to us! Can't wait to discover the underwater world.
Talon of 1 Dad, 1 Kid, 1 Adventure was so helpful when I asked him about safety in Honduras and where to go. He convinced us that Utila was amazing and we're so thankful for his advice and are looking very much forward to Utila!
We'll dive, work and explore the island along with the close by and bigger island, Roatan.
---
What's next?
After this madness we haven't really given the rest of our trip much thought. We want to see Nicaragua, Costa Rica and Panama, but nothing is planned yet.
We also feel like Europe is calling us home this summer… But who knows!? We're open to any adventure and we'll plan as we go! :)
---
A huge thank you to all the amazing bloggers mentioned here in the post who allowed us to use their photos and thereby make this post possible! I love how the travel blogger community is always so supportive and want to help. Thank you for contributing everybody! 
Please check out the bloggeres mentioned above. All are super great and provide amazing information on their blogs!
---
What are we missing!? Please let us know if we should try to fit something on our list for Central America! Thanks.