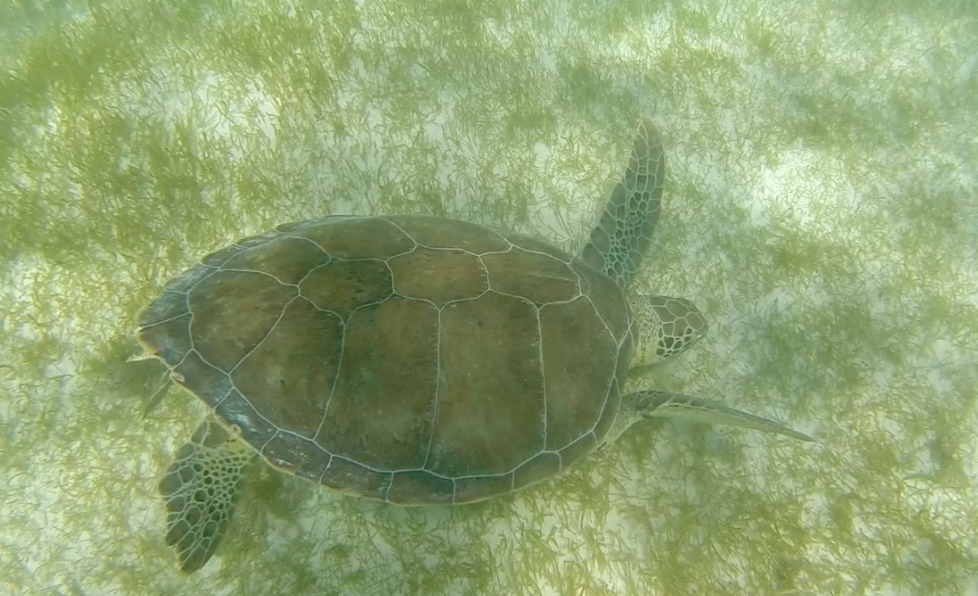 One of our best memories from our nearly three months in Mexico was when we went to Akumal and swam with sea turtles! An amazing experience that is totally free.
We actually went there on my birthday but a million things went wrong and we ended up not getting in the water and not swimming with turtles. I was devastated. Instead, we ate overpriced cake in Akumal while the rain poured down…
Only two days later we were back in Akumal and this time we were in luck! We actually found the beach, it was a beautiful day and we swam with sea turtles!
Armed with our GoPro camera we managed to get some amazing footage (be sure to check out our video at the end of this post!
Getting to Akumal from Playa del Carmen
Akumal is located about 40 kms south of Playa del Carmen. Getting there is quite easy. You can take a cab there but it might be pretty expensive. We took a colectivo and were surprised how easy it was!
Colectivos are little mini busses that the locals take but more and more tourists are now using them as well since they're super cheap and reliable. Colectivos leave when they're full and you pay a fixed price for your seat.
The colectivos in Playa leave from the Calle 2 between Avenidas 15 and 20 – you won't be able to miss them. There are many colectivos there and lots of people.
A guy was there controlling the whole thing which was nice because it could easily get chaotic there. He told us all to get in a line and then loaded the colectivos starting with person who was first in line.
Because there were so many people, our colectivo filled up quickly and we were on our way to Akumal. We were dropped off on the side of the road and had to walk a few minutes to get to the beach. We paid the driver 35 pesos ($2.7 USD) each as we left the colectivo. Amazingly cheap!
We spotted this funny sign (but of course we didn't go in – no wifi, are you kidding me!?) and picked up some delicious mango for just 15 pesos a bag – bargain!
To get to the beach, you just have to follow all the people. Once you go under a big arch, the beach is on the right (very important: the first time we went left and searched for the beach for over an hour! So keep right!).
Akumal Beach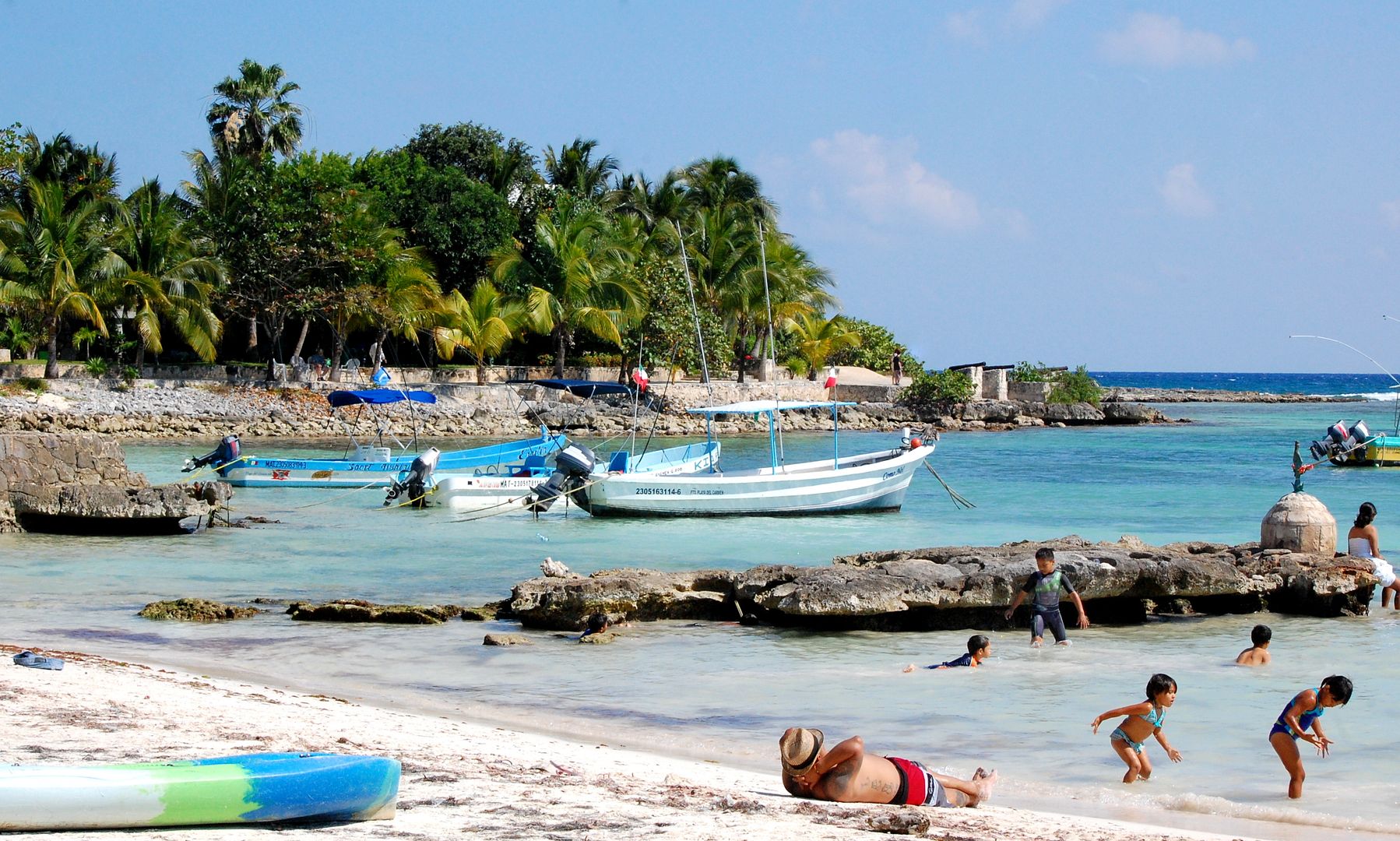 Not the worst place to keep an eye on!
Akumal Beach is gorgeous – like all the beaches on the Mayan Riviera. Obviously, Playa Paraiso in Tulum was prettier, but the beach was still very nice in Akumal.
We'd bought snorkeling gear in Walmart so we didn't have to borrow it there, but Mirje from Anywhereism (who joined us for our trip to Akumal) had to rent equipment there.
It cost her a whopping 200 pesos ($15 USD) for the fins, snorkel, glasses and a life west. Crazy. If you plan on snorkeling more than once, we can definitely recommend buying your own gear at Walmart in Playa. We paid 119 pesos each.
We also decided to get a locker there for our clothes and my camera + wallet. It cost us 60 pesos but we all just shared the one locker.
Swimming with green sea turtles
The green sea turtles live in the waters of Akumal because of all the sea grass there. They eat it and don't really mind the people watching them eat – as long as you move slowly and don't disturb them.
Lots of people there were chasing the turtles – not a good idea! They'll leave you quickly and find a calmer spot to eat.
We experienced people scaring away the turtles many times so we started to search for turtles far away from the other people. We were able to find some and swim with them for a long time! Jonas filmed it all with our GoPro and put together an amazing video. Be sure to watch it in HD! Enjoy:
Aren't they the sweetest? We had the best day – it was huge seeing green sea turtles in the wild and we wish we'd done it before our last day in Playa – I'm sure we'd gone more than once if we had.
Thank you for watching! We have lots of great videos coming up in the future so please join us on YouTube and subscribe to our channel here.
Ps. Isn't the editing great for a first try? Jonas is definitely editing our videos from now on! :D