What a busy day we had in Tulum! We kicked it off by swimming in the Gran Cenote and then enjoyed the beautiful Playa Paraiso before we headed off to see the famous Tulum Ruins.
We were excited to finally see our first Mayan ruins (since then we've seen many – can't get enough!) that the Yucatán peninsula is so famous for.
From Playa Paraiso we walked along the beach for around 10 minutes to get to the ruins. Two words: amazing setting! Wow. The beaches in Mexico are unbelievable, and Playa Paraiso was the prettiest we visited. I can really understand why they chose to build a town right by the beach.
Before towns like Playa del Carmen and Cancún were build, the Caribbean coast of Mexico was mainly just amazing beaches and jungle.
Walking towards the ruins we had to leave the beach and walked directly into the jungle. Of course they had made a dirt road to the ruins, but the setting was absolutely gorgeous and it wasn't long before we spotted all sorts of wildlife and interesting plants.
It's incredible how the jungle is full of so much life. We saw giant iguanas fight (!), squirrels jumping from tree to tree, trees with berries in vibrant red and green colors and much more. I would love to venture off into the jungle some day and really see what's in there…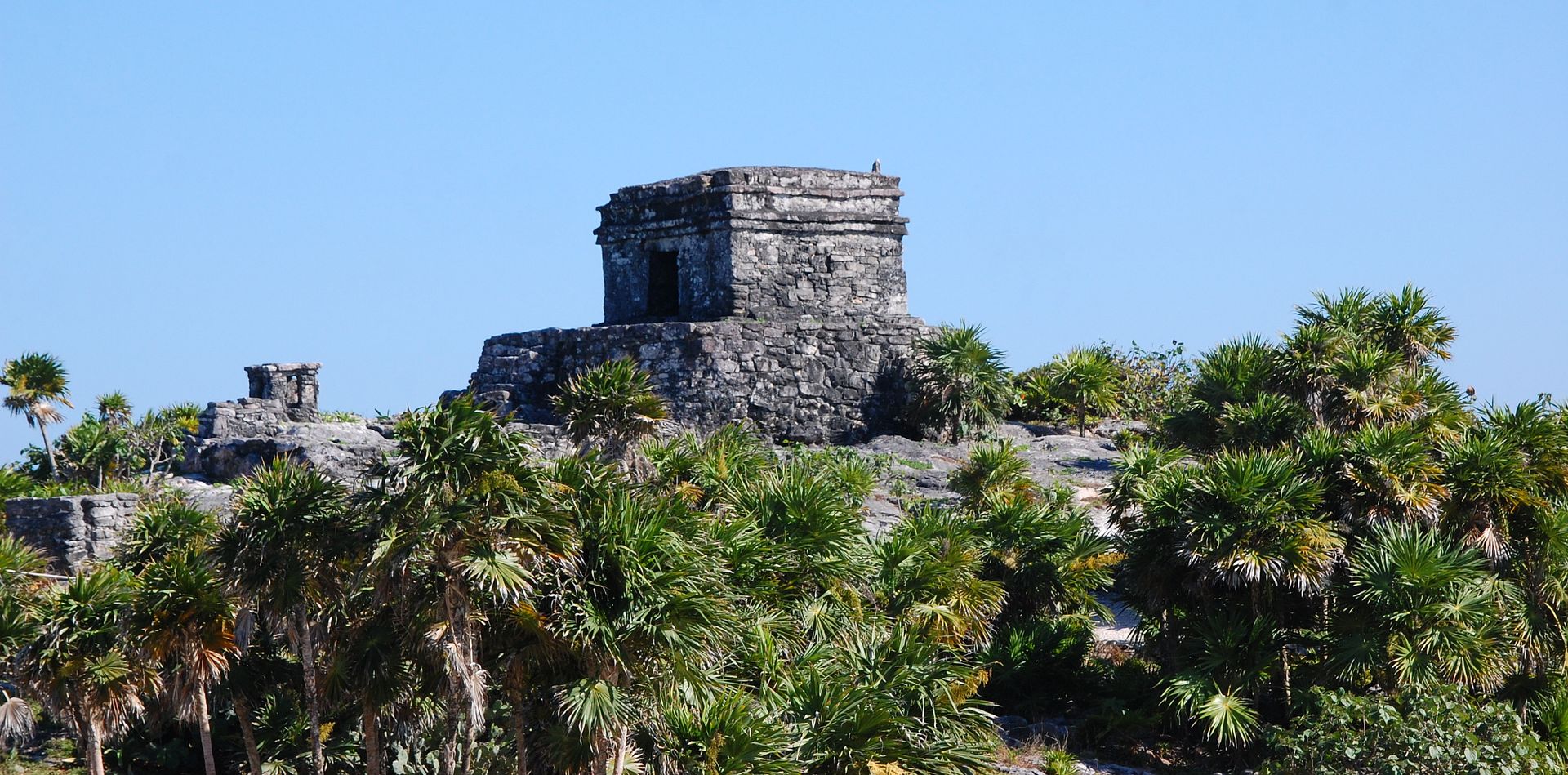 The entrance fee to see the Tulum Ruins was 59 pesos pr. person ($4,5 USD) – a really reasonable price compared to other ruins we've seen since.
Since it was our first time seeing Mayan ruins we were both very excited and I took a million photos there.
The sight is structured so that you follow a trail and walk around it to come out at a different spot than where you entered. It's clever, really, since you don't need to go back the same way as you came but can really see it all.
Although the site is well maintained, the structures are – as the name indicates – ruins. They are all also closed off so you can only see them from a distance. After climbing other ruins we would have loved to do that in Tulum as well – but here you can only look.
It was a hot day and we walked through the whole site pretty quickly. All over the site were giant iguanas enjoying the sun or running around on the grass, fighting each other. They do the funniest movement with their head when they fight – like nodding heavily while looking the other way, really showing off how strong they are. So funny!
While walking around the ruins, we spotted a little furry animal running towards us! A huge group of people quickly gathered around the little guy and he really wasn't shy:
At one point a woman kneeled to get a perfect photo of him, and he ran to her and sniffed her hand – apparently he knew that sometimes people give him food. The woman was very surprised, but this guy was extremely friendly and were just after some food.
We later found out that he was some sort of coati – maybe a white nosed coati. I'm not sure, but either way he was adorable. I'll never tire of seeing animals in the wild like this. In Denmark we don't have so many exotic animals and I'm always over-excited when I spot them like we did in Tulum!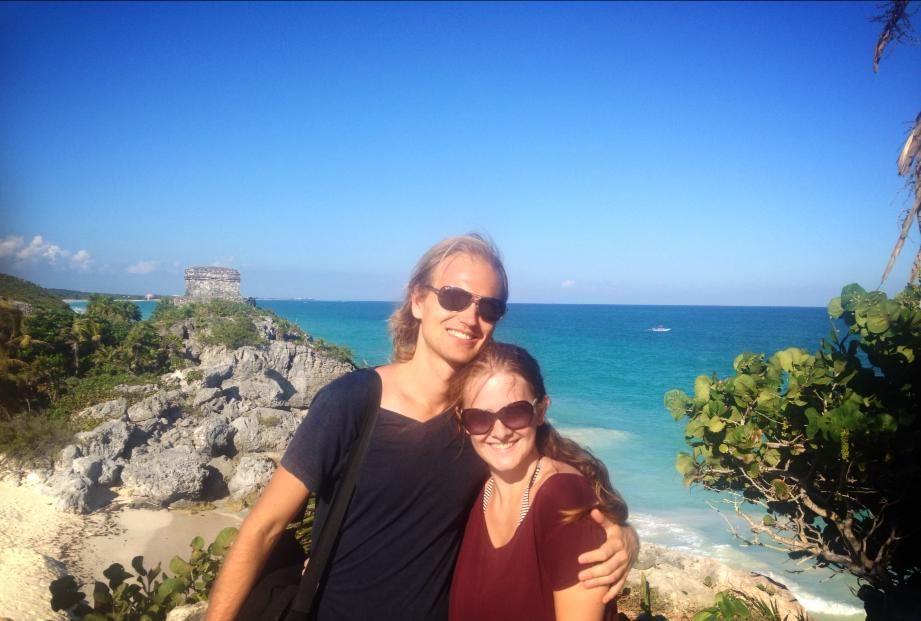 When the coati had had enough human interaction for the day (or just realized that nobody had any food for him) he took off the same way he'd come from, surely waiting for the next hordes of tourists to come along.
We continued around the site and spotted the little beach – what a great location the Mayans chose for their town. Really spectacular. After the beach, we found the most well-known spot for a photo at the Tulum ruins, and of course we had to get a photo of us there. ;)
Shortly after, our tour around the ruins were over, we went back into the jungle and the little dirt road, spotted more squirrels and then jumped on a colectivo back to Playa. What an amazing day we had in Tulum! A great day-trip from Playa del Carmen.